The Plight of Lionel Messi
The Argentinian star is one of soccer's greats. But he just narrowly missed out on an opportunity to cement his legacy and prove skeptical countrymen wrong.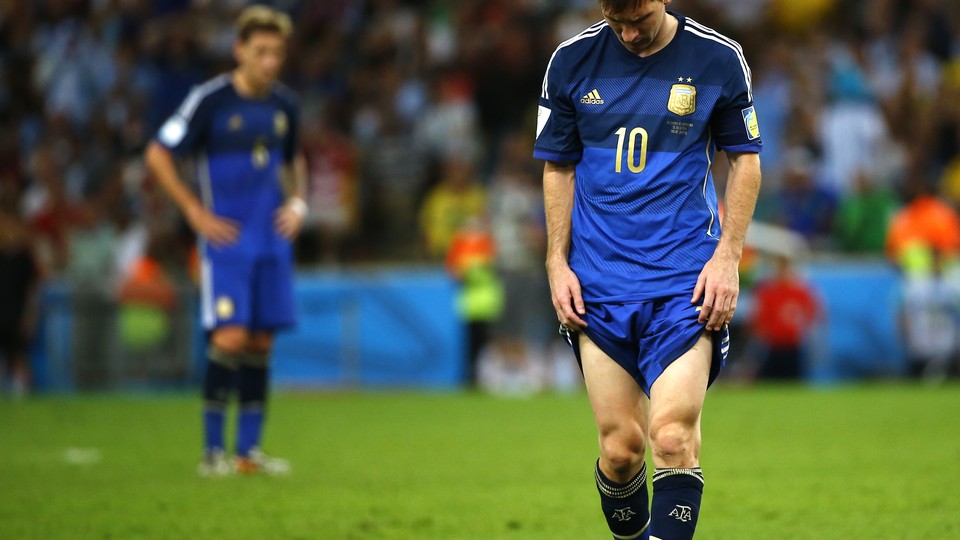 Within minutes its conclusion, the World Cup gave us one last meme: Lionel Messi Is Sad. After his team's 0-1 defeat to Germany, the Argentine superstar dragged himself up to the podium to receive the FIFA Golden Ball—the award given to the best player of the World Cup—while casting his eyes downwards. You might say he wore an expressionless stare, if the 27-year-old's look didn't so thoroughly communicate disappointment.
Disappointment is, of course, to be expected. For 120 minutes, Messi struggled against a powerful German side that calmly neutralized most of the Argentine threats. His only real opportunity came right at the beginning of the second half, but he hit his shot wide of Manuel Neuer's goalpost. Surely that moment will be replaying in Messi's mind for the next four years, if not the rest of his life.
It was a hard-fought, heartbreaking loss for all the Argentines, but probably especially so for Messi. He's had his name written time and again into soccer's record books. Yet fairly or not, questions persist among many fans—especially in Argentina— about whether or not he will ever be able to deliver soccer's greatest prize to a country that has waited impatiently for the last 28 years.
While he's routinely lauded for his football genius, there has, as Jeré Longman outlined in The New York Times last week, "long been a kind of distrust, a separation, between many Argentine fans and Messi." Part of the reason is personality: On the field he often seems dispassionate, and off the field he's low-key. Some describe him as boring. Contrast this to national legend and 1986 World Cup winner Diego Maradona who was loud, brash, and emotional. Tears streamed from his face in a win or a loss; he would kick out at opponents who angered him and dance with his teammates when he won. Messi on the other hand is a pragmatist, almost mechanical in a sense. Seeing him cry on the field is rare.
More cutting is the popular impression that Messi isn't "Argentine enough." In Argentina, national identity is bound up with soccer as much or more so than in any country on Earth—and many perceive Messi to have divided loyalties. From the age of 13 Messi has been living and playing for the famed Spanish club Barcelona. After spending most of formative years there and achieving unprecedented success along the way, he is treated like a god in Spain. Some fans back home are suspicious of that. "He hasn't given us yet what he has given Barcelona," one Argentine told Longman.
Of course, none of these knocks against him are fair. In soccer, one man cannot do it all, and Argentina's national team's talent roster isn't as robust as Barcelona's. But like many greats before him, Messi's own genius can be a burden. He's already performed so many amazing feats on the sport's biggest stages; expectations are now so high that disappointment becomes inevitable. And the fact that there's so little to be said about his personal life contributes to the impression that he exists, solely, for soccer success—so his failures take on outsized weight. A number of times throughout the World Cup, Messi would receive the ball in midfield and the crowd would rise to its feet, almost demanding another magical moment from the diminutive superstar, and would return to their seats seeming crushed if Messi didn't provide it.
To be sure, championships alone do not define greatness. Argentina will not turn on Messi for this or blame him for Sunday's loss. But it will go down as yet another missed opportunity for their star to firmly etch his name into the pantheon of soccer folklore (though he'll almost certainly get there eventually anyway). Most Argentines will still hold Maradona much closer in their hearts than they do Messi.
There's no "Oh, we'll get them next year" at the World Cup; Messi will be 31 by the time Russia 2018 gets underway, a little older and perhaps a bit slower. And after the match, looking at the images of him, you got the sense that no one grasped that fact better than Messi himself.