The True Heroes of Comic Books, Revealed
Drew Friedman's new book vividly illustrates the men and women behind the early comics boom.
Drew Friedman's previous illustrated books, Old Jewish Comedians and Even More Old Jewish Comedians, were celebrations of the great shtickmeisters of the Borscht Belt and early TV. In his most recent book, Heroes of the Comics, he turns pen and brush to the great early comic-book artists and writers who invented some of the most iconic characters in print and on screen. "Now the creators' faces will finally take the spotlight," Friedman told me. But jeepers Batman, does this make a book?
Actually, what's surprising is that this collection of 85 mostly unknown faces is as exciting to my eye as most comics are—and the short biographies are nice to have, too.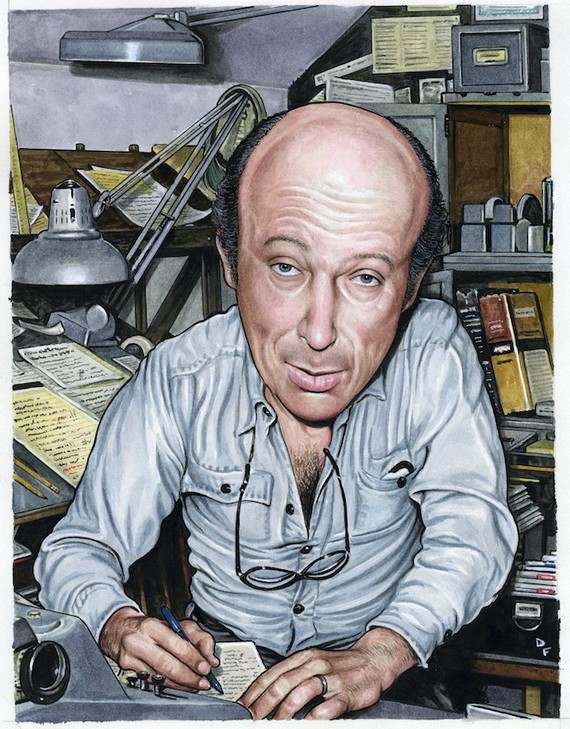 Friedman is known for adroitly capturing gesture, mood, and psychological nuance in vivid portraits somehow combining elements of caricature and realism. "Someone asked me if any of [the book's subjects] posed for me, which would have been quite a feat since most are deceased," he says. "I did depend on good photo ref for the portraits. Many faces I pulled from random photos on the web, then placed them in my own imagined settings." Each of his portraits feels so alive, it is like being welcomed into each artist's private world.
Friedman has met quite a few of the book's subjects over the years because his father, the author Bruce Jay Friedman, worked as an editor at Magazine Management, the company that ran Marvel comics from the mid-'50s to the mid-'60s. Marvel editor Stan Lee's desk was right next to his. "By the early '60s when I was a young kid, my brothers and I would frequently visit my dad up at his office and Stan would always hold court," Friedman recalls. "He seemed to love kids and took a particular liking to me because I liked to draw. He even proclaimed, 'Someday, Drew is gonna draw for Marvel!'"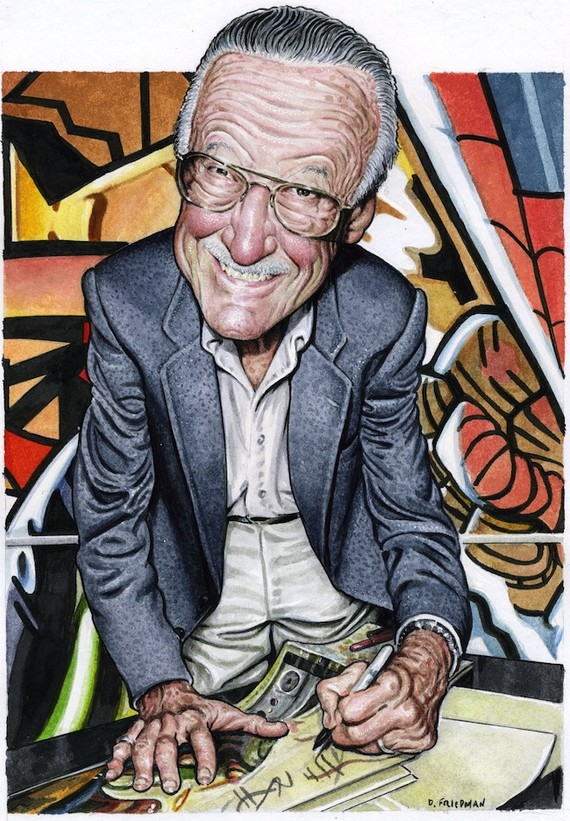 Friedman remembers seeing several "nondescript artists sadly wandering around the office," possibly Jack Kirby and Steve Ditko dropping off their latest Spider-Man and Fantastic Four pages. He also encountered many comic-book legends at the New York comic conventions in the early '70s: guys like Bob Kane, Wally Wood, and Bill Everett. In high school he spent a day up at Mad magazine, where he met with publisher William Gaines and editor Al Feldstein. When he attended the School of Visual Arts in the late '70s, two of Friedman's teachers were the comic legends Harvey Kurtzman and Will Eisner, both of whom are represented in Heroes. Later, when he became a regular contributor to Mad, he met comic greats Dave Berg, Mort Drucker, Jack Davis, and Al Jaffee, who wrote the foreword to this book.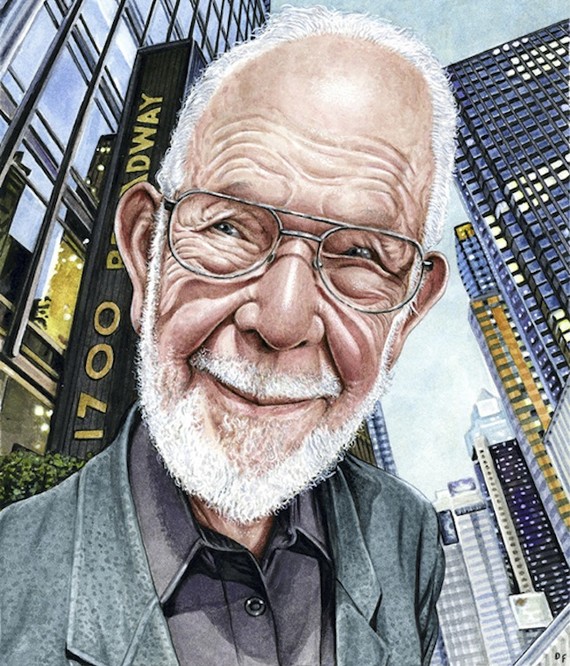 "My criteria for inclusion in the book was basically the cream of the crop as far as artists, writers, editors, and publishers who worked in the early years of comic books," Friedman says, "covering the first 20 years, from the birth of comics in the mid-'30s, to the comic book witch hunts in the mid-'50s, which left in its wake the strictly enforced, self-censoring Comics Code." He adds that he wanted to include as many women as possible, but prior to World War II very few worked in comics. He consulted with several comics experts, including Paul Levitz, former head of DC comics, who helped him select Lily Renee, Ramona Fradon, and Marie Severin.
A curious aspect of the book, Friedman notes, was how ordinary so many of the subjects looked, "as if they could have been accountants or school teachers, people you would never notice in a crowd. Basil Wolverton, George Carlson, and Boody Rogers looked like bookkeepers, yet created some of the wildest and most insanely surreal mainstream comics ever. That was the kind of challenge I enjoy, bringing to life and transforming in many cases poorly lit black-and-white photo ref into a lifelike, full-color portrait."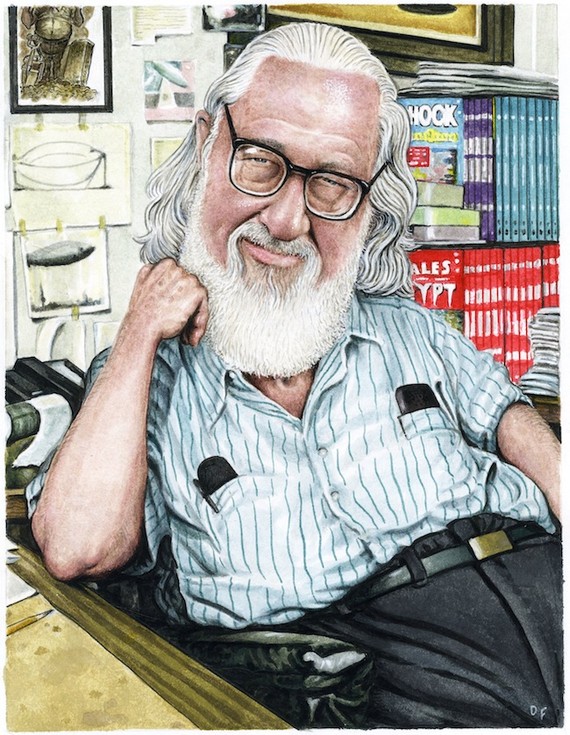 Friedman has more fun drawing people when they are older because "there are so many more interesting things going on in their world-weary faces and even in their body language: bold arrogance in some cases and sad resignation in others. Young faces and bodies just don't convey that to me."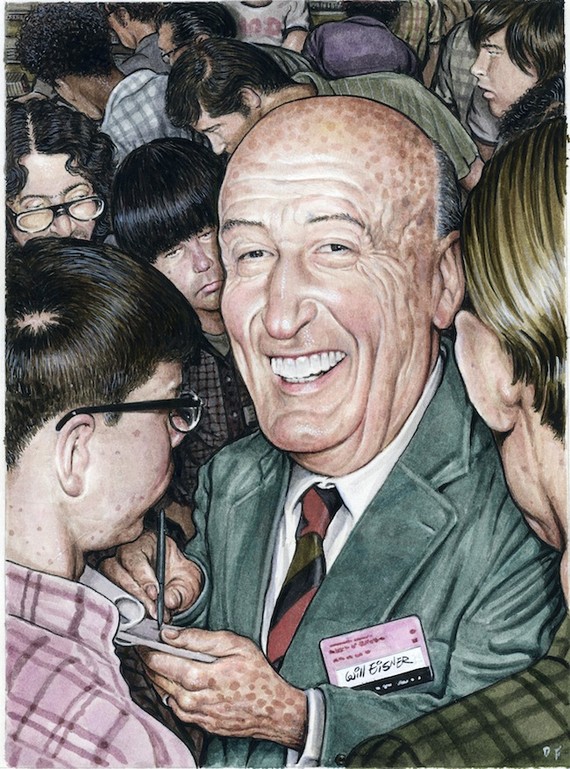 World-weary is how to describe the portrait of Dr. Fredric Wertham, the final entry in Heroes, who was the artists' anti-hero and comic-book industry pariah. "I thought that would be an interesting and bittersweet touch," Friedman says, and he's right. The book winds down with the U.S. Senate hearings on comic books and juvenile delinquency—hearings that were influenced by Wertham's book, Seduction of the Innocent, which called for the purging crime and horror comics. "I captured him at the end of his life, in bed alone, perhaps reflective. As I write in his short biography in the book, he seemed to be oddly embracing comic books later in his life, even writing a book about comic book 'fanzines,' perhaps as a sort of penance for helping to put so many publishers and creators out of business and being so vilified by comics fans over the years."
Despite the fact that comics have seeded American culture with cash-cow properties that continue to sell movies, video games, and more, Friedman rails that the business side of the medium had little regard for the art or the artists. No early comic-book creator grew rich, and the really good artists who stood out were more concerned about improving and creating quality work rather than making lots of money.
"Jack Kirby, perhaps the most legendary artist to ever work in comic books, who basically created the Marvel template still used to this day, was paid modestly throughout his career," Friedman says. "Many syndicated artists like Al Capp and Walt Kelly were smart enough to hold onto their copyrights, but [that's rare] in comic books, where you have the sad textbook example of writer Jerry Siegel and artist Joe Shuster, who signed away all their rights to their character Superman in 1938 for $130 to National Periodical comics. They both made a decent salary for the next decade working on the comic books and syndicated strip, while the men who ran National grew rich."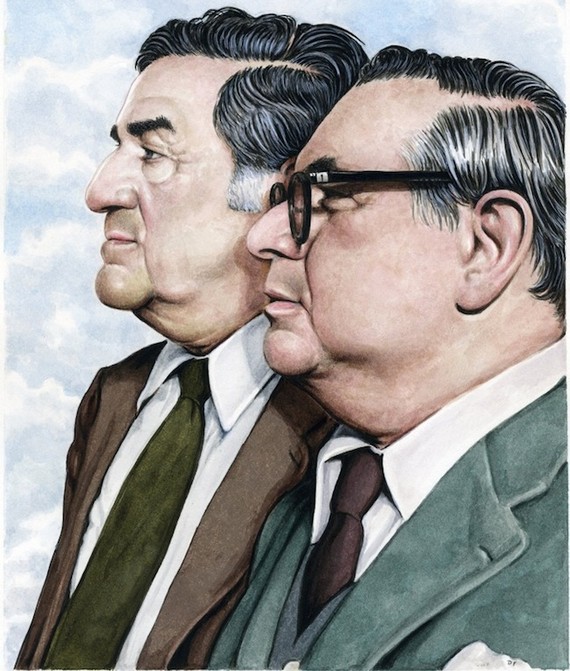 Comic artists led pretty sedentary lives, which Friedman reflects so well in his psychologically charged portraits. His drawings highlight the paradox of the comics artist and the art—the creators seem ordinary and their creations are extraordinary. "Many of my portraits depict the artists sitting at their drawing boards because that's how I think of them first, alone, creating their work."