Sex Tape: Silly, NSFW, and Totally Feminist
It's not what you'd call a "good movie." In another way, though, the semi-raunchy rom-com is surprisingly subversive.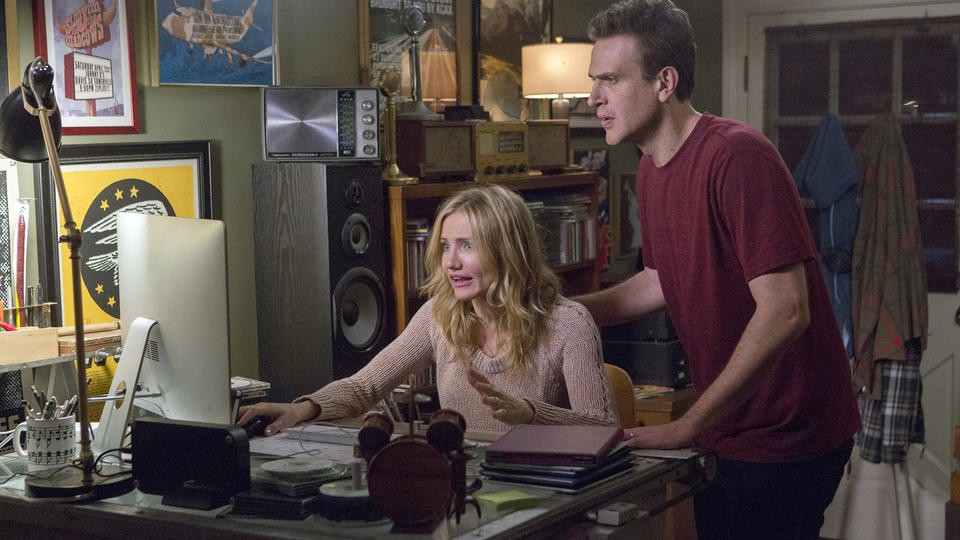 In an opening scene of Sex Tape, the college students Annie and Jay enjoy a frenzied romp in a dorm room. "I love fucking you," Annie tells Jay. For a moment, he is taken aback. Then: "I fucking love you," he replies.
This is cute. They both know it is cute. They kiss. They continue.
That little exchange, the fact that it's the lady talking dirty and the dude talking sweet, tells you most of what little you need to know about
Sex Tape
(other than what you probably already guessed, which is that the movie is only a little about sex and not at all about a tape). It goes like this: Annie (Cameron Diaz) and Jay (Jason Segel) have been married for several years, and are in a bit of a romantic rut. They decide to spice things up by making a sex tape (technically, a sex video shot on an iPad, but why quibble). Said video gets uploaded, accidentally, to "the cloud." The couple embark on a mission to get it back. Hilarity ensues. (Technically, and this is more worth quibbling about, hilarity
is meant
to ensue:
Sex Tape
currently has a score of only 16 percent on Rotten Tomatoes
.)
There is, despite the movie's many flaws—despite
the fact that its plot couldn't take place in real life
, despite the fact that it occasionally reads like an extended ad for Apple products, despite the fact that it's often extremely unfunny—a certain charm to all of this.
Sex Tape
, being part of the DudeBro Rom-Complex that brought us
Knocked Up
and
The Forty-Year-Old Virgin
and
Forgetting Sarah Marshall,
features that group's now-trademark combination of goofiness and heart (and also, in this case, a double-sided dildo that is owned by Rob Lowe). It promises mostly raunch; it delivers mostly romance. Like Annie and Jay in that dorm room, it gyrates its way into cuteness.
There's one way, though, in which this otherwise ordinary movie is extraordinary. And that way comes back to Annie—and, specifically, to that moment when she informs her future husband what the film's previous scenes have already made clear: that she quite enjoys having sex with him. The 2014 version of Annie is a housewife with two kids who is prototypical in pretty much every way save her enviable ability to look like Cameron Diaz. She is loving, she is loyal, she is ... a mommy blogger. She is also, when we meet her in the film, on the verge of selling her blog, "Who's Yo Momma," to a toy company (a plot point about which we will suspend disbelief—as we'll be asked to do several times later on, in scenes involving, variously, Annie doing cocaine with the owner of said toy company, Jay getting blackmailed by a sociopathic tween, and a German shepherd that rises, sort of, from the dead).
The other thing about Annie, though, is that she loves sex. Really, really loves it. She's the one who comes up with the idea to make the sex tape in the first place. She's the one who dons Daisy Dukes and roller skates and proposes sex on the kitchen floor ("I'm so glad I mopped yesterday," she can't help but comment). She's the one who, when the tape and the blog and "the cloud" collide in their extremely predictable way, asks her husband, "Why did we stop having sex?" She asks this, on the one hand, because she knows the obvious: that sex can be a proxy for other things. She also asks, however, because she would very much like to start having it again.
Which is, in the context of an otherwise ordinary rom-com, surprisingly subversive. One of Hollywood's most persistent, and pernicious, clichés is the assumption that, for the ladies, sex must always be about 
more than sex,
that it must have an agenda. It's a conceit that embraces a vaguely Victorian sense of obligation and acquiescence—a dance of desire and defiance between (as Hollywood generally portrays it) a guy who is eager and a girl who is distinctly less so. "I have a headache," she'll say. "I'm a
Rules
girl," she'll say. "I just don't
feel
like it," she'll say. Which is all entirely fine, except that it is extremely difficult to think of examples of men saying similar things on a screen. And that's because, of course, guys
always
feel like it. (Harry: "No
 man can be friends with a woman that he finds attractive. He always wants to have sex with her." Sally: "So you're saying that a man can be friends with a woman he finds unattractive?" Harry: "No, you pretty much want to nail them, too.") 
In business, gender analysts talk about 
the
 "tiara syndrome," the belief that if women "keep doing their job well, someone will notice them and place a tiara on their head." 
The idea translates just as well to romance. It's what underscores much of the beauty and fashion industries, the ones that tell women that passive prettiness is a way for them to get what they want.
In Hollywood, this can translate to sex that is framed as a form of passive-aggression—a means to an end, that end often being love and/or babies and/or that even tougher thing: commitment. Which is an old idea (remember the
Lysistrata
?) revived for the age of the rom-com. So you have
Pretty Woman
(love via prostitution via sex).
How to Lose a Guy in 10 Days
(love via
Cosmo
via sex). 
Zach and Miri Make a Porno
 (love via porn via sex). 
Love Actually
(actually, scratch that: there is no real sex in
Love Actually
).
Just Friends
(love via friendship via sex). 
Knocked Up
 (love via kid via sex). In all these otherwise innocuous little rom-coms
—even in movies that style themselves as progressive, even subversive—sex is sold, basically, as 
a performance that is offered to an audience of one. It's not just something to be enjoyed; it's something to be used—by women, often against men.
That iconic scene
in
When Harry Met Sally
? Delightful, but also: With a faked orgasm, nobody wins.
There's a flip side to all this imposed agenda-ism (one that often comes via screenwriters who are, like two of the trio who gave us 
Sex Tape
, male): the assumption that women can't actually like sex 
simply
for sex's sake
. The further assumption, an even more pernicious one, is that the women who say they do—the ones who claim to enjoy sex as an end in itself—are either lying to themselves or simply lying. There is something a little bit sad, this thinking goes, about
a Samantha
. There is also something a little bit dangerous.
Which brings us back to Sex Tape, a movie that, for all its flaws, has made a virtue of the rom-com's trademark triviality. Through Annie—through her roller skates and her Daisy Dukes and her desire for her sex, and also through her marriage and her children and her desire for her husband—the film blithely ignores its own freighted cultural context. It takes as a given that Annie is into sex, not because of conjugal duty, not because of social aspiration, not because of gendered manipulation, but because … well, no explanation needed. She is into sex because she is into sex, full stop, and there is power in that tautology. Annie's libido does not have an agenda. "I love fucking you," she says. She does not need to say anything else.