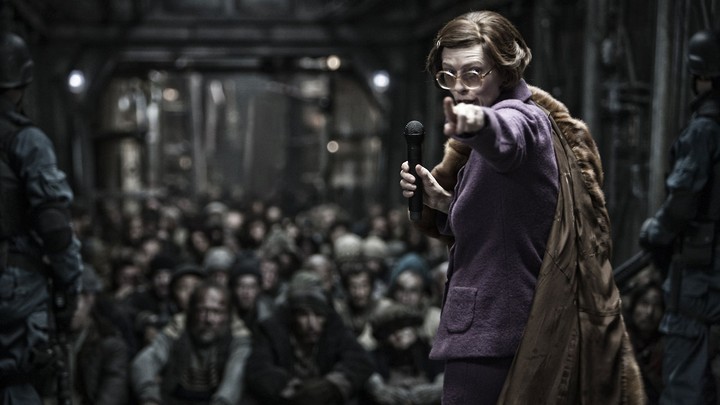 Let us know what we missed.
Go See Snowpiercer, Will You?
Anne Helen Petersen | Buzzfeed
"It's alive, much in the same way Jaws and the original Star Wars and Jurassic Park felt alive. And it should be the blockbuster of the summer: the thing that everyone sees, that anchors discussions for weeks, a bookmark in an ever-growing stack of summers past."
The Decline of Harper Lee
Boris Kachka | Vulture
"Silence has not served Nelle Harper Lee. 'In the absence of her being willing to talk, the only versions we'll ever have are other people's versions.'"
Mean Girl 
Kelefa Sanneh | The New Yorker
"Rousey says she isn't bothered by the evidence, online and in arenas, that many of the people who pay to watch her fight are hoping to see her lose. 'I'm the heel, I'm the antihero,' she says. 'And I like it that way.'"
"Shake hands. Say thank-you. Say good-bye. Immediately begin asking yourself why you got the Cameron Diaz chatbot instead of the Cameron Diaz who has eccentric thoughts on crunchy foods, why you were unable to engineer anything that felt like a moment of humanity. Consider the possibility that thinking of such moments as engineerable is the root of the problem."
"I never thought of myself, the reader, sitting perched on one corner of my parents' big sofa with fern upholstery, as being a Girl. I was what the poet Patricia Lockwood calls 'the eleven-year-old gender: protagonist.'"
"Does the franchise 'belong' to Lucas or does it 'belong' to the public, as an artifact of cultural history?"
What's the Matter With CrossFit?
Jon Gugala | 
Deadspin
"Desperately wanting approval, it has circled the wagons and worked actively against the very means to its validation. The biggest problem CrossFit has is itself."

The Distraction Debate
Aaron Gordon | Sports on Earth
"We could also talk about Ben Roethlisberger's motorcycle accident, Jameis Winston's sexual assault allegations, Jim Irsay's DWI, Josh Gordon's DWI -- any DWI, really -- or Aldon Smith's drunk driving and weapons charges, or any other arrest. It seems many world-class athletes are capable of compartmentalizing off-field issues without it affecting on-field performance."
A Serious Attempt to Understand Blake Lively's Goop-Like Website
Darren Franich | EW
"So at least there's, like, some clarity that the whole Preserve experiment is basically an exercise in bourgeois indulgence in the guise of populist traditionalism, all of it constructed within the modern vogue for 'authenticity' among a class of people whose lives are defined by inauthenticity at the existential level."
The Place Makes Everyone a Gambler
Alice Bolin | The Believer
"This idea of Los Angeles' massive communal roll of the dice is essential to Didion's understanding of the city, that cloud on the land, and especially the entertainment industry."
The Jenny Lewis Experience
Jeff Himmelman | The New York Times Magazine
"Whatever demons stole her sleep for these last few years, they've surely been with her forever, in one form or another. But they are also what gives such depth and soul to what she does."
We want to hear what you think about this article. Submit a letter to the editor or write to letters@theatlantic.com.
Spencer Kornhaber
is a staff writer at
The Atlantic,
where he covers pop culture and music.