The Older, Wiser LeBron James
His essay announcing his return to Cleveland seems designed to signal that he's not the same guy who enraged the nation with The Decision.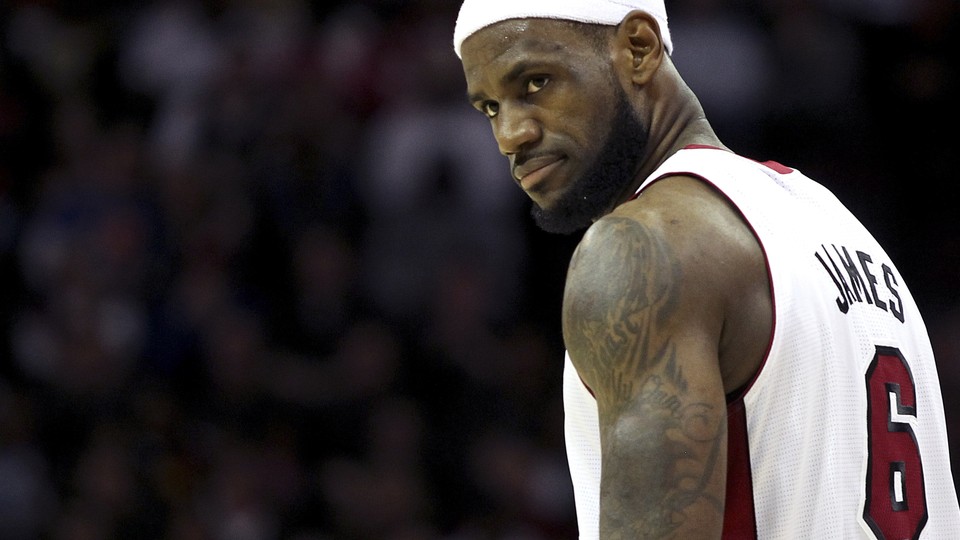 Four years—the length of LeBron James's absence from the Cleveland Cavaliers, give or take a day—is a long time. It's the duration of a presidential term, or a non-Van Wilder trip to college. And judging by the choices James made during his 2010 and 2014 free-agent experiences, it was enough time for basketball's best player to grow up off the court.
James's first-person essay on Sports Illustrated's website, announcing that he will return to the Cavs, feels in many ways like the antithesis of his notorious announcement in July 2010. The Decision, the ESPN on-air spectacle during which he said he would join the Miami Heat, was almost universally viewed as a catastrophe even as it was happening. He spent 45 minutes of live TV before answering the simplest of questions ("Where are you playing next season?), and his representatives informed Cleveland management of the NBA star's choice with a brusque phone call five minutes before the broadcast.
It was tacky. Tone-deaf. Immature. Like a self-centered bro breaking up with his longtime girlfriend over the phone from a bar with his friends yelling "let's do shots to FREEDOM!" in the background. And it understandably led to a vicious backlash from Cleveland fans, who burned his jersey in the streets and wrote screeds like Scott Raab's The Whore of Akron. Cavaliers owner Dan Gilbert responded to The Decision with his infamous Comic Sans rant, in which he called James a coward and mocked his "Chosen One" nickname. Overall, it was viewed as an indictment of James's character and integrity, especially after his gaudy introduction to the Heat with Dwyane Wade and Chris Bosh a few days later.
Contrast that with the route James took this time around. Before his announcement Friday, he made no public statements of any kind about the free-agency process, ignoring the prognosticators who did everything from tracking the movements of Gilbert's private plane to consulting a psychic clam. Then, without any self-generated fanfare, he published a thoughtful, incisive piece of writing that touched on his initial decision to leave Cleveland, his time in Miami, and his reasons for returning home.
Cynics will say that the article was corporate public relations at its best, every word vetted by James's team and every sentiment tailored to improve his image. Part of that is true—every word was most certainly reviewed on multiple levels (James notably did not mention Cleveland's No. 1 draft pick Andrew Wiggins in the announcement, potentially because he could now be dealt to Minnesota in a trade for Kevin Love). But James went out of his way to address thorny issues like The Decision, about which he said, "If I had to do it all over again, I'd obviously do things differently, but I'd still have left."
Fans in Cleveland may not want to hear this, but four years ago James couldn't have shown the level of forthrightness he's showing now. He just didn't have it in him then. But there's new perspective present throughout his announcement essay, never more so than when he addresses getting over Gilbert's Comic Sans screed and the hatred from jilted Cleveland fans:
It was easy to say, "OK, I don't want to deal with these people ever again." But then you think about the other side. What if I were a kid who looked up to an athlete, and that athlete made me want to do better in my own life, and then he left? How would I react? I've met with Dan, face-to-face, man-to-man. We've talked it out. Everybody makes mistakes. I've made mistakes as well. Who am I to hold a grudge?
James didn't promise a championship to the Cleveland fans, unlike when he arrogantly claimed that he, Wade, and Bosh would bring "not three… not four… not five…" titles to Miami. He promised the most than any athlete can realistically promise fans: hard work, patience, and slavish devotion to the cause—in this case, that cause being ending the Cleveland pro-sports championship drought that will be 50 years long in December. And he explained his intimate relationship with the land of his childhood in a way he couldn't have done when he left four years ago. "My relationship with Northeast Ohio is bigger than basketball," James said. "I didn't realize that four years ago. I do now."
The basketball implications of James's return to Cleveland will become clearer in the coming days, with Bosh likely headed to the Houston Rockets and Love expressing interest in playing alongside James in Cleveland. But one thing is very clear: The man who left Cleveland in a way that Gilbert said sent "the exact opposite lesson of what we would want our children to learn" came back in a way that demonstrated how much he's grown up.