Country Music's Adventurous Streak
Despite its reputation for traditionalism, the genre has long welcomed outside influences—a fact that's as true today as it was in the period covered by Country Funk 1967-1974.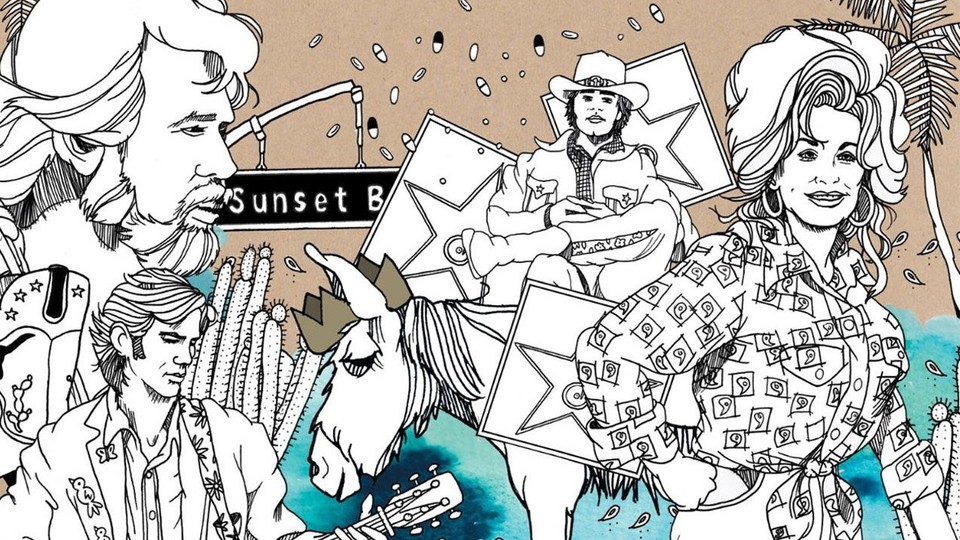 The compilation Country Funk Vol. 2, which collects songs by country singers that show the influence of funk between 1967 and 1974, is interesting for two reasons. First, it shows the skewed interests of the music press. Second, and not unrelatedly, it shows that country music has always been more progressive in sound than it is often given credit for.
Country Funk received positive coverage from the likes of Pitchfork, Rolling Stone, Blurt, and Mother Jones; the first installment also earned mention in the Village Voice and the Boston Globe. There's nothing wrong with this—Country Funk is an artfully compiled mixtape from the label Light in the Attic, which has a good reputation for finding things that everyone missed the first time around. Zach Cowie, one of the men behind the release, is a record collector with remarkable range. In 2013, he ran the blog playitasitlathes, which posted a song a day from all over the musical spectrum. It was only a year-long project, but it showed how nourishing eclecticism could be.
Still, there's something strange about the attention paid to this mixtape of songs more than 40 years old. Contemporary country is plenty vibrant right now. In the first half of this year, you can find the tragic songs of John Fullbright and Kelsey Waldon, the slick longing of David Nail, the heavy guitar attack of Brantley Gilbert, and the rapping of Big Smo. These artists make interesting, sometimes boundary-pushing music, but, except for Fullbright, they have gone unmentioned by many of the publications covering Country Funk.
Part of the reason for its media popularity is that the compilation features recognizable, respected names performing in or shortly after their heydays. But ironically, Country Funk actually has more in common with contemporary country than it does with new critically beloved musicians like Sturgill Simpson, who, while talented, gets mainstream coverage in part for staying faithful to the '70s.
Today's stars often try to cross over to a larger audience by mingling with pop (Taylor Swift, Keith Urban), rock (Eric Church), rap (Florida Georgia Line), and R&B (Lady Antebellum). Country Funk shows similarly famous singers of decades past doing much the same. You can hear country music institutions Willie Nelson and Dolly Parton, Byrds co-founder Gene Clark, and easy-listening king J.J. Cale taking note of the scratchy guitars and snappy break beats exploding through pop culture at the time. The compilation also includes covers of artists outside country—Elvis Presley, the Beatles, and the Band.
The truth is that country has always interacted with genres outside itself. In a recent interview, the artist Bobby Bare Jr., whose father was a famous singer and songwriter in Nashville in the '60s and '70s, noted that "Contemporary country is just doing the exact same thing that Patsy Cline did in the '50s and '60s … trying to cross over to pop." The country radio personality Gerry House made a similar connection in his recently published book, Country Music Broke My Brain. "I've heard all my career about the good ol' country music songs that no longer exist today," he writes. "In fact, the Patsy Clines, et al., were actually … pop radio stars who happened to be in Nashville. … Nobody thought of them as 'country.'"
For more proof that country has always been aware of other musical developments and looked towards bigger markets, consider the career of the grand old man of country music, Willie Nelson. "Shotgun Willie," which appears on Country Funk, comes from one of the two albums Nelson recorded for Atlantic in the first half of the '70s. Both were produced by Jerry Wexler, who also oversaw many famous southern soul recordings; the string arrangements on the Shotgun Willie album were put together by the singer Donny Hathaway. Nelson would go on in 1978 to make a million-selling album of popular standards with the assistance of Booker T. Jones, former head of the house band at Stax.
Nelson is lionized for being a country singer with an open ear and a yen for sonic exploration, but he is hardly alone. Take Kenny Rogers, whose "Tulsa Turnaround" shows up on Country Funk. In 1968, he had pop success with the psychedelic "Just Dropped In (To See What Condition My Condition Was In)." (That song, which also appears in The Big Lebowski, was written by the songwriter Mickey Newbury, whose solo work sounds sort of like Nashville meets the early '70s Beach Boys). In the '80s, Rogers went to No. 1 on the pop charts with "Lady," penned by Lionel Richie; he hit that spot again with "Islands in the Stream," written by the Bee Gee's Gibb brothers. That country-disco-pop track would later also be interpolated in the 1998 rap hit "Ghetto Supastar."
As another example, see J.J. Cale (his song "Cajun Moon" is on Country Funk), who mixed country with the smoothness of the L.A. pop sound, much like the Eagles. He also happened to be a very early adapter of drum machines—Sly Stone's There's A Riot Goin' On is one of the few major albums using programmed percussion that came out before Cale's Naturally. Waylon Jennings and Merle Haggard, icons of tough country authenticity, don't appear on Country Funk, but in the late '70s, both men recorded songs indebted to smooth R&B. Same goes for the country-soul singer Tony Joe White, who appeared on the first volume of Country Funk and also landed a song on a recently released compilation of yacht rock entitled Too Slow To Disco.
Country Funk is more than just a demonstration of a genre's wide reach: It also contains a number of excellent songs, mixing visceral, movement-compelling percussion with fragile country croons. Lurching organs, James Brown grunts, wah-wah pedals, and other guitar distortions all make an appearance. On "Me and Mr. Hohner," listeners may be shocked to hear the singer Bob Darin rapping. But the main surprise about Country Funk? That people find it so surprising.