Charlie Haden, Jazz's Rooted Radical
How the late bassist, unpretentious yet innovative, changed the course of musical history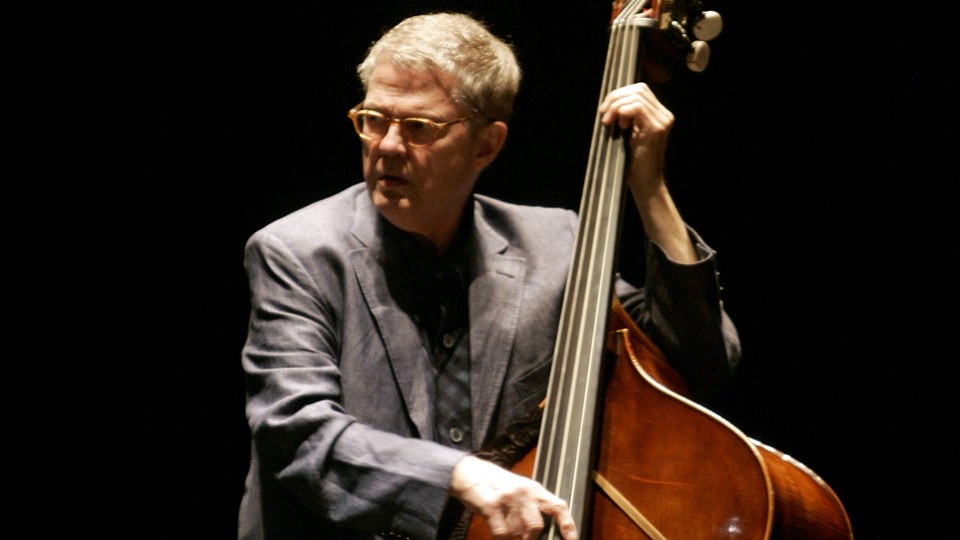 No one wants to be remembered most for what they did at 22, but history will forever recall Charlie Haden for his role in Ornette Coleman's great quartet of the late 1950s.
With Haden on bass, the band stormed east from Los Angeles in 1959 on the heels of the album The Shape of Jazz to Come, took up residency at the Five Spot in New York, and announced free jazz to incredulous and often offended audiences. Luminaries from Leonard Bernstein to Miles Davis came to hear the band play. Not everyone was impressed; Davis was famously dismissive. But within a few years, Davis had abandoned the Kind of Blue style he was pursuing in 1959 in favor of a more Coleman-influenced sound. Coleman remains surprisingly controversial today, but he and Haden and Don Cherry and Billy Higgins had incontrovertibly changed the direction of music.
Haden—who died Friday at 76, from complications of the polio he contracted as a child—was perhaps the least likely revolutionary in the bunch. Born in Shenandoah, Iowa (a town that shares a name with a famous folk song), Haden grew up playing country music in a family band. Despite making his name in a genre that often rewards flashiness, he was a resolutely unpretentious player, notable for the notes he didn't play and for always being in the right place. Haden and his most frequent and fruitful collaborators during a long career were musicians steeped in American traditions, who synthesized a range of musical genres and spat them back out in varyingly eccentric and original ways. While Haden may have seemed like an unlikely revolutionary, his firm grounding in the roots seems to have been what enabled him to be such an effective radical.
Start on the most basic level: the way he played the bass. His playing isn't elaborately virtuosic, in the style of a Paul Chambers; and it isn't irresistibly swinging, like Ray Brown. Like a country or blues bassist, Haden often stayed close to the root note of each chord. In Coleman's band, for example, there was no piano player—just the leader's saxophone, Don Cherry's trumpet, Billy Higgins's drums, and Haden's bass. Without the crutch of a keyboard, Haden anchors the band on classic tracks like "Lonely Woman," as Hank Shteamer notes:
Later, Haden had a long and fruitful collaboration with the pianist Keith Jarrett—not a simple player, but one whose music emphasizes melody and is reminiscent of hymns and gospel music. The last record Haden released during his lifetime is a duo album with Jarrett. To get a feel for the Jarrett-Haden rapport, check out "Treasure Island," from 1974:
I find that no format demonstrates Haden's abilities like duets. With just two musicians, it's plain how Haden is able to fill a huge musical space without using a huge number of notes, how his bass maintains harmony and rhythm in the absence of a full band, and how he brings out the best in his partners. As a bonus, they also showcase his superlative soloing. Here's a Haden original from Beyond the Missouri Sky, a 1997 album with guitarist Pat Metheny:
Even stronger is Steal Away, a 1995 collection of spirituals, hymns, and folk tunes with pianist Hank Jones. Jones and Haden were both seasoned sidemen, and they don't waste a note. They also nimbly avoid the two common and fatal dangers for jazz musicians covering folk or church songs: baroque arrangements that saddle the simple chord progressions with overcooked harmonic excess on one hand, and an abdication of the essential duty to swing on the other. A live performance of the record by Jones and Haden in 2007 is the best concert I've ever seen.
What about the radicalism? Haden's first record as a bandleader was with the Liberation Music Orchestra, a large band. The band's first album, from 1969, ranges from Bertolt Brecht to Spanish Civil War songs to an Ornette cover. The band is liable to lurch from martial brass-band cadence to full-on free-jazz freakout before the listener realizes what's happening, then coalesce again without missing a beat. In addition to being proto-world music, Liberation Music Orchestra also features what must surely be one of the earliest examples of sampling in music. A standout track, which features nearly all of those elements, is the Spanish Civil War medley. Haden's solo (around minute 7) shows the bassist at his best: almost shockingly rudimentary, yet also eloquent and inimitable.
Haden reunited the band several times—most recently in 2005 and always, as Haden wryly noted at an LMO show in 2008, during Republican administrations. Politics were often inextricably intertwined with his music, and as with the music, he seemed to be building an outspoken and radical viewpoint atop a firm egalitarian foundation. Haden espoused a sort of populist, pacifist liberalism that weaved together homespun Midwestern New Deal commonsense and radical urban leftism. Following a 1971 concert in Lisbon, as Nate Chinen notes, Haden was jailed after he dedicated his own "Song for Che" to liberation movements in Angola and Mozambique. In recent years, he maintained a robust Twitter presence, taking aim at fracking, money in politics, and the demise of net neutrality.
When Haden played with non-jazz musicians, they often fit the mold of an eccentric radical with firm roots in the basics. On YouTube you can see him playing (convincingly) with the punk band the Minutemen in 1984. During the 1990s, he played with Beck—the Ornette Coleman of alt-rock, perhaps—appearing on Odelay's "High Five."
There are hundreds of musicians who might be said to be figuratively Charlie Haden's children, but his most immediate legacy is his own children. Haden's daughters Tanya, Petra, and Rachel have recoded as the Haden Triplets; Petra was a member of the Decemberists and plays with bands from Sunn0))) to Bill Frisell. (Tanya is also married to the actor Jack Black.) Josh Haden is a bassist and member of Spain; Johnny Cash recorded his "Spiritual" on Unchained. All four play music that starts in the familiar but subverts it—roots to radicalism all over again.