Can Millennials Save Jazz?
Using the power of live performance to reach new audiences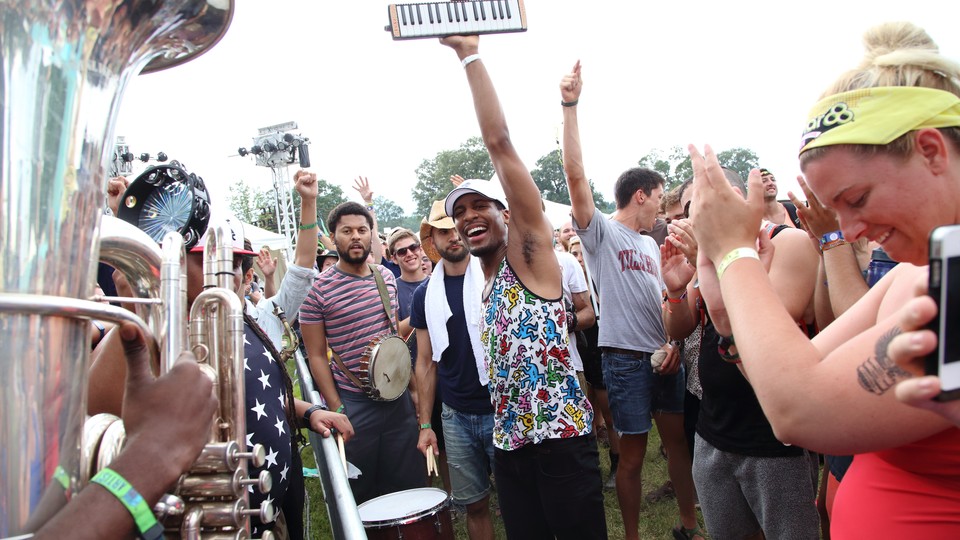 ASPEN, Colo.—What if the future of American music is actually its past?
That's Jon Batiste's bet. The 27-year-old keyboardist and vocalist is steeped in the jazz and rhythm-and-blues traditions of New Orleans (he grew up in a musical family in Kenner, a Crescent City suburb) and though he now lives in New York, he's trying to create a kind of music that melds traditions like the second line to a more modern sound.
But Batiste's approach is as much about presentation as it is about the actual melodies and rhythms he plays. As he explained to an audience at the Aspen Ideas Festival, presented by The Atlantic and the Aspen Institute, on Tuesday, he tries to take music to new audiences with what he calls "love riots": He and his band will stage concerts—sometimes impromptu, sometimes only quietly promoted—in unconventional settings like subway stations, street corners, and restaurants. He offered a tiny taste, moving through the audience with a melodica, singing and interacting with members.
The immediacy of live performance provides a kind of authenticity he thinks appeals to members of his own generation who, he quipped, probably only ever hear jazz in an elevator.
"If you grow up, you have an iPhone in your hand, someone is always trying to sell you something, you're constantly being exploited," he says of Millennials. But he thinks live music can cut through that cynicism. "This makes it the perfect timing to bring this music to young people because they've never experienced something like it before."
As someone who's spent an inordinate amount of time listening to, thinking about, and exhorting friends to listen to jazz, I'm skeptical that this is the secret to saving America's classical music, or that there is a secret. But let's look at what Batiste gets right.
First, live music looms larger in American music than it has in some time. A much greater share of music revenue comes from live performances than it has for years, though that shift is probably in large part about the collapse of the recorded music industry:
From a less quantitative standpoint, there's something to be said for the idea that acoustic music can find an audience among young people, as the success of bands like Old Crow Medicine Show and Mumford & Sons demonstrates. And Batiste is right that jazz can't afford to be a "museum piece."
On the other hand, attempts to get young people to listen to jazz run back decades—most notably under the aegis of a young scion of a New Orleans jazz dynasty from another era, Wynton Marsalis. Yet the popularity of the genre continues to sink—jazz album sales fell 18.6 percent last year after falling more than 25 percent the previous year; the genre constitutes less than one percent of digital sales and sank 13.4 percent in 2013. That isn't to blame Marsalis for the decline of jazz; whatever his faults, it seems likely jazz would be in worse commercial straits without him.
For my money, and the statistically shrinking money my peers spend on music, the most likely way to reach a new jazz audience isn't through unusual performances but through the music itself. Take a musician like Robert Glasper, who like Batiste is a young keyboardist from the south (Houston, in Glasper's case). Like Batiste, Glasper has strong jazz chops, but he spends a great deal of time collaborating with hip-hop and contemporary R&B musicians. His own work is split between more straightahead jazz and hip-hop-inflected music. To me, a lot of Glasper's music feels a little half-baked, but his shows consistently draw a large audience of young listeners.
But some of the most compelling moments in Batiste's talk was when he used his melodica to demonstrate some of the motifs of early New Orleans music. Riffing on the instrument—it's like a mix between a harmonica and a piano, with a short keyboard—he compared motifs from early jazz, early blues, Louis Armstrong-style swing, and bluegrass. Since they were all played on the same instrument, without full bands, the similarities were especially clear. (Batiste said that as a jazz musician he finds it easier to play with bluegrass musicians than players in almost any other genre: "It's like cousins. We've got blues, they've got blues.")
Then he started playing a tune, based on a pentatonic scale, that sounded a little like Jelly Roll Morton and a little familiar. It took a few moments for the audience to recognize Lorde's blockbuster "Royals." It's safe to assume jazz's future is as a niche genre, but the scales and motifs that dominate pop music well into the 21st century are the same ones that were cooked up in New Orleans at the turn of the 20th century.