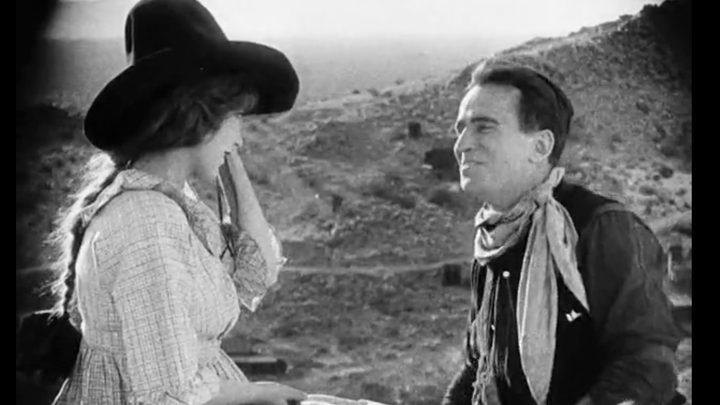 In the early days of Hollywood, silent films were a boon for a generation of anonymous lettering artists. Hand drawn, black-and-white title and intertitle cards with scene-setting descriptions and character dialogue punctuated most movies. They were "Speedball"-style letters, named for the  Speedball pen, a popular round-nibbed lettering tool that produced soft, round, fluid lines.
Easy to read on screen, these cards were mostly taken for granted. In fact, letterers rarely received credit in the original films. Recently, though, the Minneapolis-based type designer Chank Diesel (a.k.a. Charles Anderson, founder of Chank Fonts) was approached by the San Francisco Silent Film Festival about re-creating the typeface used in a silent film they were restoring and wanted to premiere at the event. The result is an exceptional homage that may pique interest in the forgotten title card genre—a font that speaks for a silent film.
The film Diesel worked on, The Good Bad Man starring Douglas Fairbanks, was initially released in the United States on May 7, 1916, produced by the Fine Arts Company and distributed by the Triangle Film Corporation. This restoration premiered at the Castro Theater in San Francisco during the SF Silent Film Festival on May 31, 2014. It is being screened at the Library of Congress in Culpeper, Virginia on July 18 and again in Paris at the Cinémathèque Française in February 2015.
Originally, the producers looked at existing fonts but could not find exactly what they wanted. So they turned to Diesel, with his penchant for vintage faces, to create a new custom font that would match the original lettering of the film as closely as possible. "We think of 'old movies' as looking old because we are looking at hundred year-old artifacts that have been copied and re-copied," Diesel explains. "Our purpose in the restoration was to return the film to what it looked like when it originally screened before audiences in 1916."
The samples that Diesel and font designer Sierra Kamatchus—under the guidance from the SF Silent Film Festival's Rob Byrne—worked with as reference are from a 16mm abridged copy of a 1923 Tri-Stone rerelease of the film, which are the only surviving examples of the original title font. "Nobody knows what the lettering was like on the original 1916 print of the film, since it is gone forever," Diesel says.
In 1916 the titles would have been painted or drawn on a smooth surface and then photographed with the motion-picture camera. There were no optical printers in those days, so the titles would literally have been shot by someone hand cranking a motion-picture camera. "The result would have looked gorgeous," Diesel says. The new letters were created in Adobe Illustrator and made to work together in Fontlab.
Every type designer has a favorite character, and Diesel says he often judges a font by its "g." Silent Film Font, happily, has a nice stylish one. But, he adds, "Really the most quirky thing is the setting of the era-appropriate punctuation. It has little tiny quote marks that comes next to great big titling capitals; very dramatic. They also put an extra space before and after periods and commas and the quotemarks, giving the wording a nice light airiness." He also has affection for "the 'big caps' that are in the font. The capitals are already way bigger than the lowercase letters, but additionally each panel starts with an even bigger capital. So we created two full sets of capital letters for this font: regular caps and big caps."
But can such a distinctive type style, designed for such a specific purpose, have an extended life? "Well, yeah!" he says. "I think it'd look great on modern devices, like phones and tablets; it's a titling font, so it makes for very readable headlines. Of course it has an old-timey feel, and you can't change that. But modern people still talk about old-timey things on the smart-gadgets of today, so I think it'll find a use with somebody."
We want to hear what you think about this article. Submit a letter to the editor or write to letters@theatlantic.com.
Steven Heller
is a contributing writer for
The Atlantic
, the co-chair of the MFA Design program at the School of Visual Arts, and the co-founder of its MFA Design Criticism program.