By Heart is a series in which authors share and discuss their all-time favorite passages in literature. See entries from Claire Messud, Jonathan Franzen, Amy Tan, Khaled Hosseini, and more.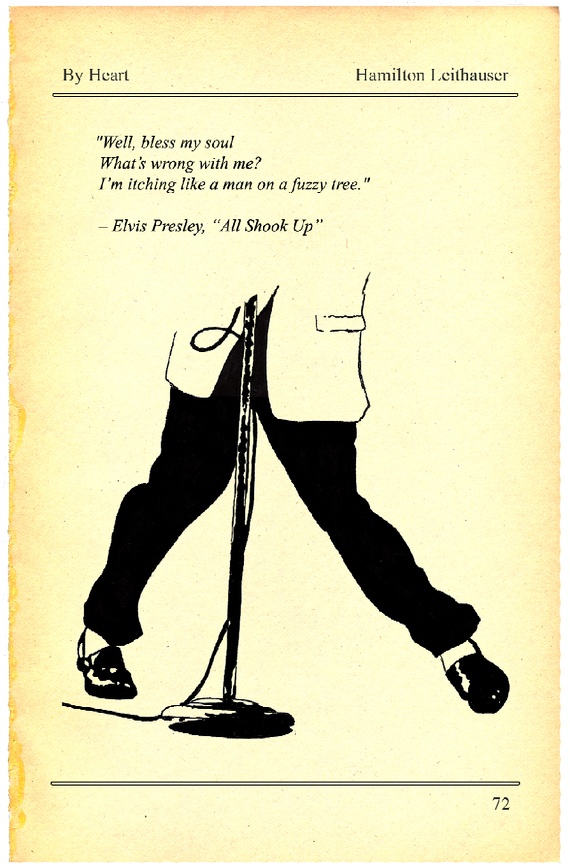 Most song lyrics demand to be listened to in context, not read in isolation on the page. When I talked to Hamilton Leithauser—lead singer of the acclaimed, now-defunct rock band The Walkmen—he used a favorite line from Elvis Presley's "All Shook Up" to illustrate how he thinks about the interplay between words and music, and why it's important to balance instinct and rationality in the creative process.
The two final Walkmen albums featured spare, ascetic songs, with arrangements you could pull off on a four-track. But on his recently released solo debut, Black Hours, Leithauser trades self-imposed leanness for songs fleshed out with marimba, conga, handclaps, even a few backing "shoo-bee-do-wahs." As the opener, "5 AM," explicitly channels Sinatra, complete with cinematic Gordon Jenkins strings, you can hear a singer making a compelling case for a place among the great vocalists of American music.
Hamilton Leithauser spoke to me by phone.
---
Hamilton Leithauser: I've listened to Elvis my whole life. My mom always played his records when I was growing up, so I got started on him early. Once you get into The Beatles, The Stones, and Bob Dylan, you realize that they all saw Elvis as their hero, and that brings you back. Later, in high school, I was listening to lots of rockabilly punk—bands like The Cramps, who reference Elvis over and over again. With so many kinds of music you're going to find your way back to the King pretty quick. He's got charisma, style, voice, the whole shooting match. There's an energy, rawness, and purity to his music, whether he's doing fast songs or slow ones. He's a guy to return to, again and again, for me.