Why Top NBA Draft Picks So Often Disappoint
Managers seem to think that youth, points scored, and Final Four experience predict college players' pro performance. History tells a different story.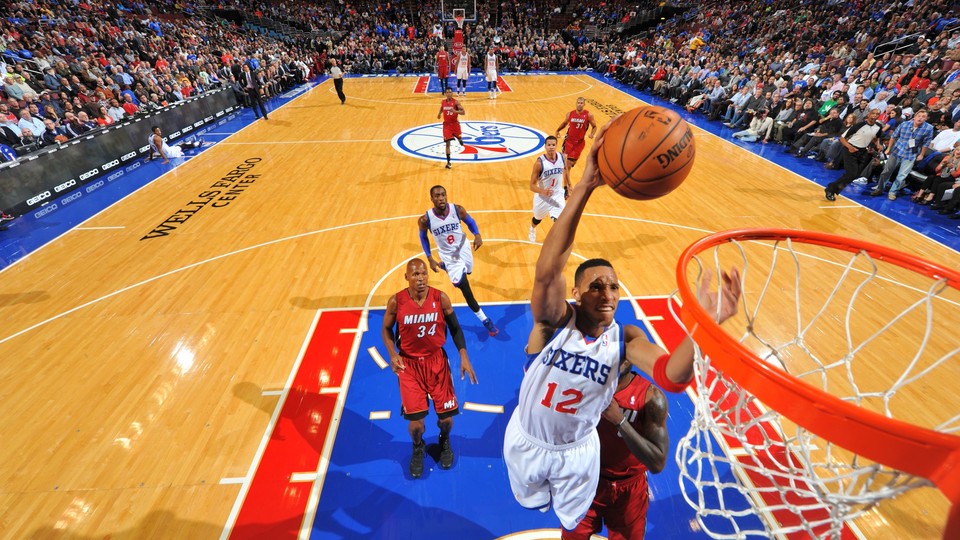 Ahead of Thursday's NBA draft, fans of the Philadelphia 76ers have been invited to attend the "world's largest draft party" at 76 different locations in the Delaware Valley. Sixers diehards haven't had much reason to party lately.  This past season, only the Milwaukee Bucks finished with more losses. And when we look at point differential, we see that the Sixers mark of -10.45 was the ninth worst in the past 40 years of NBA history.
Before the season started, though, some observers thought that the Sixers should try to be bad. NBA rules make it so that losing as much as possible in 2013-14 would increase the chances of a plum spot in the 2014 draft, which conventional wisdom would say would let the team grab new, special talent. Whether or not this was the plan, the Sixers's poor performance has been rewarded with the third choice in the 2014 lottery.
But is this reason for the fans of this team to party? As others and I have observed before, if we look back at the history of what the top three picks in the NBA draft have actually done, there's not much reason for optimism. Data shows that the players drafted early often fizzle out once they start playing in the NBA.
The likely reason for this history of failure: Teams use the wrong metrics when selecting new members.
Consider the following 10 names: Evan Turner, Hasheem Thabeet, Michael Beasley, O.J. Mayo, Adam Morrison, Andrea Bargnani, Marvin Williams, Ben Gordon, Darko Milicic, and Kwame Brown.  Each of these players were selected with a top-three pick in this century. And each was a below-average performer after four years in to his career (the NBA's collective bargaining agreement gives lottery teams the rights to a player for four years if all options are exercised). In the case of Adam Morrison, he was so unproductive that he never even played four seasons.
And if we back into the 20th century we see names like Michael Olowokandi, Keith Van Horn, Mahmoud Abdul-Rauf, Danny Ferry, Dennis Hopson, and Chris Washburn.  On draft night these players were certainly considered "good." But their performance in the NBA failed to match this expectation.
Certainly this list suggests that finding a "good" player isn't a sure thing. But exactly how often does "good" happen? Let's say a player is "good" if his career production of wins per 48 minutes (calculation explained here) is simply above average after four seasons in the league.  This is not a difficult threshold to overcome (by this definition, about half of all NBA rotation players are "good").
But even with this minimum threshold, "good" doesn't happen as often as the fans at the draft parties might think.  Since the ABA-NBA merger in 1976, only 54.3% of players selected with the top three picks were above average four years into their career. Or more than 45% of top three selections were not above average. That suggests that landing a "good" player with one of the top three choices is little better than a coin flip.
And the story gets worse if we ask the following: How often are all the top three choices in a single draft "good" players? Since 1976 this has happened exactly twice.  In 1999 the top three choices were Elton Brand, Steve Francis, and Baron Davis.  These players are not likely to be in the Hall of Fame. But they were above average (at least early in their respective careers). And then back in 1984, the top three choices were Hakeem Olajuwon, Sam Bowie, and Michael Jordan. Two of these players are in the Hall of Fame. Bowie—whose career was severely impacted by injury—was not quite as successful as Olajuwon or Jordan.  But Bowie was above average early in his career.  And relative to many other players selected with the top three choices in the draft, Bowie was actually a "good" player.
Of course, fans of the Sixers might think this years is going to be different.  Until it was revealed Joel Embiid has a stress fracture in his foot, most mock drafts argued that Andrew Wiggins, Jabari Parker, and Embiid would be the first three choices in the 2014 draft. Although no one can agree on the order these three will be selected, it appears that at least one of these players will be available when the Sixers are on the clock.
Chad Ford—ESPN.com's NBA draft expert—recently said that these three players rank among the top 12 draft prospects in the past 15 years.  So that suggests the Sixers are definitely going to land a "star." Party time?
Not so fast. Ford focused strictly on what scouts thought about a player when he was drafted, and not on what the player ultimately did in the NBA. Which only illustrates how often the dreams on draft day are not realized. Ford's list looks at the top 25 prospects, including Darko Milicic, Michael Beasley, O.J. Mayo, and Adam Morrison. These players, as noted earlier, were (or are) below average NBA players.
A few years ago I published a paper (with Stacey Brook and AjuFenn) examining what determines where a college player is selected in the NBA draft. Recently I updated the data set used in this paper, looking at drafts from 1991 to 2013. The results were essentially the same. If a player wants to hear his name early on draft night he should be young, play for a winning team, and score.
To see how much these three factors matter, consider the following two hypothetical players.
Player One, relative to everyone selected out of college since 1991, is average in almost every respect.  All his box score stats, except points scored, are the same as the average player in the sample.  He also played for a college team with an average winning percentage in the sample (average is 0.701—yes, NBA teams favor those who played for winners in college). But he is only 19 years old. He also scores about four more points per 40 minutes than an average player (one standard deviation better than average). And last year, this young scorer appeared in the Final Four.
Player Two is not average.  Except for scoring, he is three standard deviations better than average with respect to shooting efficiency, rebounds, steals, assists, and blocked shots (in other words, he is well beyond average). But instead of being 19, he is 22 (about average for a player in our sample). Plus, although he and his teammates got to the Final Four two years ago, his teammates last year were just not that good. His team last year only won half of their college games.
So who should hear his name called first? The young scorer on a winning team last year? Or should it be the older player with worse teammates, who is also much better with respect to most everything a player does on the court?
If you think teams want "better," the model disagrees.  Although the second player is actually "better," our research tells us that the younger scorer from a team that recently won usually ends up getting picked first.
Now, some might think that younger players who score on winning teams are indeed more valuable. But when we look at what predicts future performance we see a different story. Players who are younger, who score, and who played for winning teams in college do not produce more wins in the NBA.
Although we cannot know with certainty which college players will be great, we do know that the two best predictors are shooting efficiency and rebounds.  These two factors, though, don't have much impact on where a player is selected in the draft.
All of this brings us to the case of Andrew Wiggins. Prior to Embiid's injury, some thought the Sixers would be able to land Wiggins. On Tuesday, Ford said that Wiggins should be a "no brainer" for the No. 1 draft pick, which goes to Cleveland this year. But is that enthusiasm warranted?
Wiggins is somewhat similar to the first player in our hypothetical scenario. He is young. He can score. And he played for a winner last year (that didn't quite reach the Final Four). Furthermore, before the season started, many Sixer fans were hoping Wiggins would come to Philadelphia.
But the stats that predict future performance in the NBA don't make Wiggins look so good. Since 1991, more than 1,000 players have been selected out of the college ranks by NBA teams. Of all these players, Wiggins—with an effective field goal percentage of 49.9%—ranked 842nd in shooting efficiency. And when it comes to rebounding (a mark adjusted for position played), Wiggins also ranked 842nd. In sum, In sum, Wiggins did not dominate non-NBA players in college. Why would he be a "no brainer" to dominate in the NBA?
The fact that he's so hotly tipped encapsulates what's wrong with the draft these days. Teams are in the lottery because they are bad. And what we see in the data is that landing lottery picks is no guarantee that they are going to get better. That's unless, perhaps, coaches and managers start to rethink how they evaluate young talent.