Welcome to the Exquisite Torture of Soccer, America
Take it from an England fan: Last night's draw makes the tournament all the more fun.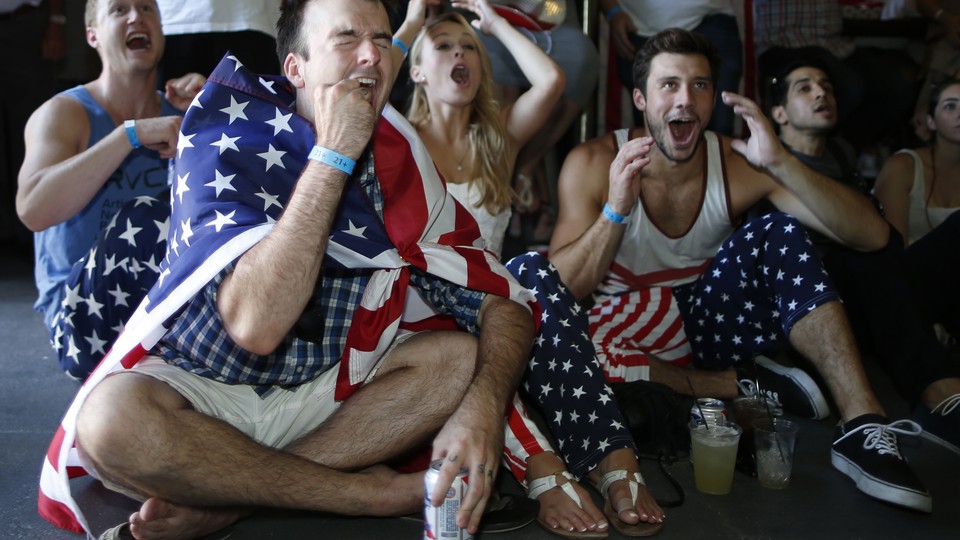 If Clint Dempsey hadn't somehow managed to secure his place in Internet folklore by scoring a goal with his abs last night, then it's possible the most enduring image from the US-Portugal game would have been Michael Bradley's face after his shot on goal was blocked by Ricardo Costa's knee in the 57th minute. The game's broadcast kindly included slo-mo footage of Bradley's reaction; with his hands grasping either side of his face, eyes hollow with despair, he looked like Edvard Munch's "The Scream," only the source of his angst wasn't existential. It was a scrappy, swarthy 33-year-old who plays for Valencia.
"Soccer can be a cruel game sometimes," said Bradley to reporters after the match, a veritable Space Mountain of a showdown between the unlikely underdogs from the world's superpower and the preening pompadours from a country that has a lower GDP than Missouri. He wasn't wrong. Without Silvestre Varela's stoppage time goal from Cristiano Ronaldo's stunning cross, literally in the last 30 seconds of the game, the USMNT would be heading comfortably into the knockout stages of the 2014 FIFA World Cup as the leaders of Group G, affectionately referred to before yesterday as the "Group of Death." It would have been magnificent.
Still: Take a moment to consider the possibility that it might be more fun this way.
This might sound like the twistiest pretzel logic ever spun (and bear in mind that it's coming from an England fan), but soccer wouldn't be half as enjoyable without its extravagant pendulum shifts between beer-soaked elation and crushing agony. It's profoundly, messily (or Messi-ly, depending on which team you root for) unfair. The U.S. side played with real fortitude in Manaus, not only proving itself to be eminently capable, but actually showing up the depleted Portuguese team. They should have won the game; thanks to some early sloppiness from Geoff Cameron and last minute fumbling from Bradley, they left it with one point instead of three.
But doesn't that make it more exciting? Now, instead of triumphantly patting yourselves on the back all week and smugly donning popsicle shirts in the office, you're theorizing about probabilities with all the solemnity of a career statistician and spinning wild theories about how Jurgen Klinsmann could strike a deal with his former assistant so that instead of playing soccer on Thursday, the U.S. and Germany sit down in a circle on the pitch for a raucous game of Cards Against Humanity. A draw snatched from the jaws of victory raises the stakes considerably, and that, in turn, adds a significant frisson to the upcoming face-off in Recife (call it a "recife" for excitement, if you will).
"Success is the ability to go from failure to failure without losing your enthusiasm," said Winston Churchill. (It's possible even Winnie would be losing faith in Roy Hodgson's side at this point, but never mind.) And it was the great American Ellen DeGeneres who said, "It's failure that gives you the proper perspective on success." The USMNT didn't fail last night. If anything, they proved themselves to be more capable on the world stage than anyone, especially the Eeyore-like Klinsmann, suspected. Also, now you know what it's like to have your dreams momentarily torn asunder by a slimy, winking braggard with a diamond earring. Enjoy. But if it goes to penalties, best start drinking.