U.S.A. vs. Germany: A Thoroughly American World Cup Loss
Bootstrapping, inclusion, perseverance: Even in defeat, big national narratives play out.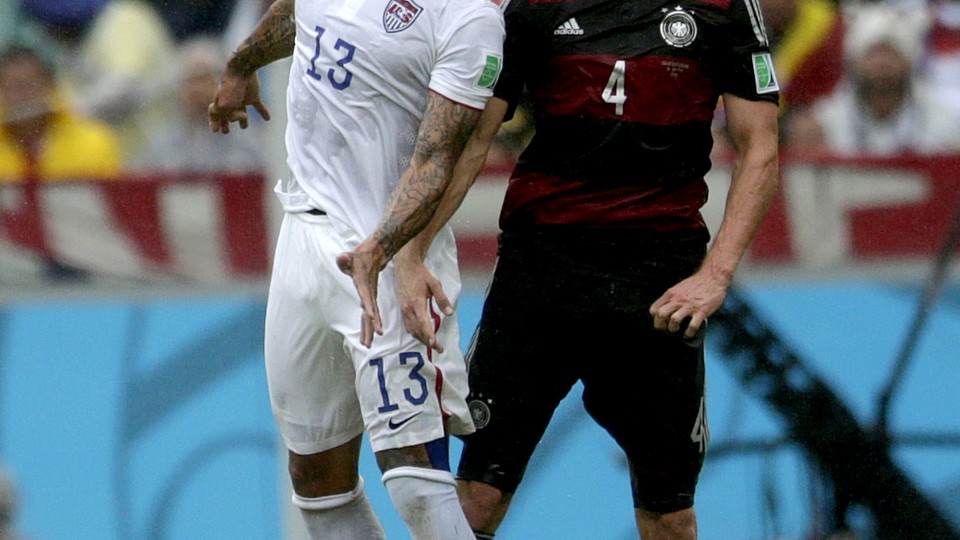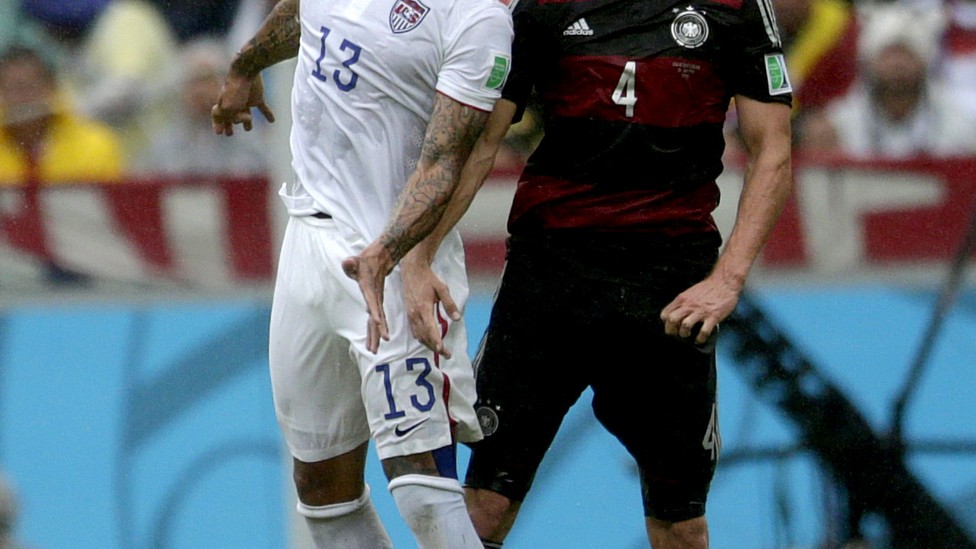 "Is U.S. World Cup team 'American' Enough?" So read one USA Today headline in the run up to the 2014 World Cup. Team USA has a German coach, Jurgen Klinsmann, and five German-Americans, coined "Jurgen-Americans." Too much outsourcing, too many Hessians?
But then German-American John Brooks scored America's winning goal against Ghana, collapsing to the ground as though too foggy and disoriented from joy to stay on his feet. Then German-American Jermaine Jones roped one against Portugal. Then German-American Fabian Johnson lit up the wing in both games, offering a burst of offense as well as a hold-steady on defense.
So by the time it came for the team to face some Germans actually playing for Germany, any nationalistic doubters should have been silenced. As has been the case so many times in U.S. history, the melting pot had proven an asset. The German-Americans proudly flaunted their tattoos that testified to their commitment: Brooks with his giant eagle on his back, Jermaine Jones with his stars-and-striped kneecap.
Against Germany, their narrative grew more rich, and, also, more American: The national mythos is full of stories of the spurned who get a shot at redemption. Passed up by their home country, here was a chance for Jermaine Jones and Fabian Johnson to show Joachim Low and the rest of the Germans what they missed out on.
The revenge of the underdogs wasn't to be, though. Facing off against the No. 2 ranked team in the world, Klinsmann's squad lost, 0-1. Deutschland had 63 percent of the possession. They had nine shots on goal; U.S.A. had one.
But two or three times, Americans streaked up the field and showed a capability for beautiful combination play. The rest of the match, the team hung on, playing defense that feeds into the all the clichés about the USA's determination and heart.
As for the Jurgen-Americans: Fabian Johnson contained Lukas Podoloski and looked savvy and confident with the ball at his feet, exhibiting a level of play that one assumes most everyone watching across Germany had to admire.
And Jermaine Jones, nicknamed "German" Jones by the other USMNT players, was a giant on a rampage in the midfield, blind to all obstacles, including both the referee and his teammate—all in the name of the U.S.A.
The team now advances to the round of 16, playing Belgium on Tuesday. Plenty of fans will tell you that it is definitely not American to be satisfied with a loss. Some people will tell you it's not American to care about soccer at all. But the truth is that even in losing to Germany, the team proved its mettle against the Group of Death in a style that befits the self image of a country as messy, as inclusive, and as tenacious as America.