The World Cup's Sideline Siblings
What happens when you've devoted your life to soccer—but it's your brother, not you, who ends up competing for global glory?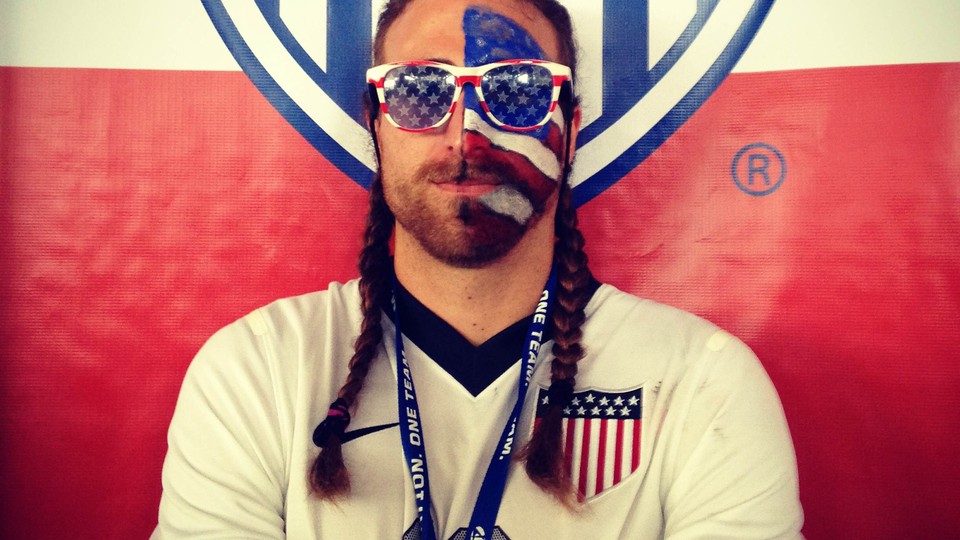 Ryan Dempsey, Clint's older brother by five years, can remember the first time he got dominated by his kid brother.
The summer after Clint's freshman year of college, the two brothers went out on the field to play "World Cup." It's a game, the kind of thing that you start playing at the end of practice when you are seven or eight years old: You shout out your country, claiming dibs on the United States or Brazil or Mexico, then mob the box, pouncing on balls, trying to score first, celebrating madly when your shot goes in, pretending like you are the star on TV with the whole world watching.
So the Dempsey brothers and some friends were playing their version of World Cup, a much more intense version than the kind you probably played as a kid. "Lots of fouls, running so hard we'd throw up," says Ryan. Ryan's girlfriend was sitting on the sideline. "Of course I want to impress her," says Ryan, his Texan drawl a little stronger than Clint's. "I was trying every move I knew. I tried to push Clint off the ball—he was too strong. It was like trying to knock over a telephone pole with my shoulder. And this whole time, I'm realizing my girlfriend is watching. I was getting more and more pissed."
Then the finale: "He 'Africaned' me—that's what we call it anyway. He put the ball on one side of me, ran around the other side. I got a good hold of his wrist—he got my dad's carpenter wrists, stronger and thicker than most ankles. I was hanging on him, like a towel tied around him, flopping around like crazy. He shoots and scores, and I just start cussing him out. My girlfriend chewed me out in the car for acting like such an asshole about it," Ryan says, laughing.
Of course, 10 years later, Clint would represent the real United States, an actual World Cup team, and when he'd celebrate a goal, it wouldn't be pretend.
***
Bruce Arena, former US national team coach, once described Clint's game: "Clint will just try shit." Ryan doesn't claim to have given Clint his style, but as the older brother, he did have an influence. Ryan was the first player in the family, the first obsessed with the futbol that was all around him in the predominately Hispanic, hardscrabble south-side of Nacogdoches, Texas, where the Dempseys grew up in a trailer parked on their grandmother's land. Ryan introduced the game to Clint, and the brothers played constantly: On the side of their grandparents' house, in the streets, in the adult Hispanic league, on the dirt Nacogdoches fields that are now a part of American soccer folklore.
"A real official game was like an afterthought," Ryan says. "Pickup was what we cared about." When the brothers weren't playing, they were watching the South American leagues on the Spanish-language channels. "I was infatuated with Latin American soccer—the step-overs, the way they seemed to dance with the ball, the whole culture."
Most of the kids they grew up with are no longer around: "A couple got deported, a couple got arrested, a couple are dead." This fight-for-what-you've-got childhood, Ryan says, played into their passion for the South American league: "The players weren't clean cut—they looked like they were straight off the field we drove by on our way home, when I would see middle-aged Latin immigrants in Nacogdoches, with mullets and shit like that." Carlos Valderrama, the Colombian center midfielder with a giant blond Afro, was his favorite. "When I saw him the first time, I thought he was the coolest guy in the world. I wanted to get a perm so I could be just like him."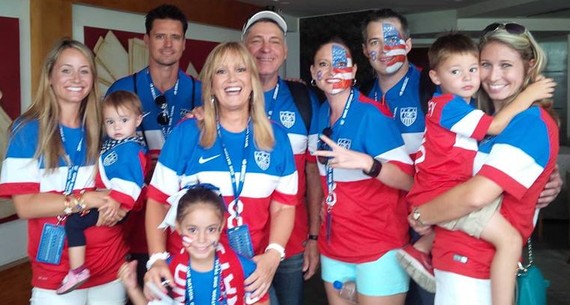 And Clint, who did whatever Ryan did and who loved whatever Ryan loved, soaked up this South American approach to the game. "Even at five years old, when you're pretty much just a moving cone, you could see that Clint got it, understood what you're supposed to be doing," Ryan says. "He'd mimic all the guys we'd just seen on TV—Maradona, Caniggia, Valderamma, Brazilian, Argentine, and Colombian players."
At age 10, Clint began to be able to pull off a move here and there against his 15 year old brother. "He'd dip one way, I'd fall for it—you know, a 10 year old beating me. And then he'd do what I did when I scored, which was celebrate like crazy. Then I'd punch him in the chest, pound on him, all that."
Once Ryan was old enough to drive, he went out to the pickup games he'd passed, games with fully grown guys from El Salvador, Honduras, Mexico. He took Clint along. "I wanted to be a hero, show my little brother I could kick ass," Ryan says, "but he wanted to be his own hero."
Clint wasn't the only kid out there, but he was the only one who played with the adults. ("And maybe I was the only guy who didn't know better than to ask if he could play," adds Ryan.) The men, many of whom were ex-pros and former semi-pros, "treated him like a nephew," Ryan says. "They taught him tricks, exposed him to stuff." Here, on the pickup field—where pulling off a move, nutmegging somebody, "trying shit" is highly valued—is where the Dempseys learned the game.
***
The 2003 FIFA World Youth Championships was the first time Ryan saw his brother play for the US National team; Clint came on as a sub against South Korea. "It was crazy seeing him on TV," Ryan says. "It wasn't mom with the home video camera anymore, it was real TV, with Spanish commentators just like we grew up watching—I was shaking, couldn't believe what I was seeing."
When Ryan's not able to watch a game in person, he usually watches Clint from home. He doesn't like going to bars: A couple beers in, if some guy starts harping on Clint, it's not easy to stay cool. (He jokes, "You know, my brother and me are not the most mature, well-behaved gentlemen in the country…") Ryan was at home with friends for the World Cup qualifying game against Jamaica, when Dempsey taunted the Jamaican player with the expression now known as "the Deuce face," which went viral and is now on t-shirts and blown up into cutouts waved around at U.S. games.
"We were laughing our asses off," Ryan says. "That's just Clint. He makes a bunch of crazy faces." Ryan narrates what he imagines are the thoughts behind the face: "Oh, what, you all mad, oh you acting like you going to do something? Oh yeah?'"
He adds that there are a lot of faces the camera doesn't catch. "There'll be another one this World Cup—he'll forget where he is, he don't give a shit anyway."
Now, during the 2014 World Cup in Brazil, Ryan's Facebook page is in World Cup mode. His cover photo is an image a childhood friend turned fighter pilot took in tribute to Clint, a Dempsey USA jersey in the cockpit of a jet as it soars over water and land. Ryan's profile picture is a Photoshopped image of his brother's face over the Captain America movie character—the dusky red-and-blue tinged suit of armor, the stars-and-stripes themed shield. ("I found it on Twitter and thought that was pretty dope," Ryan says.) "AVENGE," all caps, is bannered across the Captain America image.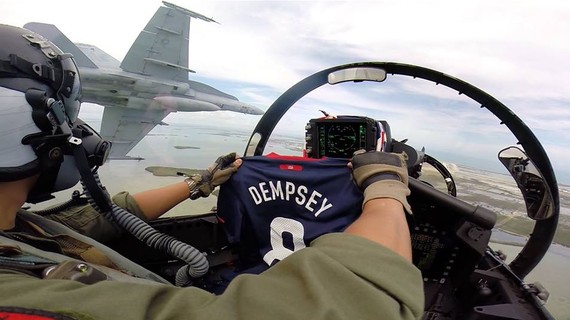 ***
The Dempseys are one of many sets of soccer-playing brothers similar in genetics and circumstance, separate in trajectories. Wayne Rooney, Kaka, Wesley Sneijder, Ryan Giggs, John Terry, Samuel Eto'o—they all have brothers playing soccer for a living, on lesser teams in lower divisions. Many more have brothers like Ryan: guys who loved the game fiercely, who brought their brother to the game, but ultimately failed to make it themselves.
While Ryan had the opportunity to train with both Pumas and Cruz Azul, top division professional teams in Mexico, he followed the American frame of mind—use your athletic ability to land yourself a scholarship—and returned home to play in college, even though in Mexico they told him he was crazy to leave.
More than 15 years later, this is a decision he regrets: "Looking back I probably should have stayed, to live my dream. Whatever happens after that, that's what happens. If I had to struggle to pay for college, fine, I would have had to struggle. You got to struggle with what you've got to struggle with. At least I would've had a shot at my dreams—to play professional soccer."
When he graduated, whatever opportunities he'd once had in soccer were gone. Like most players, he had to find something else to do with his life. Which isn't all that easy to do when you've grown up playing, watching, and hoping about one thing. "It wasn't that I didn't have a backup plan," Ryan says. "I didn't have a backup passion."
Nowadays Ryan works a 50-hour-a-week job—"It's pretty much the most boring thing in the world to talk about." But he's quit trying to replace his passion. A job is just a job, while futbol is who he is, even if he never made it as far as he wanted. When the workday is up, he does what he's been doing his whole life: He heads to the field. He is one more middle-aged guy playing for nothing on dirt, still the blanco surrounded by guys from Honduras, Mexico, and Panama.
Of course, he's not only "just another middle-aged guy"—he is also Clint Dempsey's brother. "It's so exciting to be this close to one of the most successful players of our generation," he says.
"Watching Clint, there's no envy at all. When he's doing it, it's like I get to be out there too. He's out there, playing the style we played as kids."
Ryan recognizes that all over the world there are guys like him who got close, guys who trained with the pros, guys who were on the brink. And he knows that it's guys like him who Clint is playing for. As Clint told ESPN, "Every time I go out on that pitch, I do it for [my family], but also for the people who never made it."
***
Incredibly, three sets of brothers are playing in the World Cup.
You've got the Boateng brothers, who in 2010 became the first two brothers to play against each other in a World Cup. This past Saturday, they faced off for the second time, Kevin-Prince Boateng representing Ghana, Jerome Boateng suiting up for Germany. (Come World Cup time, they halted their usual routine of daily texts; Prince told The Daily Mail, "It's every man for himself.")
How does one brother choose Germany while the other chooses Ghana? How can that possibly happen? In Ian Hawkey's September 2013 article for The Telegraph, he layouts the dichotomy:
Once Kevin-Prince Boateng, plain 'Prince' to most, was better known for breaking rules than any achievements as a footballer. For that, he is easily caricatured as his brother's polar opposite. Prince, 26, has gangster tattoos, like the slogan 'Pain vs Love' on his torso; Jerome wears scholarly glasses. A year separates them in age, but they grew up in different households – sons of the same father, a Ghanaian, but of different mothers, both German – and while Prince was once detained by police after a row of cars had been vandalised in the street, the teenaged Jerome was routinely praised for his professional application.
Germany passed on the flashy Prince, and Prince, spurned, chose to represent the country of his heritage.
And then there's the other Ghanaian brother story: Jordan and Andre Ayew, whose father, Abedi Pele, won African Footballer of the Year three times, are both starters for Ghana. And while the Boateng brothers story made the bigger splash in the news, the Ayew brothers had the most effect on the Ghana-Germany game, one as the hero, the other as the goat: Andre soared through the air for the header to equalize; younger brother Jordan missed three point blank opportunities in front of goal. Black Star captain, Asamoah Gyan, asked his country to forgive Jordan, who apologized to his teammates for blowing his chance in front of goal. Gyan described Jordan as "the future hope of Ghana." While his brother, Andre, appears to be the present.
Another African side, the Ivory Coast, has long had a famous brother duo—first Salomon and Bonaventure Kalou and now Yaya and Kolo Toure. The Toures play in the English Premiere League normally, and had another brother, Ibrahim, the youngest, who also played soccer, although he had not yet made it to the national team. On Thursday, he died of cancer. In a press video from January, the interviewer asks if there's anything Ibrahim wants to tell his brothers. He says, "…To say thanks to them for all they did for me because everywhere they have followed me closely, each time they have called, each time they have given me advice."
***
The Dempseys aren't the only brother story on the United States 2014 World Cup team. The US family brigade is stocked with soccer-playing siblings who've come to Brazil to cheer for their brothers, decked out in the red white and blue.
There are younger siblings—like Marcela Bedoya and Santiago Bedoya, who grew up playing pickup with Alejandro and went on to play in college, and Graham Zusi's two sisters, who also played college soccer.
More than five thousand miles away, in South Bend, Indiana, another USMNT younger brother will be watching. Nick Besler, sibling to Matt Besler, the starting center back, won't make the trip to Brazil because he's got summer school. An incoming senior, Nick is six years younger than Matt— "I was the baby going to my brothers' games," says Nick, who like his brother competed for Notre Dame. While the Fighting Irish never brought home a national title during Matt's era, Nick's team did. Nick gives him a hard time about that, while Matt gives him a hard time about missing his wedding—which was happening at the same time as the title game.
Last summer, Nick got the chance to train with Matt's club team, Sporting Kansas City. The team called him Little Bes (pronounced Beez), and "Bes 2.0." After graduation, he'd love to play with his brother in his hometown but he'd be happy to compete wherever he gets the opportunity. Does he have dreams of playing in the national team one day himself? "Absolutely—and the fact that my brother did it makes it even more of a dream. We're extremely competitive. I want to be in a World Cup just like him."
And then there are the older siblings. While they may have said goodbye to their own playing dreams, they still feel proud about the role they played in their little brothers' success. Mike Zusi, four years older than Graham, rolled the ball out to Graham as soon as Graham could walk. Zusi's father told MLS Insider, "I think that the amount of time that [Graham] spent out here, and the attention that his brother gave to him, when he was a little tiny baby, gave him just an appreciation and love for it that I don't know if you can get if you're introduced to it later."
An MLS-Insider video featuring Zusi shows pictures of kid Graham at the field—as an infant, asleep on the red-white-and-blue striped blanked along the sideline at Mike's game; as a toddler, holding Mike's hand, ball beside them; as a four-year-old, gazing adoringly up at Mike, Mike looking down at Graham. Now, up in the stadiums of Brazil, Mike, with a flag painted on half his face, is once again looking down at his brother, this time as he mans the left flank for the US men's national team.
Playing directly behind Graham Zusi is DaMarcus Beasley, whose older brother, Jamar, was once a teenage phenom. TR Slyder recalls competing on a youth team with both brothers: "[DaMarcus] was a really nice and quiet kid. His brother Jamar … was the bigger, flashier, more swagged-out goal scorer. Given his big brother's electrifying talent, DaMarcus was more like Jamar's little brother who was actually pretty darn good himself." Jamar signed with the MLS directly out of high school but flamed out after two seasons, making mistakes typical of a teenage pro. An excerpt of the Kansas City Star article in which he laid himself bare: "Jamar Beasley staggered into practice still drunk. Five Long Islands from the night before did the job—leaving him groggy and disheveled, a lump in a uniform."
Before his MLS exit, he spent a season playing for the Chicago Fire with DaMarcus. DaMarcus told the Indianapolis alternative newspaper Nuvo, " I always said the greatest year of my career was playing professionally with my brother in Chicago. One of my favorite jerseys is the one that says D. Beasley and he has J. Beasley—they couldn't just put Beasley on the back of the jersey. It was great to play with him and have that moment with my brother."
***
So brothers can be one anothers' rivals, idols, or both at once. There are so many variations of the narrative: One makes it, one does not. One brother is famous, one brother is still more famous. One in the shadows, one in the spotlight. Whether the hero or the fall boy, the star or the witness, whatever the case, there's a common through line: shared passion.
Take the United States men's national team older brothers: Ryan Dempsey, Jamar Beasley, Mike Zusi. Regardless of how far they did or did not make it, all of them still play, Ryan in daily pickup games, Mike in adult league games for a team called BPDT, and Beasley for an indoor professional team. In Manaus, Brazil, the USMNT siblings even played together—Mike, Ryan, and Stephan Johnson (Fabian Johnson's brother) competing in a game of futsal against the locals. "We held the court five games straight," says Ryan.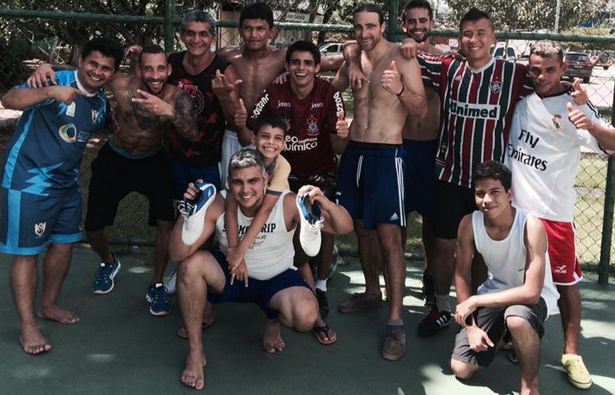 Brothers of the U.S. Men's National Team, here Stephan Johnson and Mike Zusi (brothers of Fabian and Graham), have bonded by teaming up for competitive pickup in Manaus, Brazil. (courtesy of Ryan Dempsey)
In the MLS.com article "Whatever Happened to Jamar Beasley," Jamar told Nick Firchau, "I'm gonna play until the wheels fall off. Until they fall all the way off. I just don't think I'll ever stop having that desire to compete and to play, whatever level that is. I don't think I'll ever lose that." Ryan echoed this sentiment: "When my legs stop working," he says. "I'll be out there in that wheelchair league."
Maybe by then, their brothers will be beside them once more on the pickup field. (Carlos Valderrama, Ryan's childhood idol, is now a 51 year old who still plays in pickup games and adult tournaments.)
It's fun to imagine the future: the gray-haired Dempsey brothers, still making faces, still talking smack with a Texan twang, still out on the field.
But right now is Brazil—and like Ryan said, when your brother is playing, it's like you are out there too. This feeling is an amplification of what so many people feel come World Cup time: watching their countrymen, sharing in the ups and downs.