The Deep Meaning of the World Cup's Flashy Hairstyles
Soccer players have long groomed themselves to look unusual. Why?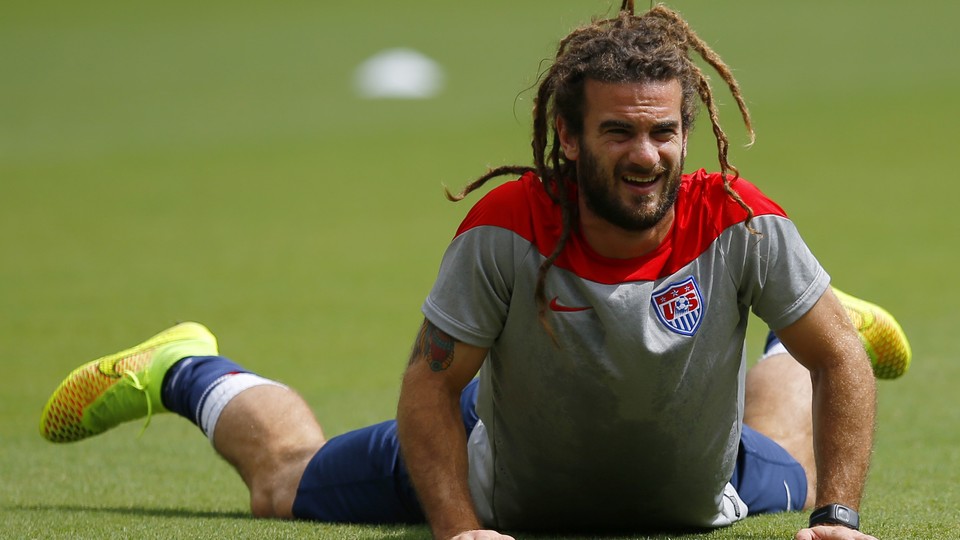 In this, our first truly social World Cup, certain images have branded themselves on the nation's consciousness with a viral indelibility: the facepalming trophy, the unfortunately pointed teeth of Luis Suarez, and—most unpredictably—the glorious, airborne dreadlocks of U.S. midfielder Kyle Beckerman as he belts across the pitch like a 21st-century Merovingian warrior. Whatever the USMNT does on Tuesday, Beckerman will return home from Brazil with legions of new fans, not entirely thanks to his skills on the field (the second search result for his name on Google right now after "kyle beckerman hair" is "kyle beckerman wife").
This is all despite the fact that the word that most frequently seems to accompany Beckerman's name in social-media mentions is "patchouli." The 32-year-old's hair—which he first started growing into dreads as a teenager—is arguably more talked about than his fearsome speed (he can reach upwards of 15 mph during a game), his successful passing rate (88.6 percent), and even his temerity when it comes to tackling (here's a nice gif of him elbowing Portugal's Raul Meireles in the face). And he isn't alone. Cristiano Ronaldo, for example, sported three separate, unique hairstyles for his three games this tournament, while Brazil's Neymar recently summoned a stylist to Brazil's training camp so that he could have his bangs bleached before facing off against Mexico.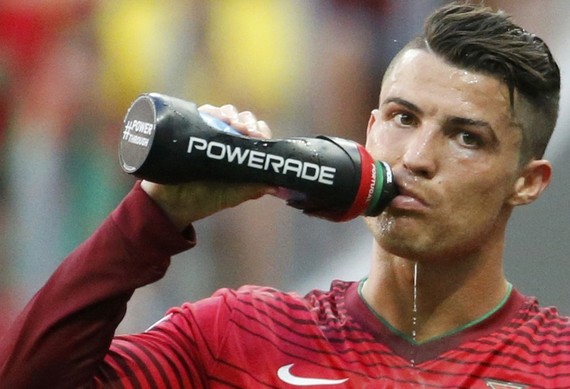 With a tournament that brings a new generation of strutting, entitled peacocks every four years, it's easy to get carried away on a wave of follicular curiosity/mirth, and to forget that the likes of Neymar and Bosnia's Ermin Bicakcic (the higher the hair, the closer to goal?) are merely following in the footsteps of the genuinely bizarre hairstyles that dribbled before them. "I love people who are just discovering that footballers have stupid haircuts," tweeted The London Times' Matt Spence during the USA/Portugal game. In reality, it was ever thus, or at least it has been ever since '70s legend Kevin Keegan discovered the bubble perm.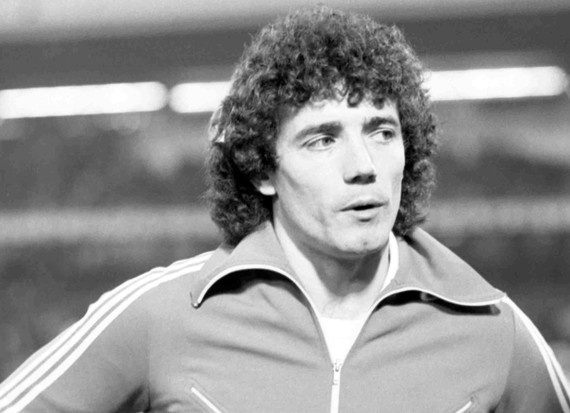 In a sport that depends entirely on teamwork (which is why Ann Coulter isn't a fan), hair has always enabled soccer players to establish their own unique identities as individuals, often with ridiculous results. For the UEFA European cup in 1996, troubled England midfielder Paul Gascoigne memorably bleached the top half of his head, leaving the bottom a mousy brown (it was emulated to varying wonky degrees of success by fans). Around the same time, Colombian midfielder Carlos Valderrama was a household name not so much for his mad skills as for a mop of extravagant orange ringlets that presumably made Richard Simmons jealous.
"For many players, their hairstyle is the only feature that can be altered to give them uniqueness and character," says Dr. Vivian Diller, a psychologist who specializes in issues that relate to physical appearances. "They're all wearing the same uniform, so it's an opportunity to express themselves, and when they're center stage, unusual styles can grab the attention of millions. Players in other sports take opportunities to brand themselves with piercings and tattoos, but soccer is all about feet and heads, since that's all that can touch the ball."
In other words, Ronaldo's constantly changing 'do is a canny attempt to get us to pay attention to him (as if we didn't already). Neymar, whose hair has run the gamut from mohawk to quiff to spiky mullet, is obviously just learning from the master.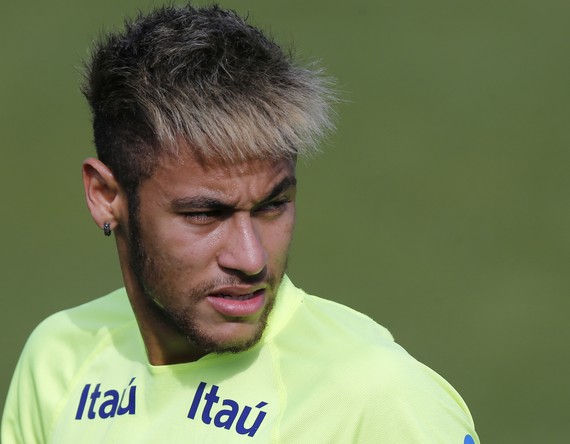 Going deeper into the psychology of hair in soccer is a fraught but fascinating enterprise. Consider Beckerman, whose appropriation of Rastafarian culture (his blog has a picture of him in front of the colors of the Jamaican flag) could seem like a rejection of "American" values if it weren't for his gleeful, downright patriotic fouling on behalf of the United States. Ditto Neymar, whose blond locks carry a certain extra weight in Brazil, where pale skin and light hair are typically associated with wealth (the expression o dinheiro embraquence literally translates as money whitens). Is Neymar's hair aspirational any more than Beckerman's hair is countercultural? (The latter also has a giant tattoo of a Native American chief on his right arm, so it's possible he's just confused.)
Few teams have such a broad divergence of styles as the U.S.'s does. If hair is a creative outpost for soccer players with lots of money and far too much free time, Clint Dempsey's crew cut signals that his burgeoning side gig as a rapper keeps him perfectly satisfied. Graham Zusi's man bun, by contrast, combines the practical with the inspired—it's long enough for him to tie it away from his face while on the pitch, but it also trails behind him like a magical unicorn mane when he sets it free. And though Tim Howard seems to have compensated for being trichologically challenged this tournament by growing a beard (a look we could label "upside-down head" if we were being unkind), it isn't outside the realms of possibility to conclude that the reason Michael Bradley's getting such a bad rap this month is because he has no hair at all.
In a world where hair has long been associated with everything from religion to sexuality to mysticism to strength, perhaps the most interesting thing about the prevalence of eccentric hairstyles in soccer is how openly the players defy heteronormative standards of masculinity. Ever since a youthful David Beckham frosted his tips and stepped out wearing a sarong—next to a Spice Girl, no less—soccer players have been liberated to experiment with hairdos that defy boundaries and social norms (and yes, sometimes gravity). It may not be much, but at an event that doesn't have any openly gay soccer players, Neymar's golden locks, no matter how absurd, are something to cherish.