Rap's Bittersweet Nostalgia for 1994
Twentieth-anniversary fever has gripped the genre, but not every hip-hop newcomer from the Illmatic era is part of the party.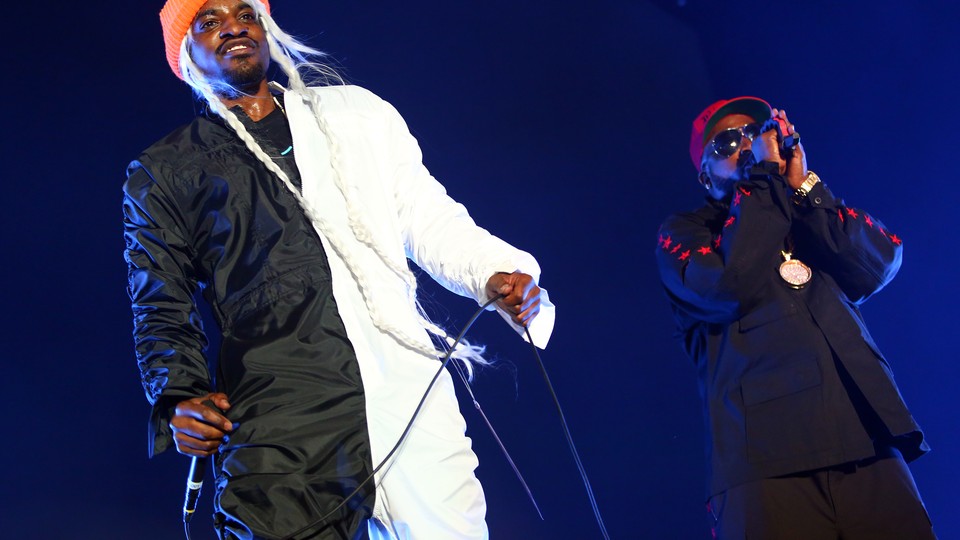 Some of the biggest stories in rap this year haven't been about what's new, but rather about what's old. Twenty years old, to be exact.
Each passing month brings more attention paid to works from 1994. Chief among the honorees has been Nas's Illmatic, a debut whose 20th birthday has been celebrated with a two-disc reissue, accompanying tour, three-part Fuse special, and feature-length documentary. The two-decade anniversary of Outkast's debut Southernplayalisticadillacmuzik brought about the long-awaited onstage reunion of members Big Boi and Andre 3000.
Elsewhere, Bone Thugs-N-Harmony has embarked upon a tour commemorating the 20th anniversary of their debut EP Creepin on ah Come Up, and Warren G announced plans for a follow up to his multi-platinum selling 1994 debut Regulate...G Funk Era. Mobb Deep's new release The Infamous Mobb Deep confusingly shares a title with their breakthrough album and includes a second disc of outtakes from 1994 studio sessions. A few months late to the party, Onyx released their first album in a decade, Wakedafucup, with a title inspired by their debut Bacdafucup, and The Wu-Tang Clan has reported internal strife around their already-delayed album planned for the 20th anniversary of Enter the Wu-Tang (36 Chambers).
Certainly, 1994 was an important year for the genre. By then, hip-hop had established itself as a coast-to-coast juggernaut, with NWA, Ice-T, and Geto Boys proving that even the most controversial records could be made into chart-toppers. Major labels scrambled to sign young up-and-coming rappers from across the country; even historic imprints associated with other genres such as Motown Records sought the next great rap debut.
"All of a sudden in '94 people are rapping with no frills again, with less focus on a gimmicky delivery and more on content," says J-Zone, the New York rapper, producer, and author of 2011's Root for the Villain: Rap, Bullshit, and a Celebration of Failure. "Illmatic got the most regard because it was the first to break the trend of gangsta image-driven rap."
1994's rookie class also included such still-revered acts as Gravediggaz, M.O.P., Coolio, Keith Murray, and the late Notorious B.I.G., and less-remembered ones like Jeru the Damaja, O.C., Big Mike, Casual, and Artifacts.
"A lot of these artists were just establishing themselves and sounded hungry as hell," says D.C.-area rapper and producer yU, who performs with Diamond District and the 1978ers. "It's the exact opposite of what you find nowadays with the relaxed, 'I can do this in my sleep' attitude that a lot of emcees have."
But there's something innately awkward about all the resurgent fanfare for these classic records. For each tour and retrospective, middle-aged musicians must assume the personae of their teens and early 20s, overlooking two decades worth of artistic output. Nas has been beckoned to recite Illmatic's 10 tracks dozens of times this year at venues ranging from the Kennedy Center with the National Symphony Orchestra to the Preakness Stakes' InfieldFest. If these performances have highlighted Illmatic's timelessness, they've also reasserted the consensus that Nas has yet to surpass his debut. In selecting Coachella for their reunion, Outkast joined a bill mostly composed of electronica artists and a young audience in part predated by Southernplayalisticadillacmuzik. Of the new Mobb Deep record, Pitchfork's Jayson Greene wrote, "the album is exactly the sort of hastily tossed-off, forgettable project that legacy acts will sometimes tack onto can't-miss releases."
The focus on 1994 also highlights rap's precarious position today. Hip-hop sales swelled corresponding with the pre-Napster boom at the turn of the century, but in the intervening years rap lost a significant market share. Forty-three of Billboard's year-end Top 200 Albums were rap records in 2004, but in 2013 only 25 cracked the Top 200. Last fall the 10th annual Rock the Bells Tour, a hip-hop specific concert series that saw the reunions of '90s icons the Fugees and A Tribe Called Quest, was cancelled due to slow ticket sales. Upon the cancellation, planned performer Kid Cudi tweeted, "Hip hop shows aren't exciting...People wanna smile and dance."
"It's like remaking the same classic movies over and over," J-Zone says of the recent nostalgia wave. "People are running out of ideas and instead revisiting stuff for interesting content."
Blockbuster rap debuts of the kind that made 1994 special may also be a thing of the past. That year's freshmen were subject to intense anticipation, with their potentials only indicated by fleeting guest appearances or word-of-mouth inspired by demo tapes and live performances. Nas's hype was largely a product of a handful of 16-bar verses on New York singles from 1991 to 1993, whereas Outkast's debut single appeared on an R&B Christmas compilation released by their label. Some used already established artists to break in: Bone Thugs, Warren G, Keith Murray, and Jeru the Damaja were respectively presented as the protégés of Eazy-E, Snoop Dogg, Erick Sermon, and DJ Premier.
"With those guys, you had so many different styles and perspectives," says Rapper Big Pooh, formerly of the North Carolina outfit Little Brother. "You could hear the amount of pride that went into the work. That's what made 1994 magical."
On "Where Are They Now," a track from his 2006 album tellingly titled Hip Hop Is Dead, Nas noted that "rap's a ghost town," listing the names of his former peers as if eulogizing them. Indeed, within a few years of their promising debuts, much of the class of '94 had been set adrift. By 1997 O.C., Craig Mack, and Coolio had put forth their last Top 200 charting albums, and Artifacts, Da Bush Babees, and Hard 2 Obtain were done recording together. The Notorious B.I.G. and Gravediggaz member Poetic tragically didn't survive to see even the 10th anniversary of their celebrated debuts, by which point peers from Jeru to Casual had sought refuge at indie labels. Oversaturation was an immediate diagnosis: With entire neighborhoods seemingly piggybacking a native son's success, sustained sales proved elusive.
The hype cycle has changed profoundly since then. Now, years worth of mixtapes and independent recordings are readily available online for supposed "debut" artists; an eager listener need not wait for a release date to investigate the buzz around a touted young rapper. Kendrick Lamar, Macklemore, and Iggy Azalea spent years promoting independent releases before attaining national distribution—unable to rely on personal connections, they used the Internet to build their audiences. With labels understandably unwilling to take risks on unproven entities amid declining sales, promoting "new" artists with preexisting fan bases is an attractive alternative.
Hip hop's obsession with 1994 is a celebration of youth and widespread creativity—an age when rappers fed off one another's music as eagerly as they competed. It also recognizes a period of immense promise, some of which remains unfulfilled 20 years later: For much of the celebrated class of '94, an auspicious start was as good as it got.