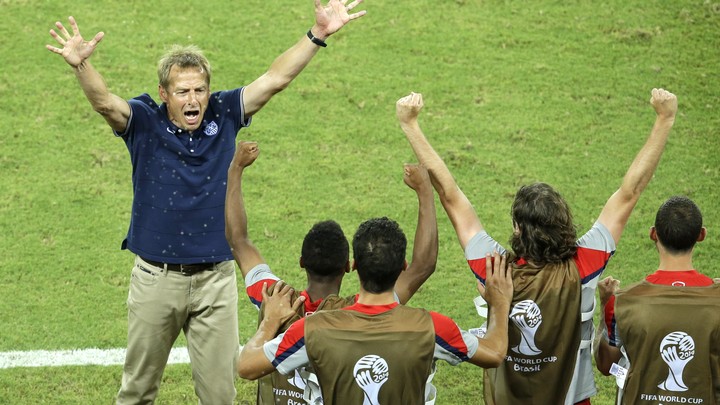 Let us know what we missed.
Coming of Age
Chris Ballard | Sports Illustrated
"Decked out in matching NBA-style U.S.A. jerseys, each with the name and number of a U.S. president on the back, from Washington to Van Buren to Fillmore, we pose for dozens, hundreds of photos. As Americans we're a novelty, almost an adopted mascot."
Why I'm Finally Speaking Up About What Terry Richardson Did to Me
Anna Del Gaio | Jezebel
"I would keep being the girl who could shrug it off and joke about it; no one can feel sorry for the girl who's laughing. That is, unless no one else is laughing along with you."
24 Lingering Questions From the NBA Finals
Bill Simmons | Grantland
"What's the best lesson of the 2014 Spurs that wasn't ridiculously obvious? ... Five words: Don't feel sorry for yourself."
Ulysses and the Moral Right to Pleasure
Dan Chiasson | The New Yorker
"There has never been a novel more sympathetic to every weird thing people do to make themselves happy."
A Meditation on Britney's "... One More Time"
Alice Bolin | The Toast
"Britney Spears' music is about desire; from the beginning, Britney Spears herself has been about a prodigious contradiction, a prodigious loneliness."
Crying Shame
Carl Wilson | Slate
"Often [The Fault In Our Stars] reviews have titles along the lines of 'A tearjerker that achieves genuine emotion,' as if the two traits were inherently at odds. ... We don't have this attitude about movies that openly try to make us laugh, another external, physiological, otolaryngological response."
We're Losing All Our Strong Female Characters to Trinity Syndrome
Tasha Robinson | The Dissolve
"Bringing in a Strong Female Character™ isn't actually a feminist statement, or an inclusionary statement, or even a basic equality statement, if the character doesn't have any reason to be in the story except to let filmmakers point at her on the poster and say 'See? This film totally respects strong women!'"
Vulture TV Awards: The Year's Best Plot Twist
Damon Lindelof | Vulture
"You start to see it about five minutes before it happens, and it feels inevitable, but there's also a part of your brain that's saying, They're not going to do this."
I Was Tony Gwynn's Bat Boy
David Johnson | Deadspin
"I lost my breath for a minute. In that instant, dozens, hundreds of memories of Tony flashed through my mind. And each one remains good, clean, and perfect in its own way."
Ed Sheeran, Lighter and Wiser, Releases X
Jon Caramanica | The New York Times
"But even though he may well be the most prominent folk-minded singer in contemporary pop, he's an open-eared experimenter at core, and saddled with none of the modesty, false or otherwise, that typically go with the folkie role."
A Communist's Guide to Winning at Soccer
Rob Kirby | Vocativ
"Klinsmann could steer the USMNT out of its hellish World Cup group in Brazil and into the knockout stages, provided he gets dictatorial at the helm. He just needs to incorporate some Cold War Communist management tactics and perhaps jam some treadmills into the sauna."
We want to hear what you think about this article. Submit a letter to the editor or write to letters@theatlantic.com.
Spencer Kornhaber
is a staff writer at
The Atlantic,
where he covers pop culture and music.