Miranda Lambert: Evangelizing for Country Music While Subverting It
Both fans and skeptics of Nashville need to hear her excellent new album, Platinum.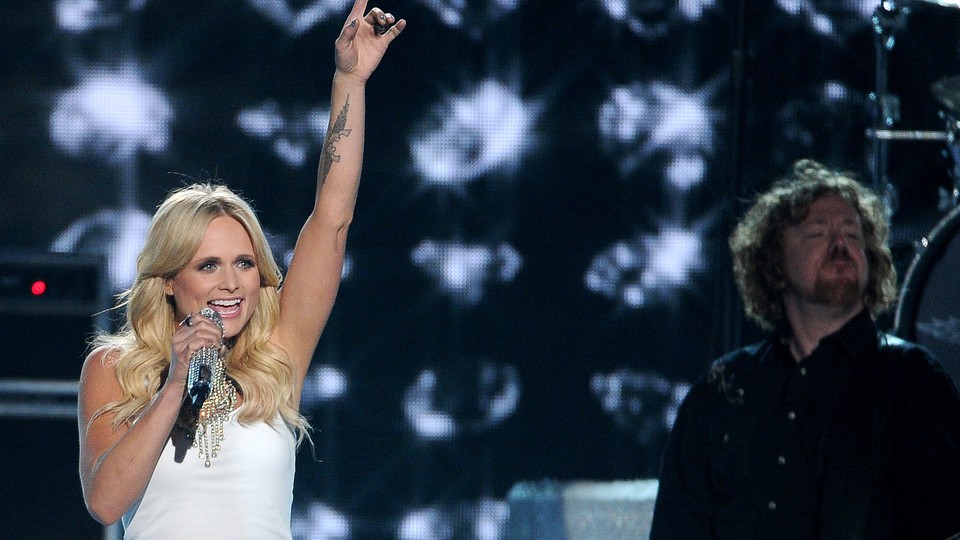 For most of the '90s and '00s, the majority of music critics basically ignored mainstream country music. This has been changing slowly: Rolling Stone just started Rolling Stone Country, specifically for the purposes of covering the genre; The Fader now has a sort-of-country column—and real estate prices are on the rise in Music City, a sure sign that country is becoming hip.
Miranda Lambert, who just released Platinum, her fifth album, was always an exception, one of the genre's biggest recent stars and one of the few country singers deemed worthy of critical attention from the big rock and pop publications. Ideally, that attention means that her powerful and expansive latest offering, Platinum, will help change skeptics' perceptions of country.
At the same time, Lambert is also aiming to change the genre's perception of her—and her peers. Platinum stands out immediately because it's one of just a handful of female-helmed releases from Nashville this year. (It's worth noting that there have only been a couple rap albums by ladies this year; country's not the only genre with this sort of issue.) Last year, Kacey Musgraves, Ashley Monroe, and Brandy Clark got people outside of Nashville excited, and Monroe and Clark each co-wrote a song on Platinum. While Musgraves's album was a hit, the charts didn't care too much about Monroe and Clark, and country radio remains dominated by the dudes. But who can ignore Lambert? She's a star with critical respect, a veteran with five solo releases and two Pistol Annies' full-lengths under her belt. On top of all that, she's one-half of country's leading couple, with her husband Blake Shelton.
Lambert uses this opportunity to make an eloquent case for women in country. The hook of Platinum's opening track announces Lambert's intention to step outside of the principle roles allotted to female country singers: explosive woman done wrong, heartbroken woman done wrong, or lady in love. (This restrictive idea of what roles a female singer can play is not limited to country.) "You don't know nothin' about girls," Lambert declares in her first hook.
At the same time, Platinum finds Lambert expertly staking claim to a number of musical styles from country's past and present. "All That's Left" could soundtrack a swingin' dance for those fans still pining for the ghost of Lefty Frizzell, while "Smokin' and Drinkin,'" finds Lambert singing nostalgic, quiet-storm country a la Lady Antebellum. Lambert's compelling in this mode—see also "Holding on to You," meticulous country soul, which slips in soothingly after "Somethin' Bad," a duet with Carrie Underwood that has all the sensitivity of a battering ram. "Gravity Is a Bitch," sounds like a mix of cocktail jazz and a vaudeville routine, with cartoony piano and a funny narrative about aging. The jaunty hand-claps and sharp, strummed rhythm of "Priscilla" make it a strong candidate for the album's second single.
Lambert works the room like a talented politician, pleasing different factions but always remembering her own agenda. The lead single, "Automatic," and its partner, "Old Shit," voice the kind of reactive sentiments Nashville is often accused of harboring; these songs also pithily condense the message of Daft Punk's 74 minute Random Access Memories—a.k.a., "we miss the good old days." Lambert sings repeatedly about the act of putting on makeup, the facade she has to construct for even the most basic interactions—with her mother, say, or her famous husband. But she owns the effect of her look: "It ain't my fault when I'm walking jaws droppin.'" She's willing to let other musicians ride her coattails, and gracious enough to invite others along—"you know I'll blaze a trail, but hell, you can come with me." And Platinum is funny, even when Lambert's singing about bedroom politics and the difficulty of finding time for her own marriage. "What doesn't kill you, only makes you blonder" sounds like a good bumper sticker, fighting to reclaim a hair color that's the butt of many jokes. The same goes for the album's title, a reference to Lambert's blondeness as well as her selling-power.
Again and again, Lambert moves in a new direction; again and again, she succeeds—a rarity for an album in any genre. Crucially, she manages to do so without really abandoning country (except perhaps on "Gravity Is a Bitch").  This stands in contrast to the genre's other two recent ambassadors to the mainstream, Shania Twain and Taylor Swift, who played an important role in expanding the country audience, often through increased hybridization with rock and pop. Twain's most recognizable hit, "Man! I Feel Like A Woman," does not scream Nashville; neither do Swift's last three albums. Lambert displays the variety within a genre that has increasingly porous borders, but she doesn't obliterate those borders. If Twain and Swift moved country closer to everything else, Lambert pulls everything else closer to country.