Spain's Strange Reign Over Soccer
The championship-winning team is oddly disciplined on the field—and oddly undisciplined off of it. Will that combination work at the World Cup?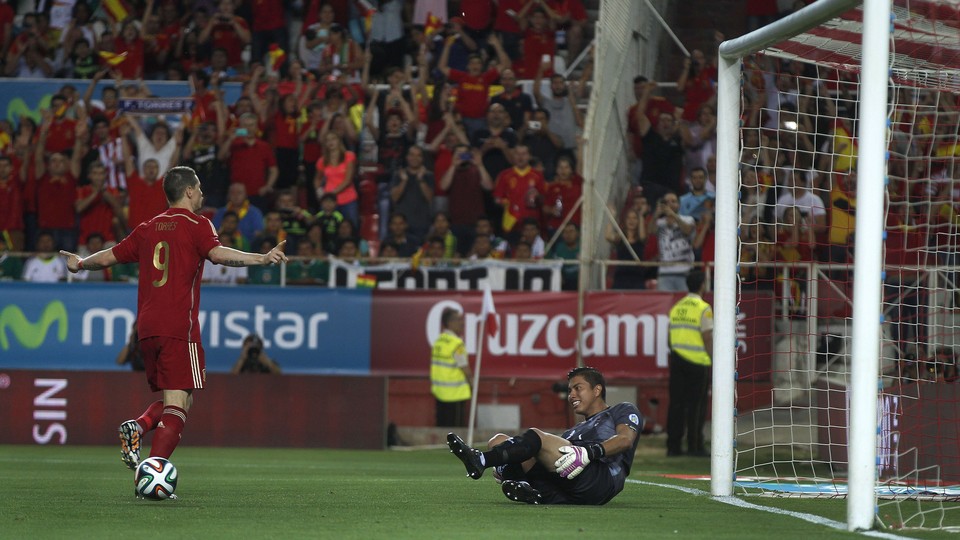 When Spain made history on July 1, 2012, winning their third straight major tournament, there was no rock 'n' roll hedonism, no spraying of alcohol, no nightclub celebrations—not even the stealing of the goal nets. In the relatively modest dressing room at Kiev's Olympic Stadium, Fernando Torres carried his daughter Nora in his arms—far more interested in her than the trophy he'd just helped win with a goal and an assist in the final against Italy.
Victor Valdés, the Barça goalkeeper who's often portrayed as an overly intense, saturnine loner, did one of those granddad tricks where you bend your thumb and slide it along the side of your hand to make it look as if it has come off altogether. Torres junior and senior both loved it.
Vicente del Bosque's son, Álvaro, who has Down syndrome, is a total soccer fanatic and utterly devoted to Xavi. He wandered around the dressing room enchanted to be with his heroes. Every player had a hug, a kind word, a joke, even an extended chat for him. He was the purest representation of what their country has felt about them over these last four winning years: sheer, unsullied joy.
My cameraman and I were the only crew allowed into Spain's inner sanctum as the players streamed back in following their blue-ribbon night, just as we were the only ones permitted in the dressing room at Soccer City in Johannesburg when La Roja became world champions. And while that July night in 2010 surprised me for its lack of raucous triumphalism, retaining the title two years later brought more revelation. Vicente del Bosque didn't even go into the dressing room when the heir to the Spanish throne arrived. The two branches of royalty, soccer and state, saluted each other in the corridor, but the manager was quite happy talking to his wife, Trin, and leaving the shared glory to others.
Some of the younger players broke into a chorus or two of "Campeones, campeones oé, oé, oé ..." but most of the elite group treated this historic benchmark as just another day at the office. Iker Casillas, Xavi, Xabi Alonso, Sergio Ramos—all had an attitude that said, "Ok, job done, let's get home and rest up for a couple of weeks because winning these things is what we do and there'll soon enough be the World Cup."
A sociologist in the room might have concluded that this was a sated generation, appetites diminished, hardly candidates for a fourth consecutive trophy. But whatever problems Spain may face in Brazil over the next few weeks, they won't have to do with lack of hunger, pride, or desire to keep the winning era going.
"The celebration of that last tournament win was very different from the first in 2008," Torres explained to me. "I guess everything's special the first time. Vienna [1-0 win over Germany in the Euro final] was a dream. We'd never done anything like it, but we'd been searching for just that kind of achievement. The celebration was complete madness. None of us could believe it. The World Cup is the World Cup, but it was won very far from Spain. Winning that final was impressive as an experience, but it was different from the Euro. It was like: 'Come on, come on, the plane's gonna be leaving.'
"Euro 2012? Well, I'd say that we expected to win it. In fact winning was the only thing we could do. And while there was immense happiness at having made history, it was a much more 'family' experience. Four years previously we'd very few kids between us, but by 2012 almost all of us did. We were together for a month in a hotel, new friendships were made, wives and kids spent a lot of time together, and when we won we wanted everyone, the whole big family, to be together immediately—enjoying it, savoring it, and giving the kids this memory of what their dads had done.
"It was also different because we'd all changed from being hungry youngsters in Vienna to mature hard-nosed professionals used to the demands of winning all the time. It had been the journey from learning how to win to being accustomed to winning and the way to achieve it."
So, if I had the chance to take that imaginary sociologist aside for a word of explanation in Kiev, this is what I'd have said: "Spain does things differently." To begin the breakthrough years, the Spanish FA hired a guy of pensionable age who had to abandon a handful of high-profile club jobs because of his recurring attacks of anxiety and panic. Luis Aragonés was also the man who staunchly believed in direct, aggressive, all-action soccer—who didn't want to lose the "fury" from La Furia Roja.
Paradoxically, this was the man who instilled the pass and move, who gave the keys to the kingdom to little bundles of genius like David Silva, Xavi, Iniesta, and Cesc Fàbre-gas, and who started this golden reign. And who—despite his background of psychological stress—took on almost the entire Spanish football community (and won) over his belief that Real Madrid legend and national captain, Raúl, had to be excommunicated.
Then Spain hired as their overall soccer guru the visionary to guide the development of the national team as a world power, a 38-year-old with no previous managerial experience—former Madrid captain Fernando Hierro. A professorial job given to a freshman! His choice to replace Aragonés after the 2008 European Championships was a guy who had precisely four years of senior managerial experience and who'd been out of work for the previous three seasons.
See what I mean by "different"?
Kudos to Spanish Federation President Ángel Villar for judging from afar that when Real Madrid booted Vicente del Bosque out the day after clinching the 2003 La Liga title, saying that his coaching style was outdated. They were talking rubbish. He's now the first ever Marquis del Bosque, champion of both Europe and the world and leader of a Spanish squad that just might retain its crown—however slim the odds that history might suggest.
The majority of national associations would have considered Aragonés too anarchic. Hierro, to many conservative eyes, might have seemed a young whippersnapper not in possession of the gravitas or the experience to oversee the complex football laboratory into which Spain's soccer fields have developed. By the time Aragonés left, del Bosque could have been seen as out of touch, too removed from Spanish football, having finished his last work there five years previously.
But after decades of having been mocked by the world for their "glass jaw" and inability to shuck the "nearly man" tag, Spain was by now determined to continue sticking up two fingers to everyone else: Different or not, we do it our way.
Take the WAG situation—wives and girlfriends. Players often get time off to plan a shopping trip or whatever other pursuits healthy, wealthy young men get up to with their wives or girlfriends when they get free time in Austria, South Africa, Poland, or Ukraine. The WAG culture was said to be poisonous to England under Sven-Göran Eriksson—but it's catnip for the Spaniards.
Again, as with questions of how to train during a tournament, where to live, and the stance on alcohol, Spain's team has been acting differently since 2008. Other major nations have believed it's imperative to quarantine their footballers away from family issues, whether the stressful or enjoyable kind, in a monastic month aimed at winning the tournament. Often, boredom, mental rust, and anxiety to get home are the tangible results.
Thus far, Spain has avoided all that. En route to winning the continental and world crown, players would regularly slope off on their own, or in bunches of three or four, and wander around the local mall, go off-campus to have lunch at a sushi restaurant, pitch up at a bar or the casino, or just have dinner with gran and granddad (as Cesc Fàbregas did after the first game of Euro 2012). They have wine with every meal, are allowed the odd beer of an evening—and if the boss gives them a big night out as a match-winning reward, the explicit message is: Be ready for breakfast, be on the team bus on time, and if you comply with that, there's no curfew. In such a situation, I can report, drink will be taken. Energetically.
All this is anathema to Spain's rivals. Whether at the World Cup or European Championship finals, squad management is normally controlling and restrictive: Keep families at arm's length, drinking is verboten, and if you want to wander off to the mall on a solo shopping trip, you'd better have taken lessons on tunnel digging and guard evasion from The Great Escape.
The myriad reasons that the managers of England, Russia, Germany, Holland, Italy, and their ilk find Spain's behavior anathema (or have until now) include lack of trust in their players, security, squad discipline, authoritarian beliefs, and the menace of yellow press and paparazzi.
Vicente del Bosque turns his nose up at all that. When I asked why he would risk letting world-famous footballers out for a night on the town mid-tournament, he was clear:
"I think it's very beneficial for the group to go out and clear their heads, regardless of the result. Stress is a big thing, and there's lots of pressure, especially in these types of tournaments. To have a chat over a beer, de-stress, I think is very advisable. You need to disconnect and take time out. It's important to me to have trust in my players and I'm quite lenient in that regard. If, on the odd occasion, one of them were to betray that trust or make a mistake, it wouldn't be the end of the world or necessarily mean that others would follow suit."
One of the key obstacles to winning a tournament, never mind three, is that the great players at your disposal will, by definition, be tied to the most voracious, most demanding club sides around the world. In theory the demand to excel arrives in June or July—not only when these tired athletes should be on the beach but also when it's hard to dig deep and find new levels of physical and mental freshness.
Again, the rule is that players need kid-glove treatment. Short, tactics-oriented training and the rest of their non-match tournament days based around team meetings, relaxation, eating, sleeping, and the occasional outing. Yet Spain, during each of the team's three victorious continental and world title wins, makes a habit of training twice daily. Not all the time, just very regularly. And it'll be thus in Curitiba in southern Brazil, where the world champions are going to set up camp—in the coolest climate of this enormous nation.
The trouble with the avant-garde in any creative area is that it can be hard to tell whether they are out of step or a step ahead. Tired players? Don't over-train them—right? Spain's players and coach are happy to correct me. Marcos Senna, the Brazilian turned Spaniard who won Euro 2008 with La Roja, told me, "If you are happy with the sessions and if you like the coach's manner, you could train three or four times a day—especially if you are in a competition as important as this." Santi Cazorla agrees: "The atmosphere is amazing. Everyone is up for it—everyone wanting to follow instructions and work hard. No one complains about the workload."
The defining word on this comes from the Marquis. He explained, "These players love the ball, they actively enjoy training. We put a lot of work in to make the sessions sharp, enjoyable, stimulating, and while they are honing their match sharpness, building the terrific group spirit, we are also using these second sessions, when we schedule them, to fight any boredom, loneliness, or anxieties which can crop up in a tournament."
Over the weeks that lie ahead in Brazil there are any number of new obstacles for the world champions. The tendency for winning reigns to end spectacularly badly (France in 2002, Italy in 2010, Greece at Euro 2008, Germany at Euro 2000) suggests that aging, injuries, appetite for the fray, self-sacrifice, and the hungry advance of the previously defeated pack all combine to work against a repeat.
Spain (soccer-wise at least) craves order, planning, organization—control. Brazil, as a nation and as a World Cup host, doesn't guarantee that kind of experience. That was a take-home message from last summer's Confederations Cup. Then there are the vast travel distances, which augment the likelihood of tiredness, delays, mishaps. And the brutal humidity in the tropical north—kryptonite to Spain's supermen tendencies in tournaments.
Yet I'm convinced Spain's players are not like everyone else. Yes, they have a nasty little group to escape from: Holland first in the humid north is no blessing, and perhaps they'll succumb at that stage, as so many dethroned champions have done. But if the key men—Iker Casillas, Gerard Piqué, Sergio Ramos, Xabi Alonso, Sergio Busquets, and Andrés Iniesta—are all fit, happy, and in form, I have no doubt they will be genuine contenders to add a fourth straight international title. Now that would really be different.
---
This article originally appeared in Issue 03 of Eight by Eight, a quarterly magazine.