Clint Eastwood's Baffling Jersey Boys
Despite a few fun moments, this mess of a Broadway adaptation didn't need to exist.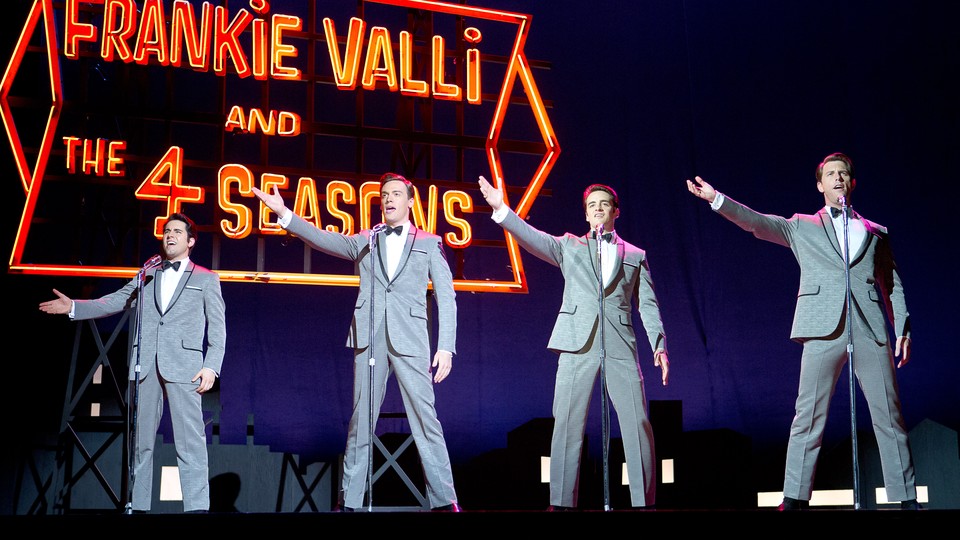 The question you could be forgiven for asking, the question even the cast admitted being perplexed by, is why? Why would Oscar-winning director Clint Eastwood, he of the bleak Unforgiven and the haunting Million Dollar Baby and the utterly desolate Mystic River, want to helm an adaptation of a musical about a 1960s pop quartet and its squeaky-voiced frontman? Why, Clint?
The answer is simply that he's 84 years old, and he can do whatever he wants.
For him, that's wonderful. For us, it means we're left with a scattered, haphazard, thoroughly confused film that can't figure out if it's meant to be a winningly cutesy musical or a gritty narrative about life in crime-ridden 1950s New Jersey. Eastwood uses pallid gray filters to suffuse scenes with a somber sense of realism, but then the characters abruptly launch into a jaunty musical number, complete with fourth wall-smashing narration. The whole thing feels like a fusion of Broadway Babies and VH1's Behind the Music.
Eastwood's laissez-faire, empty-director's-chair approach to Jersey Boys begins and ends with the material, which is too akin to musical theater to translate well to the screen and too overbearingly "real" to capture the joyful spirit of the original production. (It debuted on Broadway in 2005, won the Tony for Best Musical, and has been touring indefatigably ever since.) The cast is mostly plucked in its entirety from the show's first run, with the bouffant, sweetly insipid John Lloyd Young as Frankie Valli, Michael Lomenda as the gormless Nick Massi, and Erich Bergen as the clean-cut, preppy songwriter, Bob Gaudio. Boardwalk Empire's Vincent Piazza is the lone familiar face among the Four Seasons, playing gambling addict Tommy, a not-so-wise guy of infinitely shallow depths.
Marshall Brickman and Rick Elice, who wrote the book for the Broadway production, also penned the script, and it shows. On the stage, you can get away with clunky jumps in time and unsubtle gags—"You're right! It is more fun with another person," says Bob to the band after he's deflowered rather aggressively by a diva in a mink stole. But the spotty storytelling of this iteration is eminently unsatisfactory. One minute, the band's riding high, celebrating three No. 1s with cake and a performance on the Ed Sullivan Show, and the next they're inexplicably suffering, with Valli reduced to playing supper clubs and dance halls to pay the bills. Why such a change in fortune? We never really find out. Similarly, Valli's troubled family life with his alcoholic wife (Renee Marino, another Broadway alum) and drug-addicted daughter (Freya Tingley) is hinted at in a handful of dramatic scenes but not fleshed out enough to have any significant emotional impact.
The film's darker moments feel jarring after the wholesome, apple-pie Americanness of the first half, in which even the criminal activity is done winningly. Imagine Bugs Bunny robbing a bank or the Hamburglar planning a McDonald's heist. Sixteen-year-old Frankie is roped in as a lookout while the older Tommy steals a safe; naturally, things go wrong and Tommy's sent off to jail, a place that's apparently a holiday camp run by friends from the neighborhood. Even Frankie's rookie attempts to seduce the predatory Mary Delgado don't go according to plan; one minute she's instructing him to call his mother and tell her he'll be home late, and the next, he's marrying her.
This isn't to say that Jersey Boys has no charm. It's impossible not to enjoy the harmonious delivery of "Sherry," or the thrilling sense of creative synergy when Bob and Frankie first jam together. Christopher Walken is creakily charming as Gyp DeCarlo, the friendly neighborhood mobster who cries like a baby when Frankie sings his mother's favorite song. And the movie's climactic scene of an ascendant Frankie finally getting the horn section he's yearned for throughout his career while he belts out "Can't Take My Eyes Off You" in 1967 is gorgeous. (The puzzling leaps through time aren't helped by an erratic approach to makeup: No one ages for several decades, but when the band gets back together for its induction into the Rock and Roll Hall of Fame, everyone suddenly looks like the Nazi who chose poorly at the end of Indiana Jones's Last Crusade.)
An odd addition to Eastwood's oeuvre? A vanity project? Definitely and definitely. But when it culminates in a big-budget song-and-dance number in which Frankie jives through the streets of New Jersey with his wife on one arm and his girlfriend on the other, you can at least appreciate Jersey Boys as a work of cultural anthropology: a chance to see Dirty Harry get squeaky clean.