America's Long-Shot Plan to Beat the World Cup's 'Group of Death'
Facing fearsome early-round competition, USA's players work on the mental game.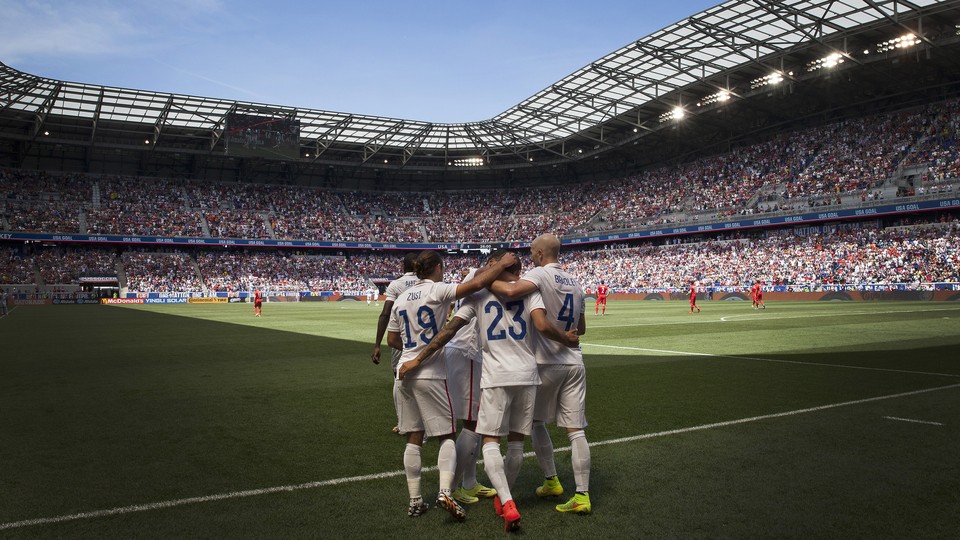 Thirty-two pieces on a board, each engaged in a battle for worldwide supremacy, all trying to avoid elimination at the hands of merciless foes: You might think you were watching Game of Thrones or the scene in Bergman's Seventh Seal in which the knight plays chess with Death. You wouldn't be far off—the World Cup is as cutthroat as it comes, and this year the Americans find themselves in deadly company.
After Jürgen Klinsmann took the reins of the U.S. Men's National Team in 2011, many fans (this writer among them) felt things were looking up. We had a coach who was familiar with international success, both as a player and a manager. Victories, including wins against Italy, Portugal, Germany, and Mexico; new talent (both homegrown and imported); and the resurgent form of the veterans gave fans a great feeling of momentum. Finally, qualifying first in their CONCACAF region suggested that this could be the year the Stars and Stripes would make it deep into the tournament.
And then came the group draw in December 2013. It was not kind: Germany came first, then Ghana, then the USA. That's a tough group, we thought. Then came Portugal. Welcome, America, to this year's Group of Death.
The term has been in use since the '70s. It's a nod to the bad luck of the team that gets stuck with the best of the best and to the collective might of the four teams in the group, two of which will be knocked out in the group stage. It's a subjective moniker, and this year, other countries may well feel that they're in the real Group of Death. Australia, which will face Spain, Chile, and the Netherlands, could contend that they have the toughest draw; so could Costa Rica, which will face Italy, England, and Uruguay. Still, no one could call the teams of Group G easy opposition.
Marcelo Balboa, Hall of Fame defender and veteran of three World Cups, and Matt Besler, a newcomer to the back line, both use the same word to describe their initial reaction: shock. "Obviously," says Besler, "when you're watching the draw and see Germany and Portugal in a group, you're hoping you're not in that group." But, he adds, "that lasts for about 30 seconds. Then it's gone. You can't change it."
Balboa agrees. "I look at it and say, Everybody wants an easy draw. Is there an easy draw in the World Cup? Nah."
That said, the prospect of facing Germany and Portugal in the group stage is daunting. The latter may not have shown their form of previous competitions, but Cristiano Ronaldo, the 2013 winner of the Ballon d'Or, is poised to overtake the Champions League scoring record. He's notching more than a goal a game in La Liga and almost single-handedly ensured his country's qualification for the World Cup with all four of his team's goals in their two-legged playoff against Sweden. Germany, for their part, have been dazzling over the past four years. With a lineup that includes Lahm, Özil, Reus, Götze, Neuer, Schweinsteiger, Schürrle, and Müller, it would be difficult—or impossible—not to call them a favorite to win the tournament. There's history with Ghana too—the African powerhouse beat the Americans in 2006 and again in 2010, knocking them out of the round of 16.
Eric Wynalda, who also played in three World Cups, thinks the Americans can use their draw to their advantage: "It's, I think, a very positive thing, the realization—six months of knowing you're gonna be playing against Ghana, Germany, and Portugal." He says that for the young guys like Besler who haven't been there before, the multigenerational makeup of the current team can also help: "Guys like Dempsey and Landon, in those little conversations they'll be able to say, 'Look, you can take that guy.' Our veteran players can really have a positive influence on a player who might be doubting whether he can do this."
Belief, and the need for it, has been stressed by Klinsmann. "We can surprise people in Brazil, [but] obviously our expectation is to get out of the group no matter who we draw," he said earlier this year. "After that, we need to make the players understand it is all about mind games. Every game becomes 50-50 and will be won by the team who is better prepared and believes in themselves more."
Doubt can be crippling, and more than one team—including the Colombia side that Balboa and Wynalda helped knock out of the group stage in the 1994 World Cup—has succumbed after losing the mental war, whether due to a lack of confidence or a lack of hunger.  Invariably, in every tournament, at least one major power bows under the pressure and comes up short.
Balboa, Wynalda, and Besler all emphasized that American success in Brazil will depend on belief in the team concept. Wynalda, reflecting on his own experiences, says, "I think your greatest challenge as a manager is to have a group that believes in each other. If we go there and beat Portugal, the whole world takes notice of shit like that. And that's where belief comes in. We believed 1,000% that we were going to beat Colombia in 1994. At the end of the day, I think that's the key to it all."
Part of what can help players rise to the occasion is fan support. In 2007, at a bar in Porto, I watched Porto claim the Primeira Liga title. The entire city shut down. Grandparents and grandchildren flooded the streets. The sheer power and determination of thousands of Portuguese screaming at televisions over gigantic, gravy-soaked sandwiches was a force to be reckoned with.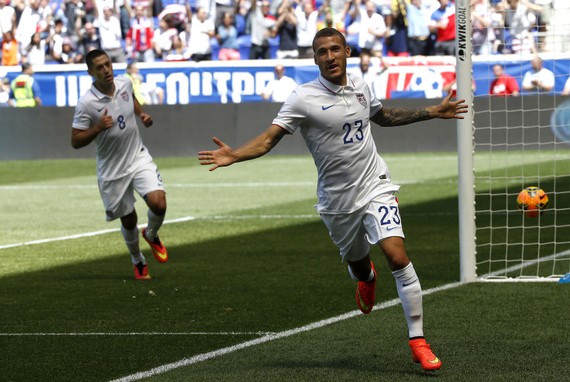 That sort of insanity has begun to make its way into the U.S. "Fan support has been the single biggest change over the course of the last six years," says Wynalda. Clubs like Sporting Kansas City, the Seattle Sounders, the L.A. Galaxy, and the Portland Timbers have all brought excitement—and ticket sales—to the MLS and in turn boosted interest in the national team. "Speaking personally," says Graham Zusi, Besler's club team-mate, "you feel the support. It makes you want to work that much harder." He thinks it's an exciting time for American soccer, both in the MLS and for the national side. The return of big names like Michael Bradley and Clint Dempsey has certainly helped. Together with the increased support, says Balboa, people have come to expect more from the Americans: "We expect them to get out of the group. I think it's great that we have that pressure." Zusi agrees: "For me, it's a good thing. As their expectations build, so do ours."
Both Besler and Zusi think this team has the necessary belief. "There's a high confidence level," Besler says about the American camp. "With the results we've had in the last 12 months, that should give us confidence." He also told me that the player he's most looking forward to playing against is Cristiano Ronaldo.
No, Matt Besler does not fear the Group of Death, nor does he fear the chess games to come: "It doesn't matter who it is, We're gonna put our head down and do the best we can. I think everyone believes that, if we do our best, we can go through." Zusi adds that the mood in the camp is focused on achieving that success as a group: "You see a team that really fights for each other."
Both Besler and Wynalda point to Zusi as the man they're excited to see; Wynalda thinks it's because of that confidence in the face of would-be executioners: "There's no fear in guys like Graham Zusi. It's almost like he doesn't know any better. And the fact that they're not afraid to try makes them great players." Similarly, Besler thinks that, despite the attacking prowess of all three of America's opponents, his lack of World Cup experience won't be a weakness: "I feel like I can use it to my advantage. I can go in with an open mind and an open attitude, and I can approach it with confidence—almost because you don't know what it's like and all you can worry about is playing your game."
As he suggests, the biggest test for the Americans will be whether they can stick to their game. According to Wynalda, to have success in the Group of Death, they're going to have to take risks: "We've been a couple of years now—maybe a decade—with very conservative coaches. And in the middle of our conservative play, we've shot ourselves in the foot." Belief breeds confidence, and when you're confident you take risks, and the risks start to pay off. "We have to force the issue," he says. "We're in a situation where we have weapons. It's like Landon said: It's called the group of death 'cause we're in it.' "
---
This article originally appeared in Issue 03 of Eight by Eight, a quarterly magazine.