3 More Good Books: Ignatius, Budiansky, and (Again) Nader
A timely spy novel, an enlightening biography, and a positive rather than negative approach to current politics.
Two weeks ago I mentioned five good books that all happened to be by people I knew and that I thought very much deserved attention. As a reminder, three were about China: Louisa Lim's The People's Republic of Amnesia, about the organized forced-forgetting of the Tiananmen Square repression 25 years ago this week; Evan Osnos's Age of Ambition, about the very human (and often humorous) face of China's simultaneous opening-up and closing-down, its idealism and its crassness; and Howard French's China's Second Continent, about the extension of the Chinese model and Chinese vision into Africa. Plus Ken Adelman's Reagan at Reykjavik, which is a vivid backstage view of the meeting that in many ways was the beginning of the end of the Cold War; and Ralph Nader's Unstoppable, on which I am about to say more.
Now, three more good books—actually, two new mentions, plus an augmented description of the Nader book from the earlier list. As was the case previously, these are all by people I know but are books I'd recommend anyway. As a bonus in today's installment, I'm including recent reviews or article that highlight some of these books' strengths.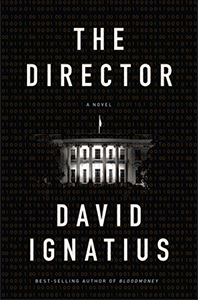 The Director, by David Ignatius. Newspaper readers know David Ignatius for his columns and reporting from around the world. Book readers know him for a series of elegant spy novels over the past two decades, starting with the wonderful Agents of Innocence and continuing now with The Director. I've known David through both kinds of readings, and as a good friend since our teenage years.
David Ignatius's novels have always been a clef in the best sense: closely connected to, and very revealing and insightful about, the trends and tensions in the news. His previous Bloodmoney, for instance, remains one of the best guides to the moral complexities of drone-era warfare and the future problems America is now thoughtlessly creating for itself. Before that, The Increment was about Iran's nuclear ambitions, as seen on the Iranian side as well as in the U.S. His latest book, The Director, is not explicitly about Edward Snowden or the NSA, but it is all about the technological, commercial,  governmental, and journalistic world in which that news is unfolding. As well as being the usual page-turning read. On NPR Alan Cheuse had his very positive review here. (Cheuse also covers a spy book based in modern China, Adam Brookes's The Night Heron, which I've bought but not yet read.)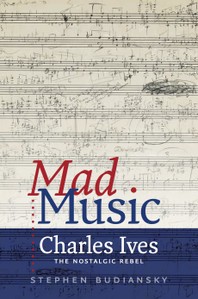 Mad Music: Charles Ives, the Nostalgic Rebel, by Stephen Budiansky. Budiansky, a friend from our time working together at US News, is the closest thing modern nonfiction writing has to a genuine polymath. He was originally trained in chemistry and applied mathematics. His early journalistic work was about science-and-technology policy and national defense. At practically a book-per-year rate over the past 15 years he has produced a series of erudite and entertaining works on topics that range from the psychology of horses (and dogs, and cats), to the science and history of code breaking, to the history and sociology of post-Civil War terrorism in the South, to the evolution of civilian and military air power. He does all this from a small, working farm in Virginia—where, for the record, he and his family were for a while custodians of our late beloved Mike the Cat and his littermate WhiteCap.
Budiansky is also an accomplished musician. His latest book Mad Music, on the eccentric composer Charles Ives, is as effortlessly informed and enlightening as his other works. Here I refer you to two recent positive reviews, one by Jeremy Denk in the NYRB and one by Sudip Bose in the WaPo.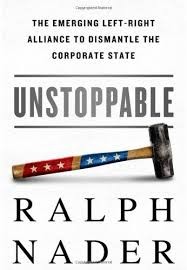 Unstoppable, by Ralph Nader. In my earlier item I mentioned that Nader's latest book was informal, jokey, and positive-spirited in a way that might come as a surprise for many readers. Timothy Noah's recent enthusiastic-but-realistic review in the WaPo is an occasion for stressing one further point about Nader's case.
Since his famous and consequential run for president in 2000 (which, for the record, I opposed), Nader has obviously been identified with an attempt to move beyond our two established parties. Usually we think of a beyond-party movement in a wholly negative sense: These established groups are both so corrupt, there's not a dime's worth of difference between them, and so on. That tone was obviously a notable part of Nader's early runs.
But as Noah's review indicates, the whole premise of Unstoppable is Nader's emphasis on the positive similarities between the parties, and the associated "conservative" and "progressive" sensibilities. He says that there is a lot to like about the small-c conservative nature of American neighborhood life. And there is a lot (he says) that those conservatives should ally with in the "everyone deserves a fair shake" impulse of many "liberal" policies. It's an approach with obvious appeal but with surprisingly few other advocates on the national scene right now. It's worth reading the book if only to see the way he applies this "convergence" sensibility to a range of economic and social issues.