1book140's June Read: Dan Barber's The Third Plate
Join our Twitter book club to discuss a new take on the future of food.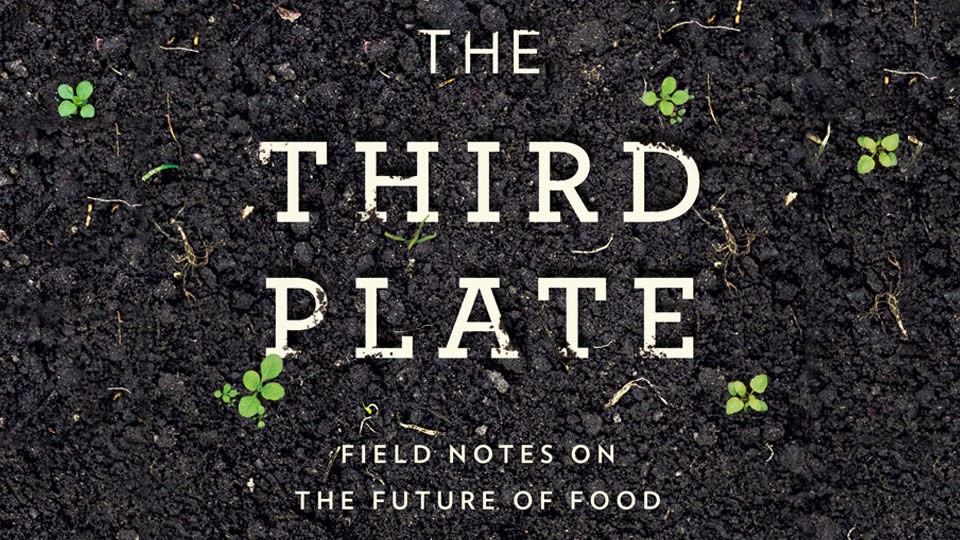 Join us for June's literary feast to read The Third Plate: Field Notes on the Future of Food by award-winning chef Dan Barber. Our nominations this month fell squarely into two camps: personal tales by novice cooks learning and loving regional cuisines (Julia Child's My Life in France and Bill Buford's Heat) and deconstructions of endemic problems in our modern food systems and cultures (Wenonah Hauter's Foodopoly and Dan Barber's The Third Plate). Our community is clearly a very socially-responsible crowd: voting came up 33.33 percent in favor of both Hauter's and Barber's books.
I did the only thing I could think of. I flipped a coin.
How do we break a tie at #1book140? Flip a 1935 buffalo nickel. Heads Foodopoly, tails The Third Plate

— #1book140 (@1book140) May 31, 2014
I chose to flip a 1935 buffalo nickel and it came up tails (or, I mean, buffalo) and so we embark on Barber's deconstruction of what's wrong with farm-to-table and larger trends in local, organic food. (You should check out Hauter's call-to-action too.)
Fortunately for us, Barber doesn't just dissect the problem. He tries to provide us with some answers too. He says the future of food must rely on what he terms "the third plate," a meal lovingly composed of what the soil bestows on us. "It combines tastes not based on convention, but because they fit together to support the environment that produced them," he writes. Such a plate recognizes the ties between ingredients, the farmers, and nature at its core.
Last week, an Atlantic "By Heart" story gave us some insight into Barber's inspiration. (Hint: It's white and powdery and probably comes laced with gluten. That and John Muir.) Sketching his path, Barber admits that it was flour that led him to the "understanding that each isolated ingredient in my kitchen is implicated within a complex network of relationships."
In the New York Times, William Grimes calls the Michelin-starred chef "a stylish writer and a funny one, too." But Grimes also admits that the book needs the humor, for the cause is a "tough sell." "It requires diners to accept what the local environment offers, millet included, rather than imposing demands," Grimes writes.
As we discuss The Third Plate on Twitter this summer, I invite you to rethink your dinners in light of not just Barber, but the other writers, such as Hauter and Pollan, presenting us with different modes of seeing (or chewing) our food.
About Dan Barber
Dan Barber is the executive chef at Blue Hill in New York City and Blue Hill at Stone Farms in Westchester County. Both restaurants boast numerous awards, as does Barber. In 2009 alone, Barber won the James Beard award for being "America's Outstanding Chef" and was named one of Time's top 100 influential people. He also serves on Obama's Council on Physical Fitness, Sports, and Nutrition.
Barber has written and spoken extensively on agricultural policy, culture, and education. The Third Plate is his first book-length foray into changing how we eat and think about what we eat.
For a preview of Dan Barber's ideas about food and sustainability, check out his 2010 TED talk: "How I fell in love with a fish."
Join the Conversation at #1book140
Share favorite quotes, share links, ask questions, and read along at @1book140, our Twitter book club. We're concluding two months of Middlemarch, which we'll celebrate tonight with a special live Q&A with Stephen Burt and Rohan Maitzen. Our hashtag #1book140 is a great place to share about what else you're reading.
To join the conversation on The Third Plate, follow us at @1book140 and tweet to join the conversation so we know that you're reading along. To avoid spoilers, we spread the conversation across one hashtag per week. Barber has conveniently split his book into four relatively equal parts for our four weeks. (I'm sure he was thinking of us.) Click on each hashtag to see the conversation at that point in the book.
Week One: Part I: Soil, using #1b140_1 as a hashtag for your tweets
Week Two: Part II: Land, using #1b140_2
Week Three: Part III: Sea, using #1b140_3
Week Four: Part IV: Seed, using #1b140_4