To See the Dark Side of America, Head to a French Film Festival
As Hollywood stars flood Cannes, splashy new works from David Cronenberg, Tommy Lee Jones, and Bennett Miller critique U.S.-born ambition and excess.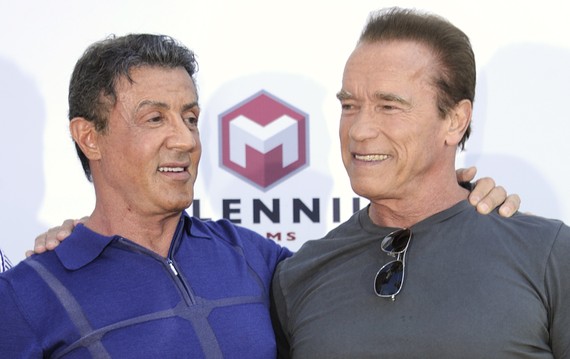 Cannes Film Festival artistic director Thierry Frémaux has been credited with bringing a touch of old-fashioned Hollywood glamour to the Croisette.
"I grew up loving American cinema; if you're a movie buff, you love American cinema," Frémaux recently said. "When I started [in 2001], it was quite obvious that Hollywood had drifted quite far away from Cannes. We decided to make an effort to have Hollywood come back and feel comfortable here."
Beyond selecting American movies for competition, that effort entails luring stars to the festival with the promise of a special honor or the possibility of a promotional platform for their latest work.
On Sunday, the cast of The Expendables 3 (to be released in the U.S. in August), including Sylvester Stallone, Mel Gibson, Harrison Ford, Wesley Snipes, and Antonio Banderas, rolled up to the red carpet in Soviet-style tanks, drawing deafening cheers from the crowd and a frenetic marathon of camera flashes from the photographers. Later that night, Jennifer Lawrence held court at a party for the upcoming installment of her Hunger Games franchise (The Hunger Games: Mockingjay – Part 1, due in US cinemas November 14). And just two days before, DreamWorks co-founder Jeffrey Katzenberg celebrated the animation studio's 20-year anniversary at the gala premiere of How to Train Your Dragon 2.
If Hollywood has been toasted outside the screening rooms, though, it was thoroughly roasted inside, with David Cronenberg's delicious Maps to the Stars playing Monday in competition. The most purely entertaining selection in a solid but uninspiring line-up thus far, the Canadian body horror specialist's latest doesn't bring anything new to the well-worn tradition of satirical industry bashing: Bruce Wagner's screenplay features a monstrous child star (Evan Bird), an aging screen diva (a gloriously go-for-broke Julianne Moore), an aspiring actor who works as a limo driver for cash (a very good Robert Pattinson) and an outcast who dreams of directing (Mia Wasikowska), as well as a threesome, incest, drugs, yoga, therapy and lots of name-dropping. But Maps to the Stars is so crisply directed, furiously paced and gleefully performed, that you go along for the ride. After the verbose monotony of his last work, Cosmopolis, Cronenberg's new movie plays like a bracingly acidic palate cleanser.
Also screening Monday was one of two American competition entries, Bennett Miller's long-awaited Foxcatcher. Based on the true story of multi-millionaire John du Pont (Steve Carell, playing against type and fitted with a prosthetic nose) and his relationship with Olympic wrestler brothers Mark and Dave Schultz (Channing Tatum and Mark Ruffalo), the film was enthusiastically received by American critics, who started tweeting about Oscar buzz before the lights had even gone up. If this restrained '80s-set drama largely works despite pacing problems and—more detrimentally—all-too-readable thematic and psychological arcs, it's thanks to the superb trio of actors. Tatum, in particular, is a revelation as an emotionally fragile soul stuck in the body of a brute.
The other American entry, Tommy Lee Jones's period western The Homesman, was less popular, but also spurred Oscar talk for leading lady Hilary Swank. As a devout, no-nonsense mid-19th-century spinster who joins forces with Jones's claim jumper to accompany three mentally ill women from Nebraska to Iowa, Swank is indeed terrific. She's a performer who blossoms under the guidance of a good director (as in Kimberly Peirce's Boys Don't Cry, Christopher Nolan's Insomnia, and Clint Eastwood's Million Dollar Baby), and Jones proved himself a sure hand behind the camera with The Three Burials of Melquiades Estrada in 2005. His new film isn't as strong—both lead characters feel under-baked and there are distracting cameos from Meryl Streep and James Spader. But Jones continues to craft evocative, painterly images, and he takes real risks with tone, shifting—not always convincingly, but with confidence—from tragic to comic without the usual cues or transitions.
The Homesman also grapples admirably with some tricky ideas. Swank's character is tough and independent-minded, unafraid to point a gun and drive a mule-drawn carriage, but the film, adapted from a 1988 novel by Glendon Swarthout, has no illusions about feminist empowerment in the Old West. The price of the expansionist impulse—the physical and psychic stresses of setting out and starting anew—can be read on the anguished faces and battered bodies of the women in The Homesman.
Like Maps to the Stars and Foxcatcher, Jones's film regards American ambition with considerable skepticism. At a festival that doubles as a playground and wheeling-and-dealing headquarters for U.S. celebrities and entertainment big wigs, that's a good thing.
---