The Most Exciting 1,231.4 Miles in Sports
A string that started when Lyndon Johnson was president and Barack Obama was a schoolboy in Jakarta still goes on.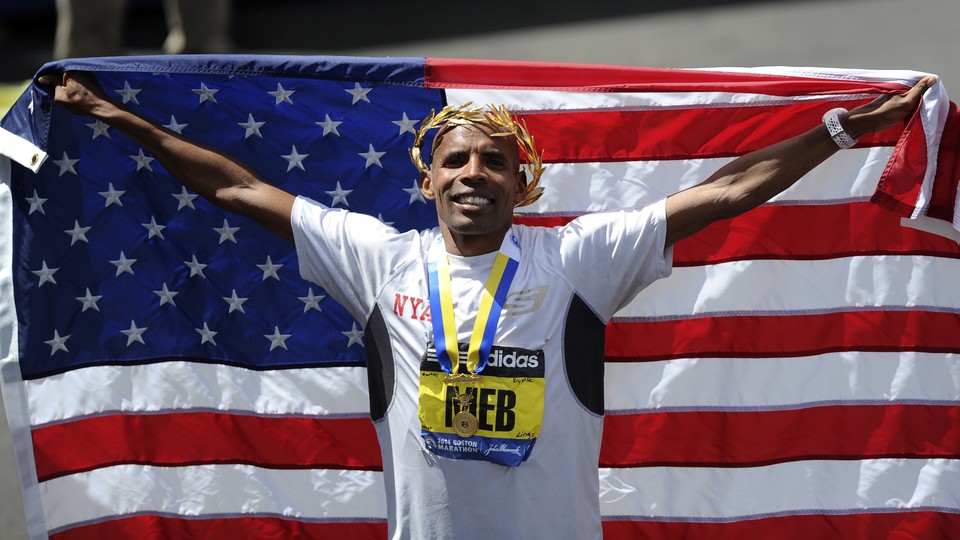 OK, we've all just seen the most exciting 2 minutes in sports, from Churchill Downs. Congrats to California Chrome.
Before it recedes too far in the past, let me note an amazing achievement last week in the 2014 Boston Marathon. Not just the first American male winner in a very long time. Nor simply the "Boston Strong" inspiration from the race, inspiring as it was.
On top of all that, Bennett Beach made history by starting and finishing his 47th consecutive Boston Marathon, which at 26.2 miles apiece is a total of 1,231.4 miles. No one had ever done that before.
I paid attention on general reverence-for-history grounds—but also because I had run alongside Ben in the 1969 and 1970 Boston Marathons, when we were friends on the college newspaper. As he described those days in a nice item for WBUR:
"In 1968, you showed up at Hopkinton Junior High School, and some guy would put a stethoscope on your chest to confirm that you were healthy enough to run it and hand out your number, and you were on your way," he said. "It's just a different world."

Back then, he said the athletes were rewarded at the finish line with beef stew and showers at the Prudential Center. But, then again, back then, there were only about 1,000 runners.
Ben had in fact started in 1968; it was his description of that first race, which he said required hardly any preparation, that got me interested the following year. And while I had my fill of marathoning (including some more with Ben) by the early 1980s, Ben has been there every single year since 1968.
—In 2012, he tied the record for most consecutive Boston Marathons.
—In 2013, when he was running to set the record, he had passed the halfway mark when the bombs went off and the race was cancelled. Runners who had gotten more than halfway were deemed to have "completed" the race, but Ben felt this was not a clean way to get the record.
—This year, he had leg and dehydration problems late in the race, on top of some longer-term health issues, and had to walk the final stretch. But he got across the line in time and now, uniquely, has a 47-consecutive-finishes string. In addition to an astonishing 17 finishes at 2:40 or below, which means averaging close to 6 minutes per mile for the entire race. The fastest I ever did, in a Marine Corps Marathon in DC, was 3:02, or an average of 7-minute miles.
Congratulations to Ben Beach, his wife Carol, and their family. Also please see this great story in the Boston Globe by John Powers, our contemporary and friend on the college paper, which includes a very nice picture of Ben. I don't know many people who have achieved more in a certain category than anyone else, ever, so I am all the prouder of what Bennett Beach has done.