The Film That Humanizes Jihadists
The second day of the Cannes Film Festival saw filmmakers from around the world telling weighty stories of war, death, and forbidden love.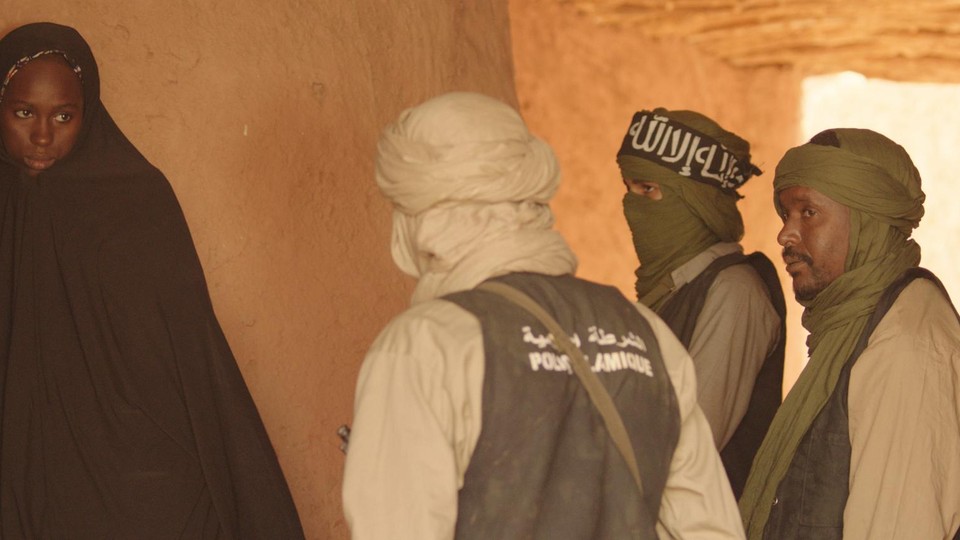 The Cannes Film Festival is often accused of being a European- and North American-dominated affair. There's certainly an element of truth to that assertion; 14 out of 18 competition entries this year hail from those two continents. But the second day on the Croisette provided heartening proof of the event's capacity to trot the globe.
Day two also helped lift the stink left by opening film Grace of Monaco. The Nicole Kidman vehicle was widely panned by critics on Wednesday, but was mostly forgotten by the time the first competition entry, Mauritianian-born director Abderrahmane Sissako's Timbuktu, finished screening later that evening.
Timbuktu
An engrossing, visually stunning, slyly funny portrait of a Malian desert village (presumably located in the city of the title) reeling from the arrival of Islamic extremists, Timbuktu is evidence of the festival's power to allow viewers a glimpse of a world they may know only from hastily scanned headlines. Taking his time, Sissako introduces us to the locals, who include an imam, a singer, a fisherman, a madwoman, and a Touareg nomad who lives on the outskirts of town with his loving wife and daughter. The director also fleshes out the jihadists, who come off less as monsters than diligent henchmen trying to keep their humanity at bay as they enforce outrageous rules (a female fishmonger is ordered to wear gloves on the job, to avoid baring any skin) and dole out brutal punishments.
Sissako's images have a patient, plainspoken beauty, but there's poetry, too, in his kaleidoscope vision of a community under siege. In one sublime, ballet-like sequence, a group of boys play a game of pick-up soccer without a ball (sports are forbidden), deriving joy from the imaginary when reality proves too bleak. The director also has a refreshingly unhindered sense of tone, moving seamlessly from unexpected moments of levity (one nervous young jihadist repeatedly botches his video testimonial) to shocking bursts of violence (a tensely staged accidental homicide, filmed in breathtaking long shot). Sissako, whose best-known film is Bamako (2006), has said that Timbuktu was inspired by the true story of an unmarried Malian couple stoned to death for "living in sin." But while the movie bristles with cool anger, it is, above all, suffused with compassion, establishing Sissako as one of current world cinema's most important humanists.
Mr. Turner
Another great humanist, and one of my favourite living filmmakers, Mike Leigh unveiled his competition entry Mr. Turner Thursday morning. A two-and-a-half-hour biopic of English Romantic painter J.M.W. Turner (played by the always delightful Timothy Spall), the movie was warmly received—especially by the British—and made its leading man a frontrunner for an acting prize. I found it ravishing to look at—never have Leigh's frames been so rich and detailed—though curiously uninvolving. The director traces Turner's evolution from beloved classical landscapes to more abstract, and initially reviled, works, as well as his ties to various women in his life. Mr. Turner is dense, elegant and understated, almost to a fault; it lacks the urgency and spontaneity, the ache and sense of purpose that distinguish Leigh's best movies (Naked, Secrets and Lies, Topsy-Turvy, Another Year).
Turner, for all of Spall's skill and Leigh's painstaking attention, never becomes a fully compelling character. The artist's life is surely worth recounting on film—and Leigh is far too intelligent to fall into the typical biopic traps—but Mr. Turner didn't entirely convince me why. With early screening times, looming deadlines and little sleep, film festivals are not the ideal place for appreciating movies, so I plan on revisiting "Mr. Turner" when it's released in cinemas later this year.
That Lovely Girl
A film I will not revisit, on the other hand, is Keren Yedaya's That Lovely Girl, one of the first entries to screen in the Un Certain Regard side section. The category is known for showcasing edgier fare, and this grim slice of Israeli realism about an incestuous father-daughter relationship is likely to be one of the most divisive titles at this year's festival (it earned some hearty applause, but also a smattering of boos at its press screening). As if incest weren't enough, That Lovely Girl also features bulimia, self-mutilation, rape and a few old-fashioned beatings, all captured by Yedaya's calm, yet relentlessly close camera.
The novelty of the film is its blunt, unflinching portrayal of love and sex between a young woman and her father; it's not coy or elliptical, as most movies dealing with incest tend to be. Still, one can't help but wonder if it's a novelty worth celebrating. Yedaya and her performers, especially lead actress Maayan Turjeman, are wholly committed to the material, and stretches of That Lovely Girl cast a harrowing spell. But the film poses a serious test to the viewer's patience. The shape of the narrative, which examines a seemingly endless cycle of dependence and self-loathing, and then the first, hesitant steps toward emancipation, feels familiar from numerous other art films about abusive relationships. And there's a nagging rigidity to Yedaya's world view; one of her earlier movies, Or (My Treasure), similarly explored the female body as a site of violence and transgression, and the filmmaker seems to enjoy imprisoning her characters in situations from which they're too weak to break free.
I was surprised to see the sun when I stumbled out of the screening.
---
A versions of this post also appears on France 24, an Atlantic partner site.