No, Horse Racing Can't Be Saved—Even by a Triple Crown Winner
Kentucky Derby and Preakness winner California Chrome will now compete at Belmont after all, but even a historic win there won't provide the popularity boost some expect for the sport.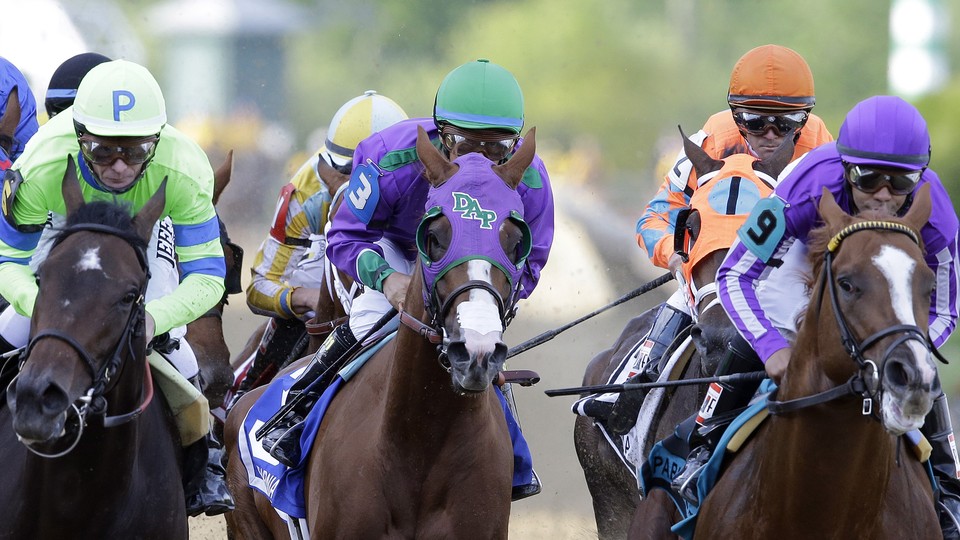 Yesterday, a one-day crisis over the possibility that Kentucky Derby and Preakness winner California Chrome would not run in the Belmont Stakes was resolved: Belmont Park officials approved Chrome's use of breath-enhancing nasal strips on race day. The Triple Crown contender had worn the strips in his victories at Churchill Downs and Pimlico, but they had not previously been approved for use by thoroughbreds at New York tracks—and now, California Chrome has a chance to become the first winner of thoroughbred racing's Triple Crown since 1978.
Given the amounts of money and publicity involved, there can't be much surprise that New York's racing officials backed down over a prohibition that wasn't enforced in the Kentucky or Maryland legs of the Triple Crown, or in California Chrome's eponymous home state.
But for many in the racing business, more than a single race outcome was at stake; many have pinned their hopes for the sport's return to prominence on the possibility of a Triple Crown for California Chrome. As Childs Walker wrote in the Los Angeles Times, "The possibility the charismatic horse could pull off the sport's signature achievement has the thoroughbred racing world abuzz. For years, racing lovers have said the sport needs a superstar in the mold of Secretariat or Seattle Slew to mitigate declines in attendance and mainstream interest."

Horse racing is about hope, if nothing else, whether that manifests itself in the tradition of "breeding the best to the best and hoping for the best" or placing a winning bet on the next race hoping to break even. And hopes are justifiably high for a bump up in the television ratings for this year's Belmont, as has been true whenever a Triple Crown has been in play. But hoping that a Triple Crown for California Chrome can jump-start a turnaround in the fortunes of the erstwhile sport of kings is almost certainly a hope too far. The time when horse racing ranked with baseball and boxing among the nation's top sporting passions has long since passed—as it has for baseball and boxing as well, sports that retain a strong following among men of a certain age but hold less appeal for anyone not eligible for a Medicare card.
With the advent of more and more of gambling opportunities in recent decades, the sport has suffered through a long-term decline as a spectator sport. Even as Seattle Slew and Affirmed were winning back-to-back Triple Crowns in 1977 and 1978, racing attendance was falling off. In 1975, tracks (for all forms of horse racing) attracted over 78 million spectators. Five years later—despite those unprecedented consecutive Triple Crown performances—attendance had dropped below 75 million. By 1986, it was down to 70 million, and then it collapsed—only 42 million answered the bugler's call to the post at the nation's racetracks in 1997.
In response to the nearly 50 percent decline in attendance in just two decades, the racing industry appears to have stopped releasing annual attendance figures. But anyone who goes out even to so fabled a racing venue as Santa Anita can readily see how dire the situation has become. Weekday attendance of 15,000 and weekend tallies of 30,000 or even 40,000 that were once routine have dwindled into "crowds" of 2,000 on weekdays and fewer than 10,000 most Saturdays or Sundays, in a facility that was built to host 80,000 or more. 

There is no reason, then, to expect a reversal in that trend, no matter what California Chrome does—or does not do—on the first Saturday in June.

The Belmont Stakes is a challenging 1½-mile distance, and Chrome will be tasked with holding off a bunch of beaten but unfazed contenders (expected to include the runners-up in the Derby and the Preakness) all running at a distance none has ever attempted before. So completing the first Triple Crown since Jimmy Carter's presidency is a tough enough assignment; since 1978, 11 winners of the Derby and the Preakness have faltered in the "Test of the Champion." California Chrome shouldn't also have to shoulder the responsibility for the future of the sport. That's an impost that not even the second coming of Secretariat could be expected to carry across the finish line.