Maya Angelou's Universal Struggle
The writer, who has died at 86, used her own story of overcoming to advocate for all.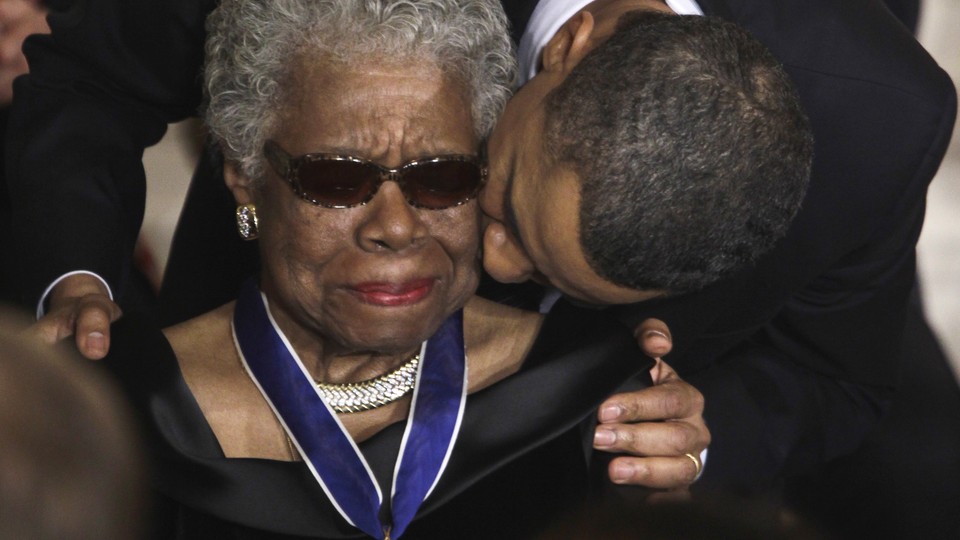 Maya Angelou's power came, in part, from daring to tell her own story. The poet, author, journalist, playwright, singer, dancer, and speaker rose to fame through autobiography—her breakout 1969 work I Know Why the Caged Bird Sings documented her first 17 years—and kept relating that story to ever-larger audiences, until her death today at age 86.
As a black woman raised in the segregated South, abused by men when she was young, her narrative spoke to a particular American struggle. "The evil that Angelou witnessed" in her early years, wrote Hilton Als in a 2002 New Yorker piece, "was generally directed at black women—the mules of the world, as Zora Neale Hurston called them. It shaped her days and, in large part, informed her current public persona of fiery, lyrical dignity." Later, Angelou would say that "A black person grows up in this country—and in many places—knowing that racism will be as familiar as salt to the tongue."
But her life and her works have also become touchstones for those who fight against oppression of all sorts—racial, gender-based, sexual, religious, and otherwise. Speaking to The Atlantic earlier this year, Janet Mock, an activist for transgender rights, said that Angelou's example inspired her to write a memoir, as Angelou helped found "this whole canon of women-of-color writers who've written in first-person. But I've never seen a trans woman of color received in that same canon."
Universality was, in fact, part of Angelou's message. "On the Pulse of the Morning," the poem she recited at Bill Clinton's 1993 inauguration, touched on the oneness of all people. Here's a verse:
There is a true yearning to respond to 
The singing River and the wise Rock. 
So say the Asian, the Hispanic, the Jew 
The African, the Native American, the Sioux, 
The Catholic, the Muslim, the French, the Greek 
The Irish, the Rabbi, the Priest, the Sheik, 
The Gay, the Straight, the Preacher, 
The privileged, the homeless, the Teacher. 
They hear. They all hear 
The speaking of the Tree. 
In a 2000 O interview, Oprah brought up the fact that she'd seen Angelou throw someone out of her house for telling a racist joke. Angelou replied that it was her duty, as always, to speak up, for everyone.
"I'm convinced that the negative has power," she said. "It lives. And if you allow it to perch in your house, in your mind, in your life, it can take you over. So when the rude or cruel thing is said—the lambasting, the gay bashing, the hate—I say, 'Take it all out of my house!' Those negative words climb into the woodwork and into the furniture, and the next thing you know they'll be on my skin."