Mad Men's Mid-Season Finale: One Giant Leap for Peggy Olson
Dissecting "Waterloo," the seventh episode of the seventh season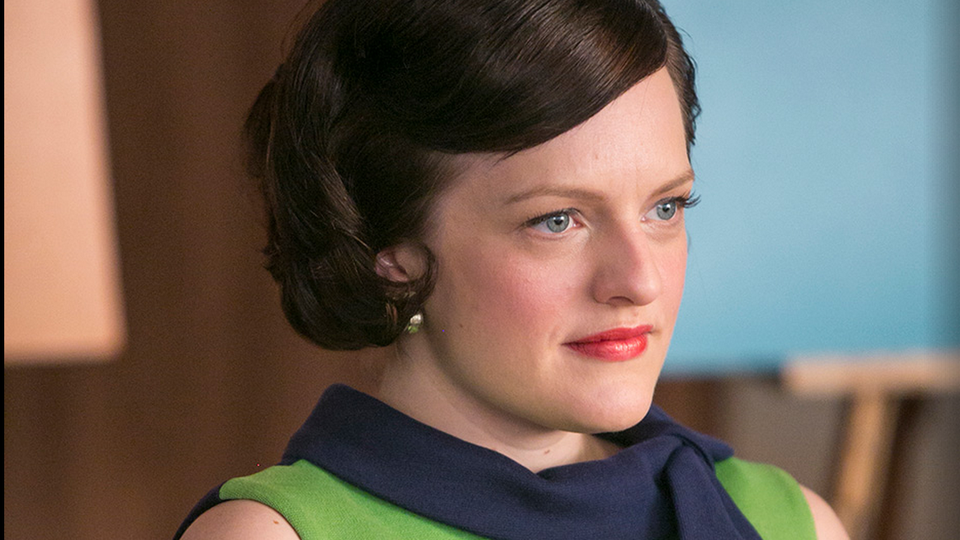 Ashley Fetters and Chris Heller discuss the latest episode of Mad Men.
---
Fetters: We need to talk about the ending.
In the final moments of "Waterloo," the final episode of Mad Men's penultimate half-season, the newly deceased Bert Cooper appears—fully alive, it seems—in the SC&P office and promptly performs a rendition of "The Best Things in Life Are Free," accompanied by a chorus line of secretaries, while Don stands there watching, stunned.
What?
Chris, do you have any idea what's happening here? Is Don having a stroke? Or some sort of epiphany? Did the SC&P staff do drugs in the office again? Has the new computer made a real madman out of yet another Mad man? And the song choice—to what extent is that a final message from Bert Cooper to Don?
Heller: First things first. The Bert Cooper soft-shoe will go down as one of television's great moments. (The perfect touch was the socks. A soft-shoe, sans shoes!) Who would've guessed that Mad Men could pull off a musical number? Or that Robert Morse could brush off so much of his old Broadway charm?
It wasn't just a totally unexpected moment. With "Waterloo," Mad Men sent us off with a near-perfect execution of the stylistic tension it does so well. The episode was fun and great and wonderful to watch. When you dig past that glossy surface, though, it was awfully weird and troubling. That's what I saw in the closing moments. A dead man dancing, and a madman coming apart at the seams.
Over and over again, "Waterloo" tried to define Don Draper. He is "an old, bad boyfriend," the kind of guy "a teenage anthropologist would marry." He is "a bully and a drunk." He is a "football player in a suit." He is "a sensitive piece of horseflesh." He is "a pain in the ass." All these definitions, and none fit.
You want to know what that musical number was about? The only honest answer is … we don't know yet. When Mad Men comes back in a year, we'll learn if Don had a stroke, if he's in the throes of a psychotic breakdown, or if AMC finally pulled the trigger on that Walking Dead crossover episode. (For the record: Duck Phillips would thrive in a zombie apocalypse. He killed 17 men at Okinawa.) Twelve months is a long time to wait, though, so I'll propose a theory.
As I see it, the song reveals a lot about Don's identity and state of mind. Sure, the McCann merger will make him rich—but as he told Ted, he'll still have to work. (And let's not forget how he called the place a "sausage factory.") His new boss is a schemer, not a leader. He still hasn't controlled his alcohol problem. He just lost his second wife. He is about to become a rich, sad, miserable man. "The Best Things in Life Are Free" reminds him that, well, the best things in life are free—and he doesn't have any of them. We know that Don has hallucinated before, and this time, he seems to realize that it's all in his head. He recognizes that he's losing his mind. We just don't know how he'll finally snap.
Fetters: "He just lost his second wife." So we're pretty sure about that this time, right?
There have been a few other times this season when we thought we were seeing the end of Don and Megan's marriage—most memorably, the fight that ensued when Don made a surprise visit to California. Megan even said to Don, "This is the way it ends." And yet they've gone on as though it never happened, as though they're still trying to make it work. I had started to get the feeling that show was crying wolf (or crying divorce, as it were) with Megan and Don. But I do think, this time, that this is actually how it ends—limply and passively, with a very telling awkward silence during an otherwise routine phone call.
That phone conversation, it bears mentioning, is a lovely, thoughtful piece of writing. Megan's momentary hesitation as to whether she wants her husband to move to California tells both us and Don everything we need to know. With just one or two seconds of silence, their conversation turns from hopeful to resigned, and their marriage seems to have finally dissolved.
(Well, maybe. Again, you really never know with these two.)
Another nice touch: I could watch that slow-motion sequence at the start of the Burger Chef pitch meeting for days. Soundlessly, accompanied by only a low, ominous hum, the camera pans from one middle-aged man in a suit to the next, all the way down the table—every one of them ignoring Peggy's presence. Simply put, it's a gorgeous reminder of what Peggy's story has been throughout this series: the struggle to succeed in a world that thinks she doesn't belong in it. Prefacing the pitch meeting with that sequence from her perspective made the successful Burger Chef pitch—which may very well be Peggy's "Carousel" moment—all the more rewarding.
Heller: Oh, that pitch was definitely her "Carousel" moment. Did you see how the one Burger Chef representative wiped away a tear? It was masterful. I loved that slow-motion sequence, too; it felt like a capstone to her struggle. Now that she owns the Burger Chef account, she'll have a lot of power in the SC&P offices—whether they're owned by McCann or anyone else.
I know we said it last week, but it's worth repeating: Mad Men is at its best when it's about Peggy and Don. The look she gave him midway through her pitch might have been the show's most honest moment ever. In a room full of men—the chummy members of a club she'll never be allowed to join—Peggy finally won. Without Don, it never would have happened. No job, no support, no pep talk the night before her first big pitch. You can see all of it in that look: pride, appreciation, satisfaction, and accomplishment.
Elisabeth Moss was phenomenal this season—just as good as Jon Hamm has ever been, as far as I'm concerned—and she was at her absolute best in "Waterloo." I'm so glad to see this half-season end with back-to-back episodes about these two characters. They're intertwined in a way I still don't entirely understand, and I don't think I will until the show ends. Will Don's fall coincide with Peggy's rise? Will she somehow manage to save him? Where does the show go from here?
Fetters: Maybe I've been influenced by how Breaking Bad structured its two-part final season, but I've had a hunch for a while that wherever Don ended up at the end of the half-season would be the opposite of where he ended up at the end of the full season. That is, if he got his priorities in order and seemed to come out on top somehow in Episode 707, he'd see his life descend back into chaos by Episode 714; or if he somehow hit rock bottom in Episode 707, he'd work his way back toward redemption in the last seven installments.
That theory, though, has not held up that well. Don seems to have won and lost equally in this last episode of the half-season: He has held onto his job and even climbed back up the hierarchy at Sterling Cooper, but he's also realizing the extent to which his colleagues mistrust him, and he's watching his second marriage finally crumble away. And, you know, maybe having a psychological meltdown, too.
So perhaps that means the last seven episodes of the show will also be equally balanced between Don finding peace and Don ruining his own life. My bet, after all, is that Matthew Weiner will close out the series on Don walking through a doorway or getting into an elevator—ambiguous, anticlimactic, and yet so familiar and somehow fittingly final.
I'll bet, however, that Peggy's arc will keep bending toward a happy ending, if not necessarily a happily-ever-after. Peggy is the Jesse Pinkman to Don Draper's Walt—she's not perfect, by any means, but she's done enough things right that she deserves for her story to end on a note of hope and positivity.
Heller: I'll be miserable if Peggy doesn't get a happy ending. Is it too much to hope that she adopts Julio, puts the moves on the hunky repairman in overalls, and then they all move in together? She supports the family, he keeps the apartment in order, and Julio does cute kid stuff. Come on, AMC. If you can make a spinoff of Breaking Bad, you can spin off Mad Men. Give us a Peggy Olson sitcom. Or at least an Undead Bert Cooper Variety Show. That guy can dance.
Fetters: The Undead Bert Cooper Variety Show I could definitely go for—maybe his guest performers, ranging from tasteful to totally not, could include secret accordion virtuoso Joan Harris and Roger Sterling in blackface.
But, on a more serious note, I can't imagine that Peggy's happy ending would involve finding love with some outside character who's just shown up, deus ex machina-style, to ensure that she Has It All in the end. I think this show is too committed to the notion of Peggy finding her self-worth in her abilities—and too aligned with the last few years' worth of conversations about women in the workplace—to end her narrative that way. And because that's one of the things I love most about Mad Men, I'd feel cheated by that kind of conclusion. Mostly I want Peggy's happy ending to involve the people who haven't been taking her seriously to realize she deserves their respect.
But, that said, if she and Stan were to finally figure it out and get together, I wouldn't hate it.