Jean-Luc Godard Is Still Pushing Cinema's Boundaries
At Cannes, the iconic director's latest proves to be as experimental as ever. Meanwhile, Michel Hazanavicius's much-awaited follow-up to The Artist disappoints.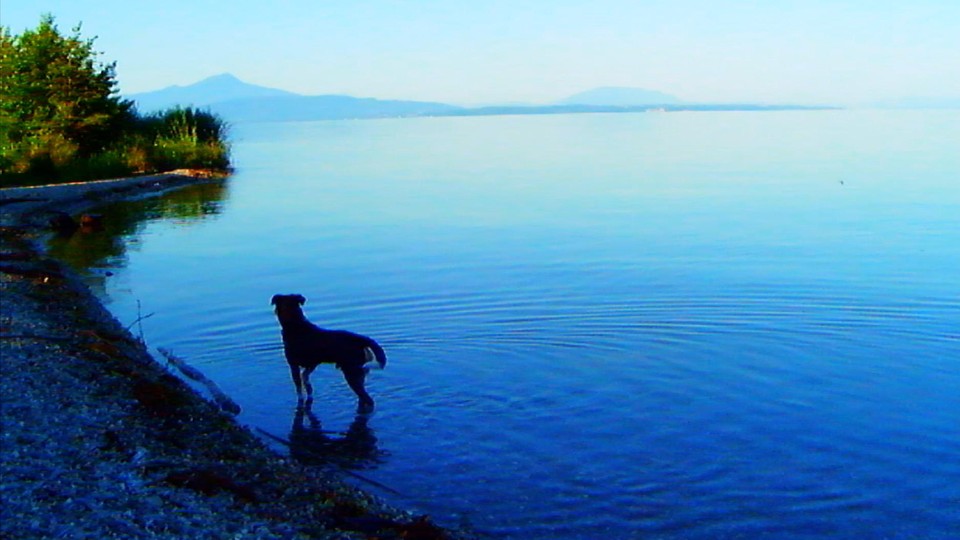 Call it Xavier Dolan's revenge.
Ever since his debut I Killed My Mother snagged three prizes in the Directors' Fortnight program here at the Cannes Film Festival in 2009, the 25-year-old Quebecer has been dodging unflattering adjectives (arrogant, presumptuous, derivative).
Two years later, Dolan, who has as many defenders as detractors, was openly miffed when his marvelous cross-dressing epic Laurence Anyways ended up in the Un Certain Regard side section, rather than the main competition. Hoping for more love from another European festival, the director took his next film, the gripping, Hitchcock-inflected Tom at the Farm, to Venice last September; it went home empty-handed.
But in April, presumably having decided that Dolan had earned his stripes, Cannes organizers announced that his new work, Mommy, would be shown in the main competition.
And by Wednesday night, following the movie's first press screening, the director was basking in his status as the latest speculative Palme d'Or frontrunner du jour (Jean-Pierre and Luc who?).
For anyone allergic to Dolan's emotionally and stylistically bold brand of filmmaking, Mommy is bound to irritate. For the rest of us, it provided a much-needed jolt to a rather sleepy competition.
A delectably overripe blend of melodrama and comedy about a single mother (Anne Dorval), her delinquent teenage son (Antoine-Olivier Pilon), and the neighbor who tiptoes into their lives (Suzanne Clement), Mommy is by turns thrilling and frustrating, an uneven work that vibrates with passion and playfulness. The movie's first half is the most dazzling hour or so of filmmaking I've seen at this year's festival. Dolan stretches, and often transcends, mother-son dysfunction clichés with his formal flair (slow-mo, unabashed use of pop music, an unusually boxy frame that expands and narrows to mirror the characters' outlook on life), harsh, funny dialogue, and the bravura performances he gets from his cast.
The second half of Mommy is flabbier and less sure-footed, with some clunky plotting and several sequences (particularly a date-from-hell at a karaoke bar) that feel overly protracted. But if a lack of discipline remains Dolan's weakness as a director, it is also precisely what gives his movies such tempestuous power.
Mommy is indeed a work of ferocious feeling and commitment that finds the filmmaker continuing to create complex, full-blooded characters and look for new ways to bring their problems and relationships to visual life. As always, there's a definite dash of Pedro Almodovar here (neither filmmaker can resist a middle-aged diva in curve-hugging clothes and thickly painted makeup), but there are also hints of Mike Leigh's fascination with people who walk the tightrope between repulsive and sympathetic. Imperfect as it is, Mommy deserves to be a serious contender on prize night—if not for Dolan himself, then for his superlative leading lady and the formidable young actor who plays her son.
If this year's edition has made Dolan the unexpected prom king, it also knocked French director Michel Hazanavicius off his pedestal: His competition entry The Search premiered to lusty boos at its press screening on Wednesday morning.
Hazanavicius was a sensation here three years ago with The Artist, his affectionate tribute to American silent cinema, which, boosted by star Jean Dujardin and U.S. distributor Harvey Weinstein, proceeded to make Oscar history.
The director's new film, headlined by wife Bérénice Bejo (last year's Cannes Best Actress winner for The Past), was therefore one of the most eagerly anticipated competition entries among French and U.S. critics alike. Festival artistic director Thierry Frémaux gave it a few advance plugs—red flag?—by noting that, coming after The Artist and the tongue-in-cheek OSS spy spoofs (also with Dujardin), the Second Chechen War-set drama was proof of Hazanavicius's versatility.
That it is, but not much else. Loosely inspired by a 1948 Fred Zinnemann film of the same title, The Search alternates between three narrative strands: Bejo is an NGO worker who takes in a cherub-cheeked Chechen orphan; the orphan's older sister sets out to look for him; and a Russian soldier undergoes a horrific hazing. Impressively mounted without being visually interesting, the movie plods along, bearing its good intentions like a Cannes accreditation badge and giving Bejo a few speeches that will likely make real humanitarian workers cringe. Annette Bening offers a bit of spark in her few scenes as a sharp-tongued orphanage director, but The Search otherwise plays like a balloon gradually deflating.
Another Gallic director, the great André Téchiné, stayed closer to home in his In the Name of My Daughter, which screened out of competition. The film is based on the true, and very French, story of wealthy Cote d'Azur casino owner Renée Le Roux (Catherine Deneuve), her rebellious daughter Agnès (Adèle Haenel), and Maurice Agnelet, the opportunistic, womanising lawyer (Guillaume Canet) accused of murdering Agnès in the late 1970s.
This is minor Téchiné, notably lacking the novelistic texture and emotional complexity of his best work (Wild Reeds and My Favorite Season are his masterpieces). Moreover, the charmingly dimpled Canet (Marion Cotillard's sweetheart) isn't entirely believable as an irresistible shark of a lawyer, and the film's final section, which takes place 30 years later, plays like flat courtroom drama.
But the inimitable Téchiné touch is there nonetheless, and it makes all the difference. The pacing is thriller-like, the visual palette is colorful, the restless camera seems to surge and swoon along with the characters' moods and desires, and the relationships are charged with ambiguity. The director also coaxes surprisingly vulnerable notes from the ever-regal Deneuve (it's their seventh collaboration), and gets an electric, beautifully shaded performance from rising star Haenel as a tomboyish, headstrong young woman who's not as independent as she thinks.
The 71-year-old Téchiné is not a fashionable filmmaker, though he has his ardent fans. Still, they're not as ardent as Jean-Luc Godard's fans, who showed up for the screening of the French New Wave icon's competition entry Goodbye to Language, gleefully donning their 3D glasses and whooping and hollering as the lights went down. "Godard forever!" one shouted, and—grating fanboys aside—it was nice to see that there's a place where the man who gave us seminal works like Breathless, Contempt, and Masculin Féminin is seen as a rock star on the order of Mick Jagger.
Goodbye to Language is certainly more fun than dour late Godard films like 2010's Film Socialisme or 2001's In Praise of Love. A 69-minute experimental screen essay revolving around a couple and a canine named Roxy (played by Godard's own dog), the movie makes mischievous use of 3D, is punctuated by abrupt bursts of music, features clips of Hollywood classics starring Gregory Peck and Jean Arthur, imagines Percy Shelley and Lord Byron in full Romantic period garb, and provides voiceover ruminations on Hitler, Africa, men, women, love, death, and the rest. It also has a gloriously funny toilet scene, making it the third competition film (after The Wonders and Maps to the Stars) to showcase intestinal evacuation, complete with sound effects.
Occasionally irritating and often incomprehensible (sometimes literally), Goodbye to Language is far more stimulating visually and aurally than it is intellectually, but at 83, Godard is still pushing the form. I'll take it.
---
A version of this post appeared on France 24, an Atlantic partner site.