What Zadie Smith Taught Roxane Gay: Identity Is Drag
Gay, author of An Untamed State and the forthcoming Bad Feminist, sees her own questions of multi-ethnic and multi-national identity reflected in Smith's NW.
By Heart is a series in which authors share and discuss their all-time favorite passages in literature. See entries from Claire Messud, Jonathan Franzen, Amy Tan, Khaled Hosseini, and more.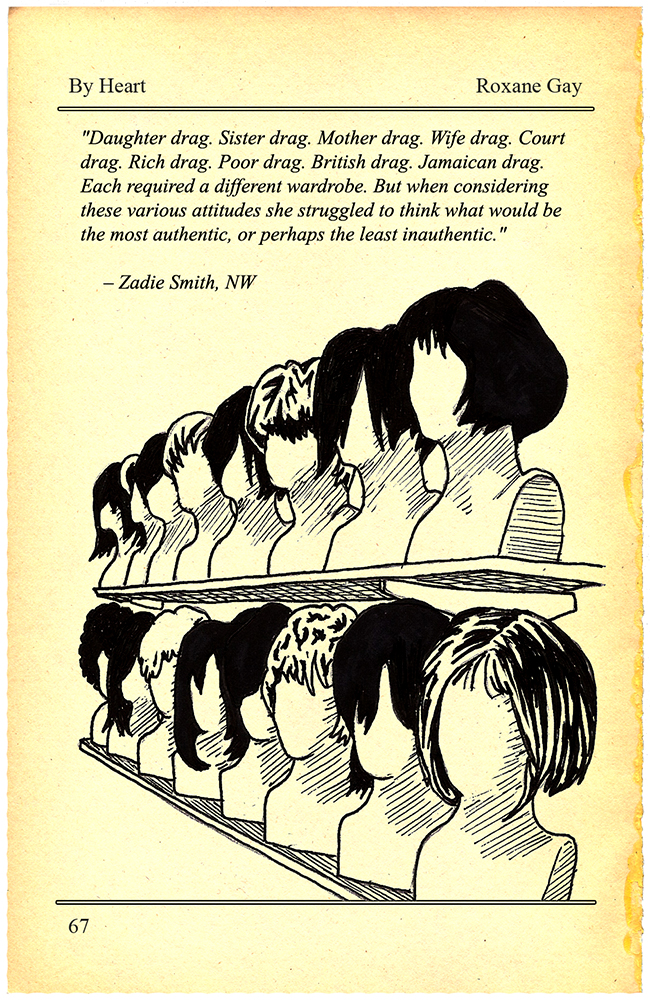 Roxane Gay's work refuses to be neatly classified. Her genre-spanning first book, Ayiti, used poetry, essay, and fiction to dramatize and depict the far-flung diversity of the Haitian diaspora. As she continues creative work in many forms, Gay's book reviews and cultural criticism appear in venues like The New York Times and The Rumpus, while her blog—which combines personal confessions, reactions to just-breaking stories and reality TV, brief poetic missives, incisive social commentary, and feminist musings made while cooking and photographing meals—elevates the Tumblr to high art.
Gay's varied formal approach reflects the content of her work, which tends to pit the messy nature of individuality against the simplistic ways we talk about identity. Her essay for this series is a brief, powerful defense of the multivalent nature of one's self—a coming-to-terms with the way we inhabit numerous contradictory personae. For inspiration, she looks to a passage from Zadie Smith's latest novel, NW, that likens a woman's many different (and sometimes opposing) identities to forms of drag, a series of wardrobe changes, each outfit expressive of its own truth at the same time it disguises others.
Gay's new novel, An Untamed State, looks at another form of identity dissolution: the way selfhood breaks down in the wake of trauma. On a vacation to Port-au-Prince, Mireille, a wealthy Haitian-American woman, is kidnapped at gunpoint from her car while her husband and child helplessly watch. Held for a million-dollar ransom—one her politically powerful father is reluctant to pay—she experiences unspeakable physical assault over the course of 13 days. After her release, Gay traces her character's attempt to regain a functioning self, to fold the obliterating horror she endured into one sentence: "This is who I am."
Gay's essay collection, Bad Feminist, will be published later in 2014. She teaches at Eastern Illinois University, and her fiction appeared in The Best American Short Stories 2012.
---
Roxane Gay: How do we inhabit multiple identities? This question has long consumed me and my writing. Perhaps it still does, though I have learned to ask more rigorous questions. The first essays I published, nearly 15 years go, were ones where I tried to write through my conflicted feelings about identity. As the child of Haitian immigrants who was raised in the suburbs, mostly in the Midwest, I often wondered where I belonged—never Haitian enough or American enough or black enough to feel like the world had a place for me.
I grappled with being black in America and being Haitian in black America and being black American in Haiti and being middle class when that was rarely considered a possibility for someone who looked like me. I was also trying to make sense of desire and sexuality and wanting so much for myself that felt forbidden. I was trying to figure out who I was and what might be possible for me. I was trying to write toward a space where I could reveal my most authentic self to the people who knew me but did not.
My fiction has also taken on a lot of these issues. A black woman in Michigan's Upper Peninsula tries to close herself off from grief but meets someone who makes her want to open those parts of herself she is protecting and make a home in a strange land. In a near future where the South has re-seceded from the United States, a father must decide between his wife and son and his own family whose roots run deep into Southern soil. In my novel An Untamed State, a Haitian American woman is kidnapped and has to overcome the betrayal of father and country as she tries to return to the woman she once was.
Where do we belong, I am always asking. How beholden are we to the places and people to whom we belong?
Writing requires courage, audacity. I'm not suggesting that there is something heroic about writing but I do believe that to commit words and ideas to the page demands something of the writer. Whether fiction or nonfiction, most writers are baring some part of themselves. They are making themselves vulnerable because the writing demands it. Whenever I come across a writer who takes bold chances and exposes their vulnerability at the same time, I am in awe. Zadie Smith is one such writer. Since its release, I have marveled over her novel NW, polyphonic, messy, sly, and tender in the most unexpected places.
The energy throughout the novel holds me in its thrall. NW is a novel about place and identity and the ways people compromise themselves and the people in their lives. Smith blends narrative styles and narrative voices to tell a story about two friends growing up in a working class neighborhood. There is an a section, telling the story of Natalie Blake née Keisha Blake, offered entirely in list form. As Keisha grows up, becomes a lawyer, wife, and mother, and changes her name to Natalie, we see her grapple with identity and finding a place to belong in the life she has created for herself.
In one section, Smith depicts Keisha/Natalie's struggle with her identities using the metaphor of drag. She tries to make sense of which of her selves is the truest.
170. In drag

Daughter drag. Sister drag. Mother drag. Wife drag. Court drag. Rich drag. Poor drag. British drag. Jamaican drag. Each required a different wardrobe. But when considering these various attitudes she struggled to think what would be the most authentic, or perhaps the least inauthentic.
By the end of the novel, Natalie Blake who is Keisha Blake who is Natalie Blake is still searching for the least inauthentic drag to wear. With her friend Leah, she calls the police to report a crime.
"I got something to tell you," said Keisha Blake, disguising her voice with her voice. 
This moment is what we are left with, such fitting and gorgeous ambiguity. It is an audacious, elegant choice Smith makes, to offer closure without offering closure, to offer answers to the question of who a woman inhabiting multiple identities is without offering answers. This is what I do when I write, or at least this is what I try to do, what I hope to do—disguising my voice with my voice as I tell some version of the truth.