Ghost Stories: The Most Forgettable Coldplay Album Ever
The band's sixth album is beautiful, soothing, and relentlessly uninspiring.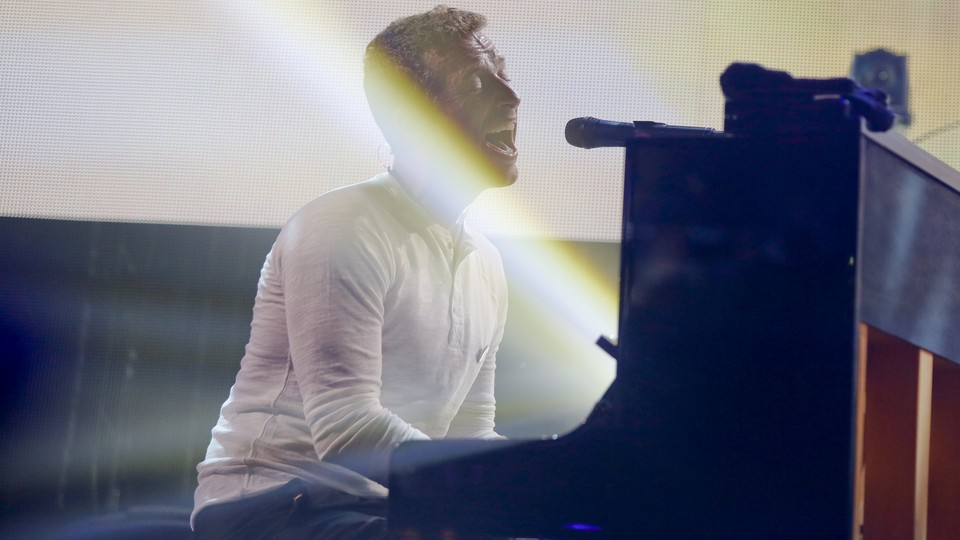 People don't listen to a Coldplay song, Marshall McLuhan would have said, they slip into it like a warm bath. Dulcet melodies spill pleasingly into the vat like aromatic oils. The musical palette is a soapy broth. The words are pointless bubbles. Sometimes, soft propulsion technology is employed to stir things up. Sometimes, everything just sort of … sits there.
Such aqueous songwriting isn't new. Artists like Kenny Loggins and Toto belonged to a 1970s genre called "yacht rock" for a reason—it blended easily with waves lapping a hull. "Bath rock," its even calmer descendant coming of age in the late 1990s, is better suited to people, like myself, who prefer their sonic waters even less choppy. After all, I've written thousands of words about Coldplay for this site. I love this band, not for its efforts to break rules, but for its underrated ability to play within the rules of mainstream pop to compose relentlessly memorable music. There's no rule that saying songs have to be complicated or thrilling.
But Ghost Stories, Coldplay's latest album, is really, really neither complicated nor thrilling. It transcends the category of "bath rock" mostly by leaving behind the second syllable. The album is a state-of-the-art hydrotherapy tank—a lavish, electric-powered, whirling vat of feelings. The guitars crouch behind the synths. The mood clings desperately to melancholy wistfulness throughout. The best-written songs—the looping intro, "Always in My Head," the acoustic throwback  "Oceans," the piano-ballad finale "O"—scarcely have what a listener might recognize as a chorus.
This marks a minor departure for the band whose last album, Mylo Xyloto, was a pop-rock-opera that came dangerously close to fun. But every Coldplay album is a minor departure these days. Ever since X&Y, which even Coldplay's die-hards will admit was a sugary turd, the band has lurched from stripped-down rock (Viva La Vida, a toe-tapping triumph of mid-tempo melodies), to twinkling pop on Mylo Xyloto, to this, an electronica meditation on the end of a relationship. You all know which one. Chris Martin's marriage to Gwyneth Paltrow was evidently suffering as he wrote and recorded the album—"I think of you, I haven't slept" is the first line and "Maybe one day I'll fly next to you, so fly on" is the last. The couple announced their break-up while the first single—the super-chill "Magic," which might be my least favorite Coldplay single ever—wound its way through the charts.
But Coldplay's break-up with its uplifting choruses is the most conscious uncoupling on display here. This is a band that knows how to write sad music. Parachutes, its debut album, is one of the most popular downbeat albums in the last few decades, because the songs knew when to come out of the shadows. The choruses of "Yellow," "Shiver," and "Everything's Not Lost" shined a little light into Martin's mopey bunker, which made the quieter moments of "Sparks" and "Trouble" feel intimately dark rather than merely lugubrious.
On Ghost Stories, however, the band is trying too hard to prove it can get its point across without the all-conquering verse-bridge-chorus formula that made them famous. "Midnight" dabbles in Bon Iveresque auto-tuning, and is fine. "Ink" and "Another's Arms" match lonely lyrics with mid-tempo pep, and are also fine. "O," the finale, is two-thirds of a great Coldplay song, but where we've been taught to expect a rousing coda, we get an airy outro of angelic synths. There's nothing wrong with restrained introspection, but coming from Coldplay, it's a bit like paying to see a famous motivational speaker who's decided to treat his audience to two hours of meditative chimes—kind of commendable, in the abstract, but rather boring to actually experience.
The penultimate track on the album, the more-or-less humiliating Avicii-produced "Sky Full of Stars," is perhaps the worst song on the album, a toe-curlingly embarrassing EDM track that deserves no airplay and will probably dominate Top 40 radio for the next month. It's a simple act of triumphalist pandering, and when I first heard it, I'll admit my first thought was: "Finally." The rest of the album would have benefitted greatly from a more even redistribution of such indulgence. Without accessibly heartening melodies that plead for our approval, what's the point of Coldplay, in the first place?