Frank O'Hara's Lunch Poems: 21st-Century Poetry Written in 1964
The collection broadcasts snark, exuberance, lonely earnestness, and minute-by-minute autobiography to a wide, vague audience—much like today's Twitter and Facebook feeds.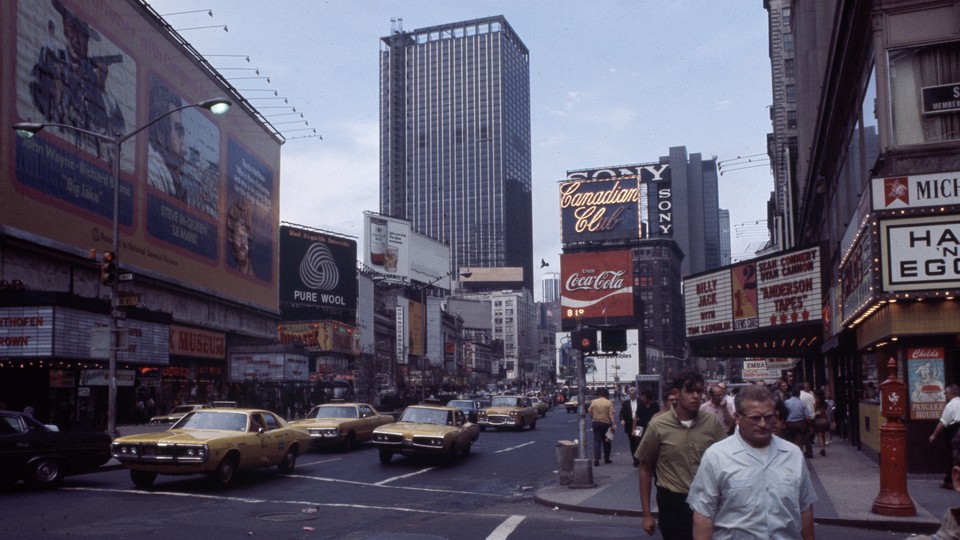 Some poets shape how we speak. Others use an idiom that, through some combination of chance and insight, anticipates changes in a language. Frank O'Hara is in the second group: When O'Hara's Lunch Poems was published 50 years ago, novelist Gilbert Sorrentino wrote that it had a "strictly New York joie de vivre: slightly down at heels and rumpled, but with the kind of style always a step above current 'style'."
With its references to Park Avenue, Times Square, Pennsylvania Station, liver sausage sandwiches, the Five Spot, the Seagram Building, the opening of the American Folk Art Museum, and much more, it is a very New York book. O'Hara walks around the buzzing city, buys "a chocolate malted" or "a little Verlaine," remembers a friend's birthday, and talks to the Puerto Rican cabbies before rushing back to his desk at the MoMA with a copy of Reverdy's poems in his pocket. Born in Baltimore and raised in Grafton, Massachusetts, O'Hara moved to New York in 1951 and stayed until his untimely death in 1966. The city offered freedom, possibility, movement, all of which O'Hara associated with life. "I can't even enjoy a blade of grass," he once wrote, "unless I know there's a subway handy." It also offered him a community of fellow outcasts, poets, and artists who became, as Lytle Shaw notes, a surrogate family.
Lunch Poems is still popular with New Yorkers today: In 2012, when the Leonard Lopate Show asked listeners to vote on 10 objects that "best tell New York's story," it came in at number six—just above the Brooklyn Bridge.
But the book has an appeal that reaches beyond the time and place it was written in, as the 50th anniversary edition of the City Lights volume shows. Casual, sardonic, funny, and full of pop-culture references, Lunch Poems has all the brevity, informality, irony, and at times chatty pointlessness of modern discourse without having been influenced by it. The volume has never gone out of print, in part because O'Hara expresses himself in the same way modern Americans do: Like many of us, he tries to overcome the absurdity and loneliness of modern life by addressing an audience of anonymous others.
O'Hara's Lunch Poems—like Facebook posts or tweets—shares, saves, and re-creates the poet's experience of the world. He addresses others in order to combat a sense of loneliness, sharing his gossipy, sometimes snarky take of modern life, his unfiltered enthusiasm, and his boredom in a direct, conversational tone. In short, Lunch Poems, while 50 years old, is very a 21st-century book.
In "Personism: A Manifesto," O'Hara compares his poems to a decidedly 20th-century communication medium: a telephone call. Much of "Personism" is tongue-in-cheek, but O'Hara was often at his most serious when being ironic, and this is true of the second part of "Personism": O'Hara writes that his poems are like telephone calls because they are addressed to someone else. The difference is that the address in the poem is indirect—"thus," O'Hara writes, they evoke "overtones of love without destroying love's life-giving vulgarity."
And "Poem (Khrushchev is coming on the right day!)" is less about Khrushchev than about a beautiful New York day, an evening at the movies, and the difference between an "official" America (which Khrushchev experiences) and an alternative one that is messier, more vibrant and more international:
last night we went to a movie and came out,

                                                            Ionesco is greater

than Beckett, Vincent said, that's what I think,

                                                            blueberry blintzes

and Khrushchev was probably being carped at

                                                            in Washington, no

                                                                                    politesse

Vincent tells me about his mother's trip to Sweden

                                                                        Hans tells us

about his father's life in Sweden, it sounds like

                                                                        Grace Hartigan's

painting Sweden
The mixing of high and low culture, the sharing of preferences, and the free association of names and ideas are used here to capture and prolong a heady weekend. And as a result, the poem reads today almost like a series of tweets that both share and perform the poet's "inexorable" joy, as O'Hara put it. In "Adieu to Norman, Bon Jour to Joan and Jean-Paul," meanwhile, his exuberance is on display again: O'Hara writes that "we are all happy and young and toothless," and in "Ave Maria" he praises the movies and sex. In "Naphtha," O'Hara thinks of Jean Dubuffet  "doing his military service in the Eiffel Tower / as a meteorologist / in 1922," and is reminded of "how wonderful the 20th Century / can be."
O'Hara could also be both campy and snarky. In "Poem (Lana Turner has collapsed!)," O'Hara tells Lana Turner, who had collapsed at her 42nd birthday party because of exhaustion, to "get up" because "we love you," and in "Personal Poem," he recounts his lunch with Amiri Baraka (LeRoi Jones). Before the two eat, O'Hara writes, "a lady asks us for a nickel for a terrible / disease but we don't give her one we / don't like terrible diseases." He continues:
we go eat some fish and some ale it's

cool but crowded we don't like Lionel Trilling

we decide, we like Don Allen we don't like

Henry James so much we like Herman Melville

we don't want to be in the poets' walk in

San Francisco even we just want to be rich

and walk on girders in our silver hats
Again, the poem is a means of sharing his experience with others, a performance meant to please, as well as a means of constructing a sense of community.
There are darker poems in Lunch, too. In "St. Paul and All That," a poem written as his relationship with Vincent Warren was ending, O'Hara's simple, declarative sentences capture the poet's bewilderment as he faces something he does not understand (Warren's changing affections) and the prospect of a lonelier future: "I walk in / sit down and / face the frigidaire / it's April / no May / it's May / such little things have to be established in morning / after the big things of night." The accumulation of little facts, however, leads O'Hara to remark that "the sun doesn't necessarily set, sometimes it just / disappears."
The insight is two-fold: Relationships don't always end as we expect (if we even expect them to end), and the clichéd language we use to represent our experience does not always work. And the replacement of the metaphor "set" with the more declarative "disappear" is significant. O'Hara's best poems in Lunch contain very few metaphors.
While O'Hara was a romantic (who wrote lines like "oh god it's wonderful / to get out of bed / and drink too much coffee / and smoke too many cigarettes / and love you so much"), he avoided sentimentality and inflated diction—which certainly resonates with an age that has a complicated relationship with sincerity and irony. He used simple sentences, common action verbs, and proper nouns to capture the parataxis of modern life. Life, for O'Hara, was simply the accumulation of one event after the other. Sometimes, these events are exciting. Sometimes, they are odd. Sometimes they are seemingly necessary without being particularly meaningful, as he writes in "The Day Lady Died":
It is 12:20 in New York a Friday

three days after Bastille day, yes

it is 1959 and I go get a shoeshine

because I will get off the 4:19 in Easthampton

at 7:15 and then go straight to dinner

and I don't know the people who will feed me
O'Hara's "I do this I do that" poems, as he called them, can sometimes read like a sampling from Russell Crowe's meticulously autobiographical Twitter feed ("Work day is over. 4:17 am, heading back into a sleeping Pittsburgh to do some sleeping of my own"). The difference, however, is that while many of O'Hara's poems detail the boredom and excitement of everyday life, they also regularly question a life lived for the present moment alone.
On the one hand, O'Hara believed that it is a "Grace," as he wrote in "In Memory of My Feelings," to "live as variously as possible." On the other hand, he complained in "Poem en Forme de Saw" that "I'm so damned empty." "I think it's goodbye to a lot of things," he wrote to Bill Berkson in 1961, reflecting on the consequences of a life governed by hedonism; "it's goodbye / to lunch to love to evil things and to the ultimate good."
For O'Hara, love was the most important thing in life, but poetry was a close second. It was, he wrote in "To Gottfried Benn," "an instinct for self-declaration" in the face of a world that "fades fades changes dies," as he put in in his journal. Fighting against death is a losing battle, no doubt, but it's one most of us rightly or wrongly join—whether by taking up cycling, writing a poem, or tweeting a selfie on Myrtle Beach. And as long as we continue to fight it, we'll read Frank O'Hara.