Collecting Art, Without Knowing What Kind of Art You're Collecting
The biggest holding of concrete poetry in the world sits in a Miami duplex, gathered by a couple who initially didn't know what "concrete poetry" was.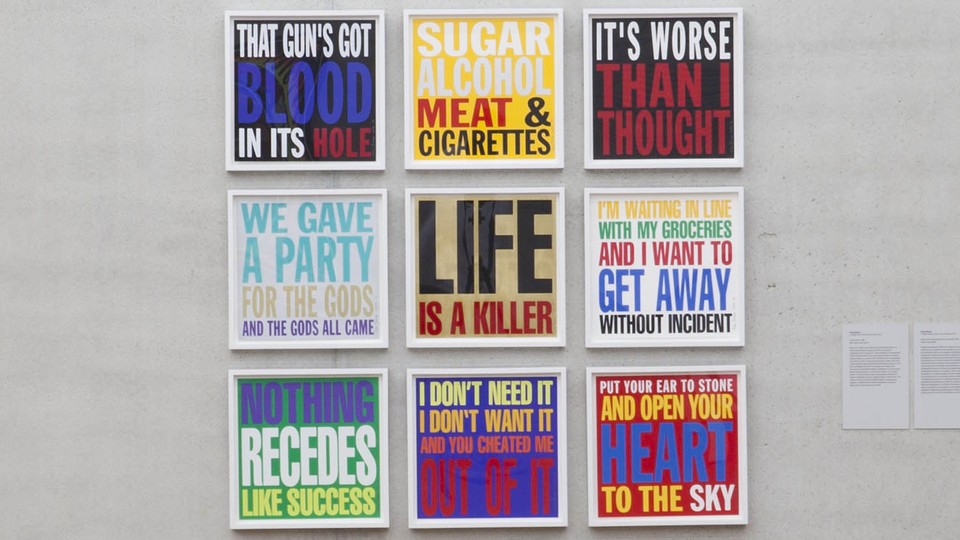 In 1974, Marvin and Ruth Sackner began gathering works of "concrete poetry," poems whose words and typography are arranged to convey meaning graphically. But they didn't know the genre was called "concrete poetry" until 1979. Coming across Emmett Williams's Anthology of Concrete Poetry in a book store "was a Eureka moment," says Marvin, a neurologist by trade. "I exclaimed to Ruth, 'What we've been collecting has a name!'"
In the years since, they would help give a once-languishing art movement a home at the Sackner Archive of Concrete and Visual Poetry in Miami, an enormous and unparalleled collection of 250,000 works—housed not in a museum, but in a massive duplex overlooking the bay. Now, 300 choice pieces of theirs sit on display at the brand-new Pérez Art Museum Miami (PAMM), whose concrete-poetry exhibit, "A Human Document," was set to come down in May but has been extended and remains on view until August 2014.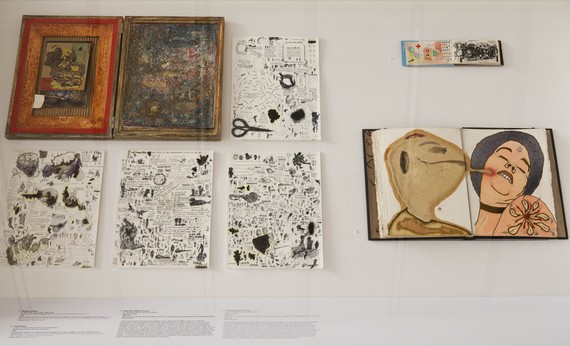 The Sackners have built two other major art collections in the past 30 years. The first was of contemporary constructivist works. The second was of Russian avant garde and early 20th century avant garde movements (books, drawings, and paintings informed by dada, futurism, surrealism and the like). But it was the concrete and visual poetry collection—which includes artist books, assemblings, artist magazines, experimental calligraphy, typewriter art and poetry, and word-image works—that would become the Sackners' signature achievement.
That fact is due as much to circumstance as anything. As collectors, the Sackners could never afford to establish the early 20th-century avant garde art and book collection. But focusing on concrete poetry and letter arts was a different matter. "The prices were within our means, and we related to the facile immediacy of the visual and linguistic communicability of concrete poetry," Marvin says. "We gradually came to realize that it was possible to build the collection of concrete and visual poetry."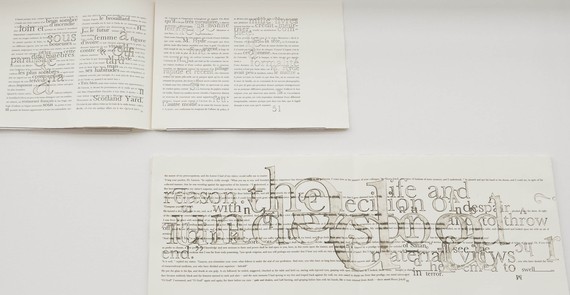 They certainly accomplished their mission, with hundreds of rarities, one-of-a-kinds, and limited-edition documentation. The earliest book in the Sackner collection is Rabanus Maurus's 1503 Liber de Laudibus Sanctae Crucis, produced in 1,000 copies and including 28 shaped poems. The collection continues to the present with the most recent book of experimental calligraphy by Francoise Mery dated April 2014.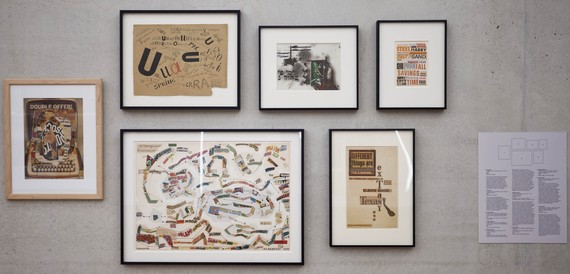 The Sackners' database encompasses more than 58,000 records with approximately 17,000 partially or not catalogued. The number of individual pieces is about 250,000. This is because artist books, print portfolios, and assemblings are recorded as one entry in the database although they may contain multiple prints and drawings.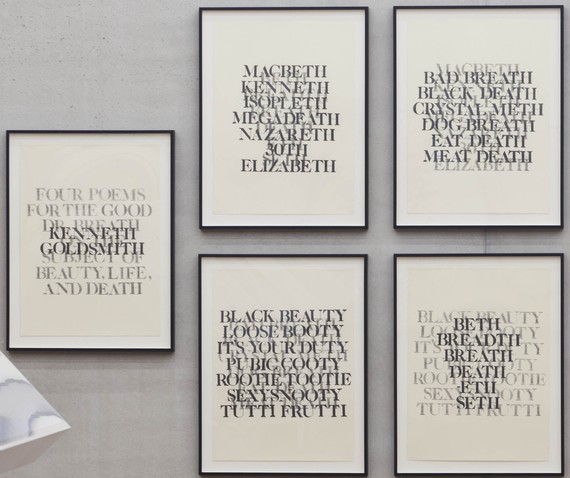 "A Human Document" at the Perez Art Museum begins with Mallarme's first publication of Un Coup de Des in Cosmopolis (1897) and then provides examples of Dada, Russian avant garde, De Stijl, surrealism, futurism, lettrisme until World War II. Artist books and magazines, manuscripts, concrete and visual poems, correspondence art, typewriter poems and art are displayed in vitrines. Post-WWII word-image wall works are displayed from artists and poets worldwide.
Of all the materials, typewriter art and poetry is the most fascinating. The genre "began about 20 years after the commercial introduction of the typewriter and reached its flowering with the advent of concrete poetry in the 1950s and early 1960s," Marvin explained, adding that this method allowed an inexpensive but often very labor-intensive solution for widespread distribution of a new poetic form. "Moreover, the ease of overstriking letters and text for new visual and kinetic effects would have been costly and difficult if the poems were typeset during that time."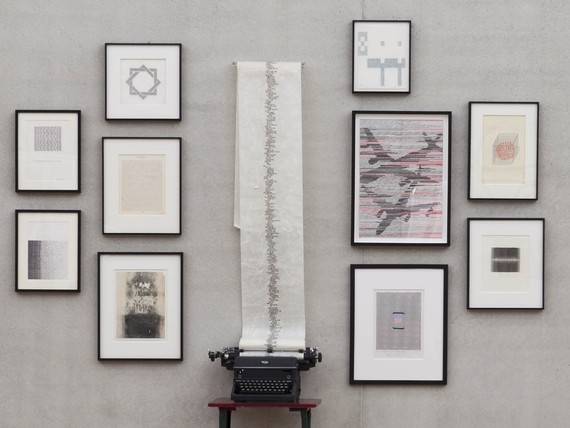 Asked about the Sackners's three most valued art and artists, Marvin said the first two choices were easy: "Tom Phillips's original book A Humument and the pages of its revisions is the most important work in our collection, and we consider it the greatest and most innovative artist book of the 20th century. The most interesting person in the collection is Dom Sylvester Houédard, a Benedictine Monk who was one of the outstanding typewriter artists and poets of all time in addition to being a foremost critic of concrete poetry, an artist, translator, social activist, and fantastic correspondent."
He went on to say that there are a number of individuals are tied for first place: Augusto de Campos, the Brazilian who founded of concrete poetry; Henri Chopin, a French typewriter artist and sound poet; William Jay Smith, an American pre-concrete typewriter poet and conventional poet; Ian Hamilton Finlay, a Scottish concrete poet, artist, and sculptor; artists, poets, mentors and publishers, including D.A. Levy (American), J.W. Curry (Canadian), Geof Huth (American), Vittore Baroni (Italian), Bob Cobbing (British), John Furnival (British), and Wally Depew (American).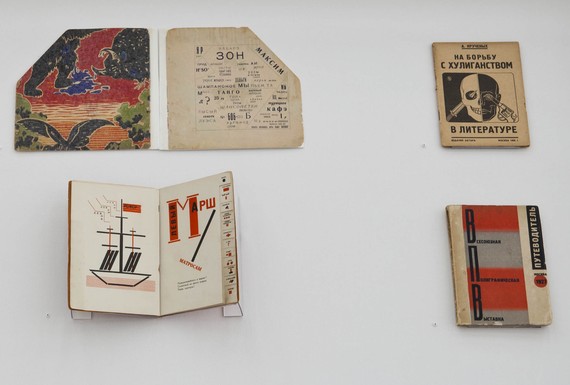 The collection is curated exclusively by the Sackners, who are also the catalogers and registrars. "I do most of the cataloging and almost all the image scanning (about 17,000 images are in our database)," Marvin says.  "My 'secret' of getting things done since the 1980s has been to limit sleep time to about five to six hours per night."
While representing only a small portion of the overall collection, the Perez exhibition effectively tells the story of this artform. Rene Morales, the organizer of the show, explained its organizing narrative:
The first set of vitrines serves as a kind of summary of the amazing publications created by the modernist avant-garde of the first half of the twentieth century – from Stephane Mallarmé and Guillaume Apollinaire through Italian Futurism, Dada, Russian avant-garde, Bauhaus/De Stijl, Surrealism, Lettrism and Situationism/CoBrA. The second set functions similarly but with respect to the history of Concrete Poetry, from Eugen Gomringer and the de Campos brothers to more recent exemplars. The last set provides a sampler of the varied categories and genres that the Sackners have focused on, such as correspondence art, sound and performance poetry, experimental calligraphy, and artists' books.
I am particularly drawn to the earlier artifacts, when the form was new. "They are about as radical as it gets," Morales says,  "despite having been made as much as a hundred years ago. That first set of vitrines has been truly eye-opening for me, providing a totally different way of assessing the various strains of modernism."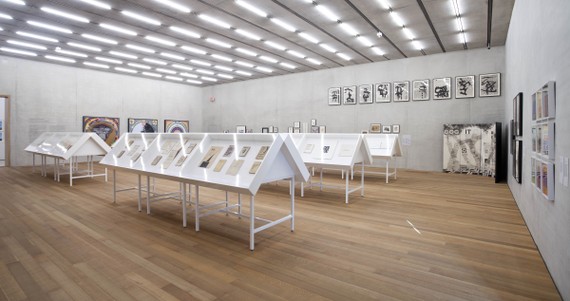 The appeal of the Sackner Archive is what Morales called "the leveling of traditional hierarchies, a suspension of biases and reflexive value judgments." For the cognoscenti it has the iconic makers and pieces by Guillaume Apollinaire, Kazimir Malevich, Carl Andre, and other well-known, canonical artists. But there are also less-popular figures, as well as works created in "non-mainstream genres or media, from mail art to rubberstamping." The strongest aspect of the exhibition is not any single object, says Morales, "but rather the potential for discovery that runs through the whole installation, just as it runs through the collection itself"—a potential for discovery that led the Sackners to develop a fascination with something they knew little about three decades ago.