The Best Art Deco Designer Who Almost No One Remembers
Hildreth Meière's huge mural commissions were rare for a woman in her day, but it was her fusion of classical and mid-century style that brought her fame.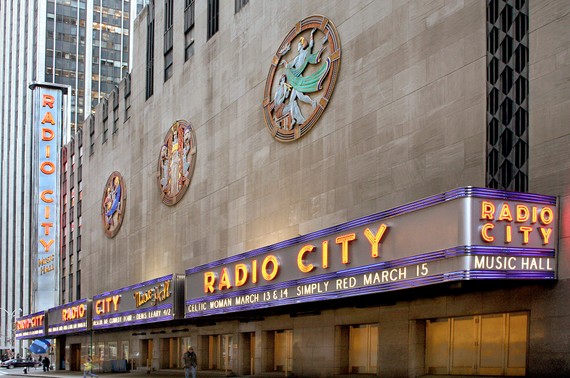 Radio City Music Hall is an Art Deco jewel. Its most notable—but somehow little-mentioned—features are the three metal and enamel roundels around the corner from the entrance on the 50th Street façade.
They were created by Hildreth Meière, a virtually forgotten artist and sculptor whose architectural mosaics, glass windows, and painted murals still adorn prominent churches, office buildings, skyscrapers, and world's fair pavilions. A new book, The Art Deco Murals of Hildreth Meière by Catherine Coleman Brawer and Kathleen Murphy Skolnik with photographs by the artist's granddaughter, Hildreth Meière Dunn, spotlights some of her astounding decorative works in danger of being orphaned, despite her renown when she was alive.
Even co-author Murphy Skolnik, an art historian at Roosevelt University in Chicago, says she had no idea who Hildreth Meière was until she heard the sculptor's daughter, Louise Meière Dunn, speak at the Eighth World Congress on Art Deco in New York City in May 2005. "I was fascinated by her story and mesmerized by the images Louise showed," she says.
Fifteen years earlier, the book's other writer, Catherine Coleman Brawer, bought Meière's own studio in the landmarked Studio Building in New York. She later met Louise, who possessed photographs of the living room that contained full-scale cartoons for a Travelers Insurance Company mosaic tacked to the walls and Meière's mock-up of a stained glass clerestory window from St. Bartholomew's Church on Park Avenue. "Upon seeing the photographs I became hooked," she says. "Before I knew it, I was curating an exhibition on Meière's work."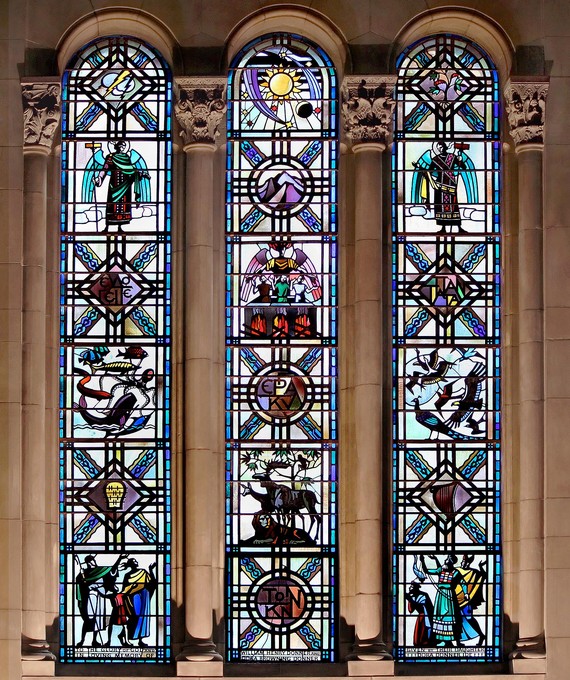 In Meière's time, women were not routinely afforded large mural commissions. But the architect Bertram Grosvenor Goodhue played a key role in Meière's success. Recognizing her talent, he entrusted her to create murals for two major commissions: the Great Hall of the National Academy of Sciences, and the Nebraska State Capitol. She had no prior experience as a muralist, but she was blessed with "large ambition." These major commissions at the beginning of her career gave Meière the opportunity to show what she was capable of achieving as part of an architectural team.
She continued to work on numerous commissions with Goodhue's successor firm after his death in 1924, earning public acclaim and accolades: Meière received the Architectural League of New York's Gold Medal in Mural Decoration in 1928, was the first woman appointed to the New York City Art Commission (in 1946), and received the Fine Arts Medal from the American Institute of Architects in 1956.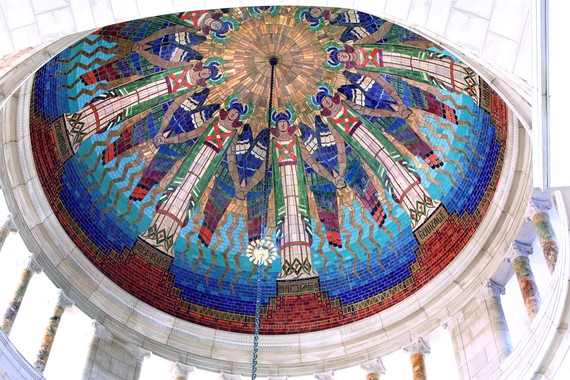 Meière's mother, Marie Hildreth, known to the family as Minnie, had started to achieve some recognition as a painter. But she gave up any plans for an artistic career when she married. "According to Hildreth Meière," Skolnik says, "women in Minnie's day and in her social circle did not pursue careers outside of the home. But Minnie continued to paint for her own enjoyment and she made sure that her daughters knew about and appreciated art. I think Minnie's influence had a lot to do with Hildreth's decision to become an artist."
Meière began to experiment with Art Deco as early as 1923, and it remained her preferred style. She developed a personal, classical, Art Deco vocabulary, which comes through in Dance, Drama, and Song on the exterior facade of Radio City Music Hall:

But Skolnik explains, "I don't believe Hildreth had a specific message to communicate, other than her belief in beautifying man's surroundings and in creating murals that were suited to the architectural setting. She didn't think a mural could be created without considering the structure of the room, its purpose, history, and the people who would walk through the space. She also believed that a good mural could not be taken away without compromising the design of the building."
One such mural was the one she did for the National Council of Women, celebrating the advances of women from 1833 to 1933. "The passion here," says Brawer, "as in all of her work, was more the desire to create a mural suited for the setting rather than to express any strong personal feminist leanings. Meière once stated that she thought a woman had to know her job better than a man in order to succeed as a muralist, but she never expressed a concern that she was treated differently or denied opportunities because she was a woman."
About half of Meière's output was liturgical. She learned early on from Goodhue how to alternate between religious and secular commissions. Brawer quotes Meière speaking to a Catholic group at the Carroll Club in New York in 1939, introducing herself with the following words:
I am a Catholic artist in every sense of the word, for not only have I worked for Catholic churches, which of course are my first interest—there can surely be no higher function for a painter than the adorning of a church to house Our Lord Himself—but I designed the mosaics in St. Bartholomew's next door, the mosaics at Temple Emanu-El at 65th Street, a sort of shrine in St. Thomas; and I have painted altarpieces in a number of Episcopal churches throughout the country.
Many of Meière's most important designs remain intact. "The impact of walking into the Cathedral Basilica of Saint Louis and seeing Meière's north wall and dome is as powerful today as it was in 1958," Brawer says. "The warmth and glitter of the banking room at One Wall Street still elicits exclamations."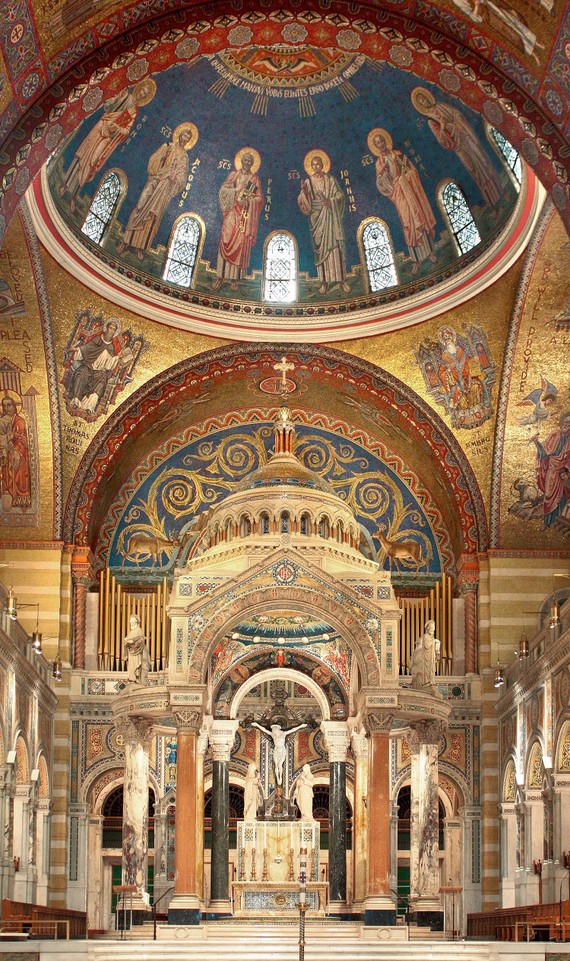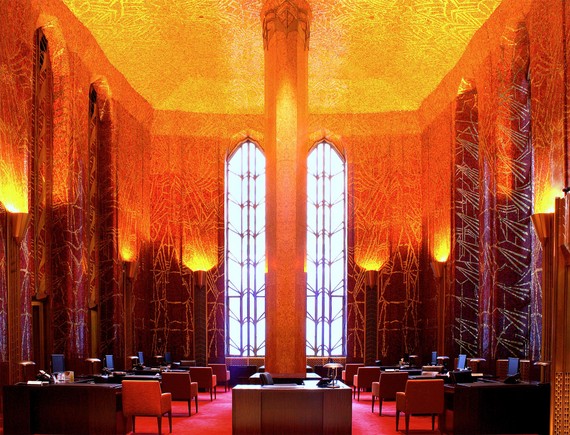 Her mural for the Medicine and Public Health Building at the 39 World's Fair is a particular beauty. "Meière called her work for this fair 'a great creative experience,'" Skolnik says. "At the same time, the murals for the fair were immensely challenging because of the large scale demanded by the tremendous size of the fair buildings." The doctor represented in the foreground of the mural was 30 feet tall. In addition, all of Meière fair murals were outside and required an effect of simplicity to be easily comprehended by people strolling outdoors.
Her wall adornments, however, are just one aspect of her work. Meière's imagination was limitless and her output was extensive. The authors say they used the umbrella of her Art Deco style to make the book as inclusive as possible, and they included additional works in the section "Beyond Art Deco." "Even so," says Brawer, "we couldn't include all of her commissions."