Why Hasn't Congress Investigated Corruption in the NCAA?
PED use in baseball merited a Congressional hearing. A similar investigation should be probing into educational institutions' use of athletics and athletes for profit.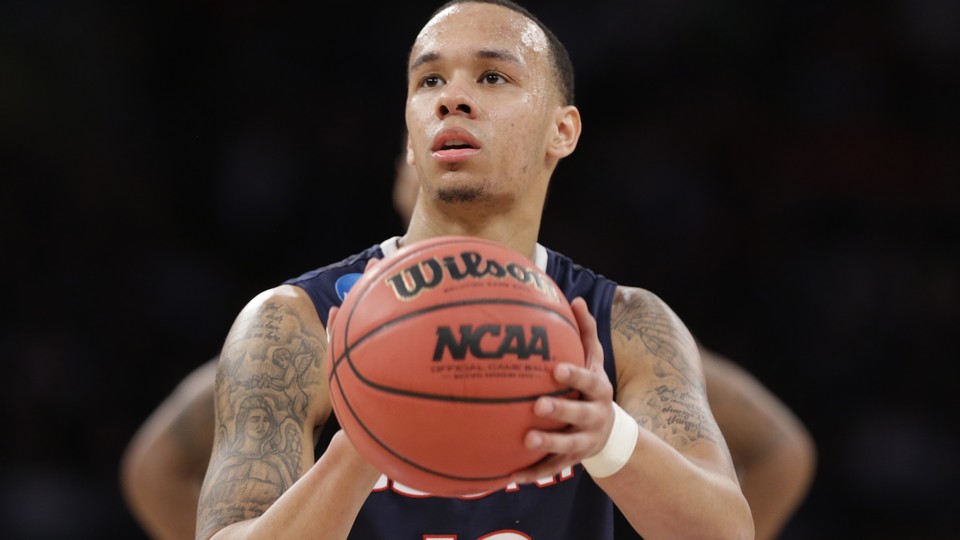 Shabazz Napier is the enormously gifted guard for the University of Connecticut who led his team to another national basketball championship Monday night. But before that, Napier spoke to the Connecticut Mirror about the Northwestern University athletes' attempt to create a union, and said the athletic scholarship is the only compensation allowed by the NCAA. "At the end of the day, that doesn't cover everything. We do have hungry nights that we don't have enough money to get food and sometimes money is needed," he said. "There are hungry nights that I go to bed and I am starving. So something can change, something should change."
Wow. It turns out that NCAA rules allow institutions to provide one meal a day to athletes, along with snacks. That merely underscores how tilted college athletics are toward the institutions and away from the athletes—at least those shaping the big-money sports like football and basketball—and how much change is needed, especially at the NCAA, which is thoroughly corrupt from the top down.
A couple of weeks ago, the usually astute Washington Post sports columnist Sally Jenkins wrote disdainfully of the move toward a union, saying athletes are "highly privileged scholarship winners who get a lot of valuable stuff for free. This includes first-rate training in the habits of high achievement, cool gear, unlimited academic tutoring for gratis, and world-class medical care that no one else has access to." Apparently it also includes starvation diets for poor kids who come to college without any money. And the "unlimited academic tutoring" apparently led to the 8 percent graduation rate for these privileged athletes at UConn, which actually got the program suspended a year ago because the rate was so abysmal, and led no doubt to wonderful academic preparation for the "one and out" freshman class who have made many millions of dollars for Kentucky coach John Calipari. Not to mention the pathetic one-paragraph "research paper" written by a University of North Carolina athlete that was all over Twitter a few weeks ago.
Shabazz Napier is a role model who stayed for four years and will presumably push up UConn's graduation rate from the truly pathetic to the barely acceptable. And, despite his 6-foot-1-inch height, his consummate skills as a ball handler and field general will likely make him a rich man in professional basketball. But the fact is, most of those playing college basketball or football will not make millions in the pros, and many will not graduate with the skills and training that a college education should provide for entry into the workforce. These young people are far more among the exploited than they are among the "highly privileged" getting wonderful benefits for the work they put in.
When NCAA President Mark Emmert talks piously of "student-athletes," it is ludicrous. There are many genuine student-athletes, especially in sports like soccer, crew, tennis, and lacrosse, who don't generate millions in revenue for their schools and the NCAA. And there are certainly student-athletes among the football and basketball players as well. But large numbers of them are athletes who are designated as students yet who never graduate, and in many cases they leave without basic skills. The poor ones can starve, yes, while the schools and Emmert and his colleagues make many millions off their talents.
Joe Nocera, the estimable columnist for The New York Times who is no radical, has written many columns pointing out the utter corruption at the top of the NCAA, which also acts imperiously and has no accountability for its rulings on eligibility for individual athletes. It is past time to provide some due process and to provide some reasonable compensation—including allowing athletes to get the money from use of their names and likenesses and for their autographs (something even Jenkins, to her credit, recommends).
A few years ago, Reps. Henry Waxman and Tom Davis held high-profile hearings on drug use in sports, hearings that resulted in the disgrace of Roger Clemens, among others. I got a lot of calls from reporters at the time asking why Congress was sticking its nose into an issue like this one—was it just for cheap publicity? I responded that it was well within Congress's purview; the institution is, in the term of the late, great reporter Neil McNeil, "the Grand Inquest of the Nation." And the fact is that the Waxman-Davis hearings—a model, by the way, of bipartisan investigations that Darrell Issa should study—helped mightily to trigger the strong backlash against the use of performance-enhancing drugs, cleaning up professional sports and sending a strong signal to society.
Calling on Congress: It is time for probing hearings into corruption at the NCAA and the serious misuse of college athletics and college athletes by major educational institutions for their own profit. Haul up Mark Emmert, a passel of college presidents and athletic directors, Shabazz Napier and other current and former athletes who have been exploited by the system, and let the chips fall where they may.
I love March Madness. There is no other sporting event that captures the imagination of a wider range of Americans, including those who otherwise have no interest in sports. The drama, game after game, week after week, as underdogs beat favorites and brackets get turned upside down, is remarkable. The NCAA has done a brilliant job creating it and marketing it. But that does not excuse its other, deep flaws. They need to be uncovered in a new Grand Inquest—and reformed.