The Utopian Origins of Restroom Symbols
A new book spotlights the creation and many applications of Isotype, the modernist visual language that lives on in signage all around us.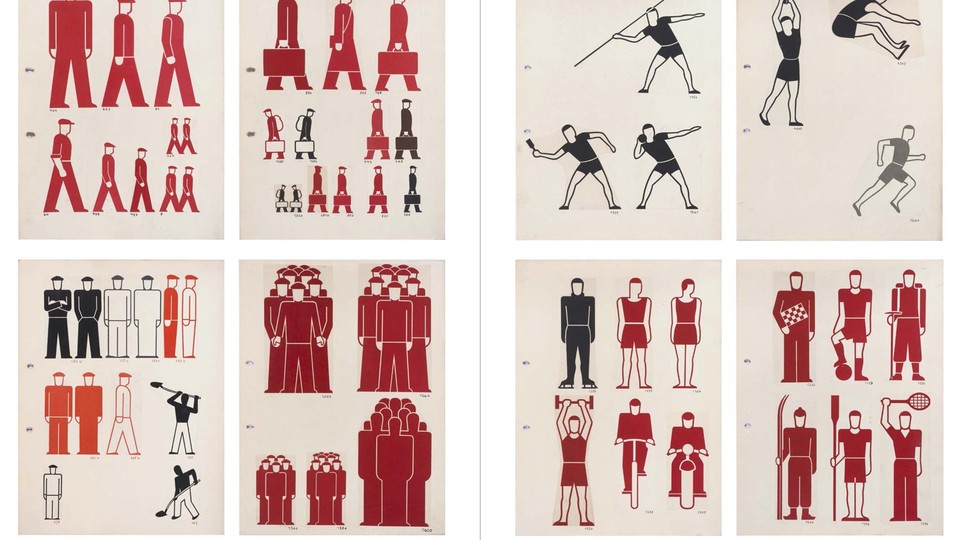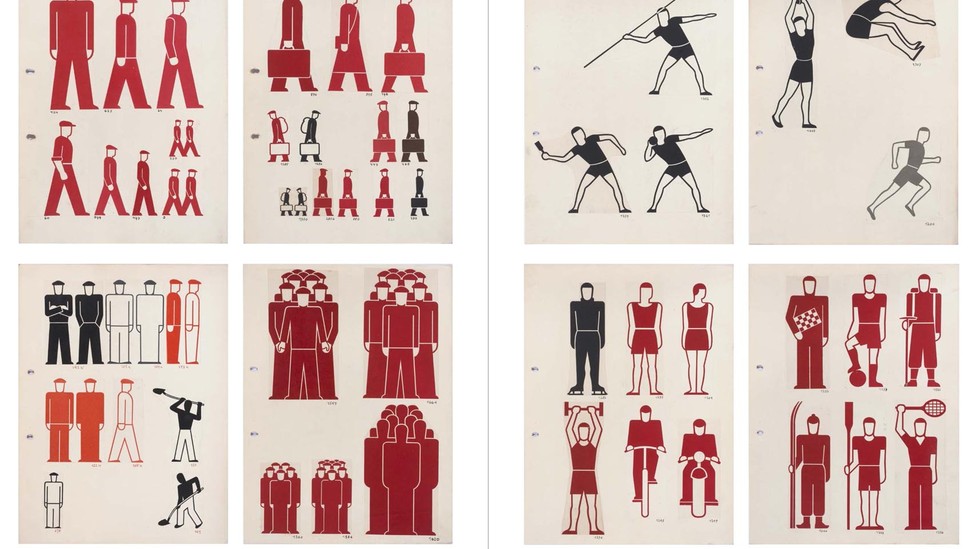 Navigating through sprawling airports and massive sports stadiums is frustrating enough with them, and traversing through such a labyrinthine world is unimaginable without them. I refer to those minimal pictographs of man, woman, child, car, sink, toilet, etc., that—like the five famous musical notes used to communicate with aliens in Close Encounters of the Third Kind—are intelligible to all.
These symbols are just the most visible descendants of a more complex strategic pictorial language system called Isotype (International System of Typographic Picture Education), the visual data vocabulary conceived by Otto and Marie Neurath and designed by Gerd Arntz in the 1920s to ensure that essential information was universally accessible regardless of literacy or culture. Isotype remains the foremost influence on data visualization, but many of today's designers may not realize that there was a humanitarian, utopian ethos underlying the language's creation.
The Isotype images, now called "symbol-signs" or "pictographs," have been adapted, retrofitted, and reinvented for thousands of uses—from corporate trademarks to pornographic parodies. In 1974 the U.S. Department of Transportation collaborated with the AIGA and the design firm Cook and Shanosky Associates on 50 "passenger/pedestrian" symbols, including telephone, first aid, and nursery, and these are the basis of ubiquitous "wayfinding" iconography in most public places.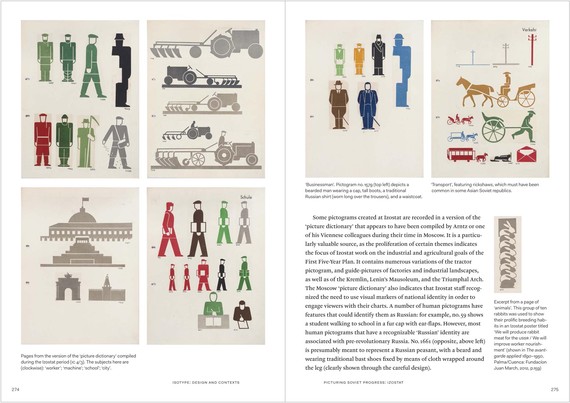 Drowning as we are in digital information, in recent years there has been renewed interest in Otto and Marie Neurath, the missionaries of information universality. And no one has been more active in spreading Neurath's gospel in its purest form than London-based publisher Hyphen Press and its founder Robin Kinross. As a postgraduate student at University of Reading, home of the main archive of the Neuraths' visual work, Kinross did research on this subject and worked on editorial and translation projects with Marie Neurath until her death in 1986. A portion of this research is published in Hyphen's latest book, Isotype: Design and Contexts 1925-1971, edited by Christopher Burke, Eric Kindel, and Sue Walker. It's a richly illustrated anthology of historical and critical essays—a must-have for anyone interested in the roots of data visualization and how graphics are used to serve public welfare and illuminate complex issues.
The Austrian-born Otto Neurath, a strong democratic socialist philosopher, sociologist, and political economist, did not produce the data or render the icons. Instead, "he helped to process and make visual other people's data (i.e. statistics or other kinds of information)," as Kinross put it in an email. "He would publish anywhere, and usually said 'yes' to any commissions, from the tabloid newspaper to the academic journal."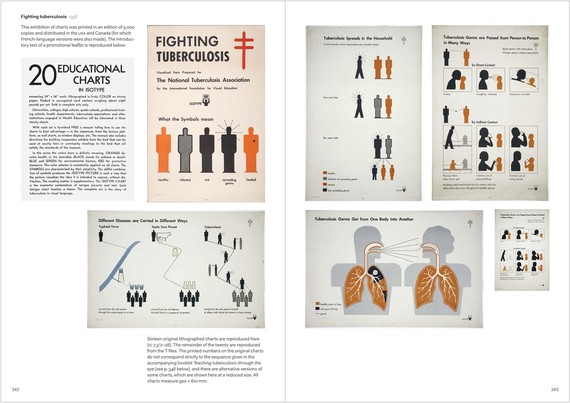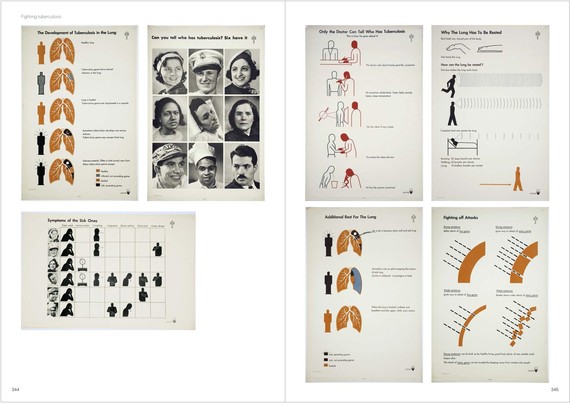 Neurath belongs to the era of practical utopianism of the Modern Movement in Europe, from early to middle 20th century. But "his work wasn't a simple matter of ideology or propaganda," Kinross said. "His interest was always in education and human development. He didn't get involved in the questions of 'how to get to the departure lounge.' His work with the National Tuberculosis Association was typical of this approach."
Regarding the graphic icons, Kinross added, "one crucial aspect of their design is that, for Neurath, they had to work visually when seen in rows, when put next to each other as multiples. This condition doesn't apply to information icons. The design problem there is a different one."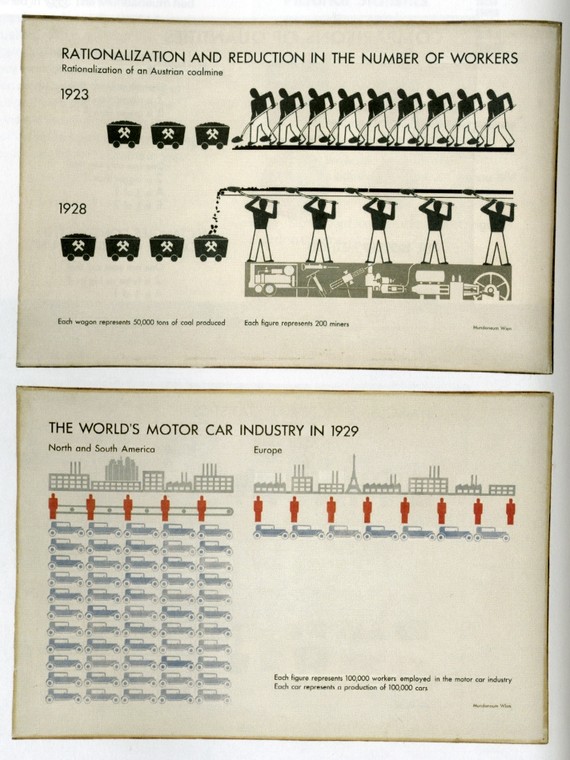 With the Nazi march into Austria, Neurath fled Vienna for Holland. He met his future wife Marie Reidemeister there and after the German bombing of Rotterdam the pair escaped to England, where they were interned on the Isle of Man. Following their release they established the Isotype Institute in Oxford. From this base they continued to develop their unique strategy, which influenced designers worldwide.
"Perhaps the main contribution of the new book is to expand on the previously rather limited conception of Isotype as being about rows of pictograms in charts made in Vienna," Kinross said. "The book shows how much non-statistical work there was, and how far it traveled—U.S.A., USSR, West Africa, and elsewhere."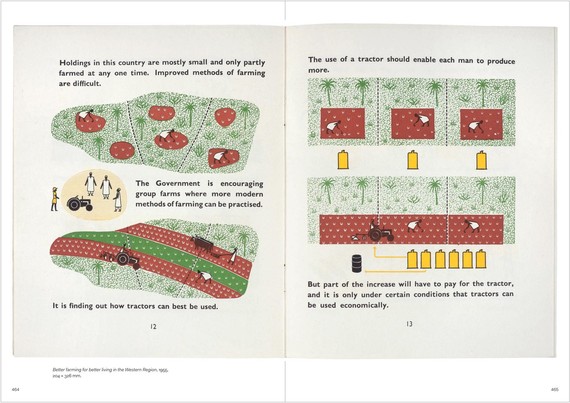 An editor's note in the book emphasizes that Isotypes are not pictographs, nor were Otto Neurath and Gert Arntz the sole creators: "Several essays highlight the work of the transformer in Isotype. The Isotype transformer was the real designer of the work. The main Isotype transformer was Marie Neurath."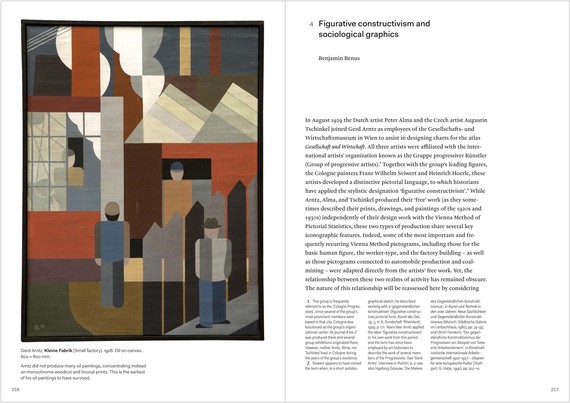 In recent years, some critics have disparaged Isotype as overly simplistic. But that's because, Kinross said, they aren't seeing the full picture. Single graphical symbols as navigation signs should not be the lasting Isotype legacy. "The famous recent enemy of Isotype has been [the information design expert] Edward Tufte," noted Kinross. "His insinuation has been that it lacks data-richness. But then his one published criticism of Isotype uses a poor imitation of Isotype as his object of attack." With this new book, Kinross and company have answered that critique by spotlighting Isotype's incredible versatility and depth.