The Rise of Japan's Creepy-Cute Craze
"Gross" characters are proliferating in a country known for kawaii, and now even local governments' mascots are trying to out-weird one another.
Japan, the country responsible for Hello Kitty and World Cup Pikachu, loves mascots. One of the most popular fuzzy-suited characters over the past year and a half has been Funassyi, a giant pear creature hailing from just outside of Tokyo. Ubiquitous on billboards and TV commercials, he recently threw out the ceremonial first pitch on opening day for Japanese professional baseball club Chiba Lotte Marines.
Yet Funassyi is not traditionally kawaii, Japanese for "cute." Most body-suited mascots are slow and silent; Funassyi darts all over the place and isn't afraid to scream, let alone talk. While Hello Kitty mostly stands around, Funassyi is prone to random fits of headbanging, shaking, and running from explosions in a field.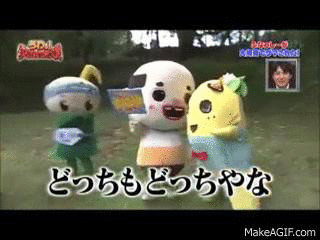 Long considered the global capital of cute, Japan is currently experiencing a boom in less-than-cuddly characters, highlighted by the nationwide popularity of Funassyi. Called kimo-kawaii, translated as "gross cute," the phenomenon has influenced Japanese television, music, and even local government in the last few years. Born in the 1990s and related to similar American trends, this subversion of the traditionally cutesy is part cultural backlash to Japan's decades-long adorability binge, and part smart marketing tactic.
The term kawaii in its modern form emerged in the 1970s, according to a paper written by professor Sharon Kinsella of the University of Manchester. She says that it sprung out from a trend in "cute handwriting," but that soon child-like cuteness became the dominant pop culture and fashion aesthetic of the period. It was during this decade that Sanrio came to prominence, introducing the mega-popular Hello Kitty in 1974 and soon becoming a billion-dollars-a-year company. Kawaii culture only grew bigger as time went on, showing up in household appliances, food, and sex toys.
The traditional characteristics of kawaii, according to Kinsella, are "sweet, adorable, innocent, pure, simple, genuine, gentle, vulnerable, weak and inexperienced." In the '90s, though, younger Japanese people, bored of those traits, coined "kimo-kawaii." The early Internet meme of the "dancing baby" originated in America but came across in Japan as prime kimo-kawaii, becoming popular enough to appear in a Toyota ad. Another example was the comic-turned-cartoon Coji Coji. The title character seemed cuddly enough, but was surrounded by far stranger-looking types, and the show generally took kawaii to a more surreal place.
A similar trend happened in America during the decade, with the rise of raunchy animated series like Ren and Stimpy, Beavis and Butt-head, and The Simpsons. Yet those shows, filled with adult references and jokes, aimed to prove cartoons weren't just for kids. Kimo-kawaii, meanwhile, offered an alternative to the traditionally child-like definition of "cute."
It wasn't until the 2000s, though, that kimo-kawaii really became a cultural force. Characters like Pikachu, "relaxation bear" Rilakkuma, and Hello Kitty remained extremely popular, but more alternatives emerged. One was Gloomy Bear, a pink critter that a graphic designer going by the name Mori Chack created as an explicit response to kawaii, saying, "Say there's an illustration of a bear holding hands, dancing happily with a human. Is this not the epitome of cruelty?" Tall and violent, Gloomy usually has blood splattered on his face and claws from repeatedly attacking his human companion, Pitty. His official website allows users to bludgeon the kid in three different ways.
The year 2006 brought the debut of Kobitodukan, a set of dwarf-like creatures with weird faces, who became popular enough to warrant several convenience-store tie-ins. They were soon joined in pop culture by video-game characters like the mushroom-come-alive Nameko and the strange-faced alpaca from "Alpaca Evolution." The vogue for the bizarre hasn't been limited to Japanese creations—Spongebob Squarepants, America's favorite cartoon freak, has become newly popular in Japan over the last few years, as has the unsettling '90s fad toy Furby.
Most kimo-kawaii stars of late, however, are government creations. The last four years have seen a boom in hyper-specific mascots for everything from the post office to electronic tax filing. These yuru-kyara ("loose character") most often represent cities and regions, and at their best can help bolster an area's tourism and overall economy. The most famous yuru-kyara is Kumamon, a rotund black bear representing Kumamoto Prefecture. Items featuring him have racked up millions of dollars, and have helped draw visitors to his homeland. Success stories like Kumamon's inspired nearly every town in the country to create multiple characters of their own.
This mascot surplus means it's harder than ever to get attention with a cute character—so several local governments instead decided to get weird. Creations like the armless Nishiko-kun and the unsettling Okazaemon became much-discussed topics in the media and online because of their strangeness.  The creepiness craze has even helped rejuvenate once unpopular characters like Sento-kun, the city of Nara's official mascot. Many commentators deemed the deer-horned Buddha guy too ugly when he was introduced in 2008, but today he's newly beloved, with more than 67,000 Twitter followers.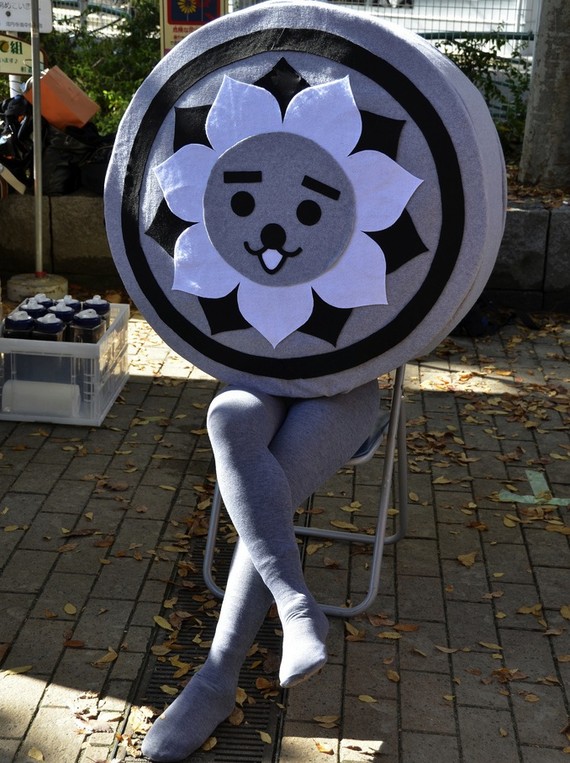 Already far from kawaii, Funassyi manages to further subvert yuru-kyara. He was created by citizen who hoped the pear creature could be adopted as Funabashi city's official mascot in 2011, but despite it spawning a popular YouTube channel, the municipality rejected the idea. So Funasyyi went rogue. Operating as an unofficial mascot, he landed spots in commercials and TV shows, raising his profile up to the point where he could win Japan's annual regional-mascot contest.  Since then, he's released his own novelty single, performed on stage with American dance-music outfit Krewella, and raised a lot of money … none of which goes to the Funabashi government.
Kimo-kawaii is at its mainstream peak right now, coming close to matching the oversaturation of kawaii. One of Japan's most inescapable pop stars at the moment is Kyary Pamyu Pamyu, whose much-buzzed-about music videos combine the colorfulness of Harajuku fashion with creepy images, ranging from eyeballs to monsters. Sanrio has gotten in on the disturbing/cute game too, with new characters like Kirimi-chan (an anthropomorphic piece of fish) and Gudetama (an egg who lacks motivation) catching attention on the Internet. A prolonged '90s revival has also helped bring some older kimo-kawaii characters, like Coji Coji, back into the spotlight. How long will the phenomenon last? It's impossible to say, of course, but it seems likely that even the strangest character can star in so many cellphone ads before their gross-out gimmick just isn't cute anymore.