The Real, Fabulous Knick Knacks of Fictional, Fabulous Females
When an NYC antiques gallery closed down, its owner kept the storefront alive by decorating the homes of invented, swashbuckling characters.
Deborah Buck was the proprietor of Madison Avenue Buck House antique gallery and store for 10 years. Then the financial slump sent sales plummeting, and she had to close her once-successful venture. But while she shuttered the business, she didn't shutter its windows, spending six months using the retail frontage for an art project documented in the new The Windows of Buck House: Fabulous Fictional Females.
The book's photos, taken by Jaka Vinšek, show how Buck kept her windows filled with a changing array of accouterments for 22 imaginary women. She wanted to create a pantheon of swashbuckling heroines seen from behind the curtain—a collection of commemorative portraits that evoke life, like dioramas at the Museum of Natural History. A visit to the home of Georgia O'Keeffe in the New Mexican desert had inspired her: "Everything was as she had left it, and it had such a strong voice," Buck said. "It was a sense of connection with someone I truly admired: a woman who raised the bar on what was possible, someone who took risks with her life and her mind."
So she came up with characters like Ink Lee, a Shanghai artist; Goldy Banks a Geneva investment banker; Berty Cardinal, a Brazilian ornithologist; and Eureka Miner, a Utah prospector. Often, the displays began with a "keystone piece" in the form of one item of furniture. "From there I created a personality collage," she said. She began to ask questions about the woman she'd created: Who is she? Where is she? What's she doing? What is her challenge?
"Those questions gave me the fodder for the props. Bit by bit, layer upon layer, I constructed each FFF personality," she said. "What could we next make, rent or find to make her even more ferocious, more daring, more intriguing?"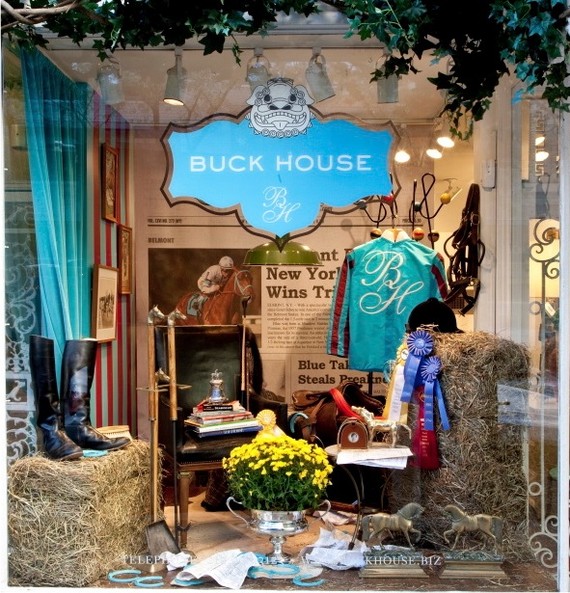 All these fictional females live in Buck in one way or another. "They are fighting against stereotypes and traditions, something that I have struggled with as well," she said. "They are my own personal super heroes, one way or another. ... I want their stories to champion questioning of limits. I want the reader to ask themself how different would the world be if this person were really in it."
Choosing props made for a scavenger hunt of sorts. "We raided my closets, my friends' closets, attics, garage sales, thrift stores." Her "creative team" filled in the background with photos and backdrops. She bought live birds for Berty Cardinale; she had custom racing silks made for Belmont Blue. Often, Buck borrowed from the treasure trove of Suri Bieler at Eclectic/Encore Props. "As a fabulous female entrepreneur herself," Buck noted, "she cheered us on and gave us great latitude with our renting perimeters."
Buck insisted that the photography for the book include shots through the actual glass. But the glass and its inherent reflections presented challenges. "Sometimes the windows worked as another layer," Buck said. "Other times it obscured the nuances of the set. The close ups were the most fun as there was so much rich detail in every inch of each window."
If Buck had to pick one favorite character, she said it would be Anna Force, an ad-agency owner circa 1962. "I could slip into her blue leather Eames chair and start an ad campaign today," Buck said. "She is probably the closest to me of all of them. She is a creative business owner, and she's a contender, she's in the ring giving it her all. I particularly loved the signed photo from Jackie Kennedy on her desk. I adore that period in time."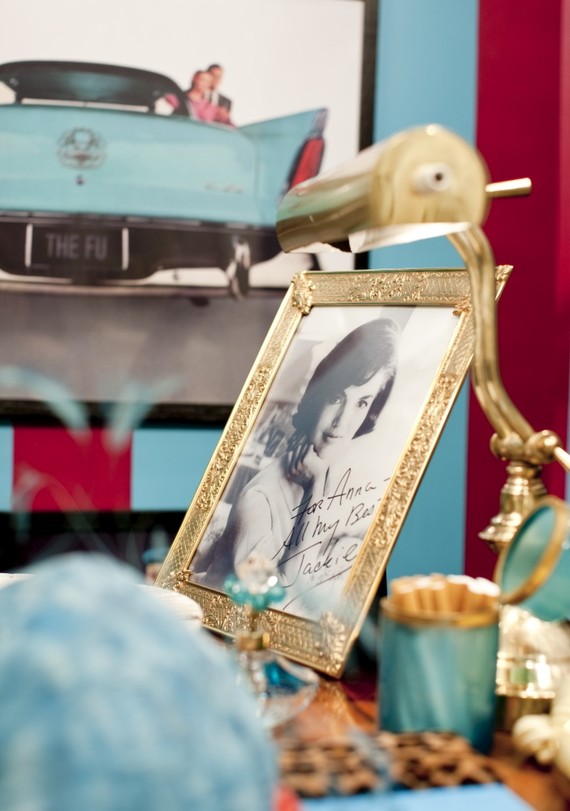 The underlying message to the entire effort? "I believe that a thoughtfully constructed environment can be a cheerleading team for your persona," Buck said. "When I look around my own home, I see my travels in the things that I brought back, my own paintings which hang throughout, photos of my family and friends, framed markers of accomplishments and the colors, forms and designs that I have selected. All of these things add up to a portrait of me, a portrait that changes constantly. This layered, ever-changing backdrop inspires me to continue to grow, to learn, and to reinvent myself again."