The Feud That's Endangering Boxing
A hostile rivalry between two promotion companies is preventing some of the most intriguing potential matchups in boxing from happening—including Pacquiao vs. Mayweather.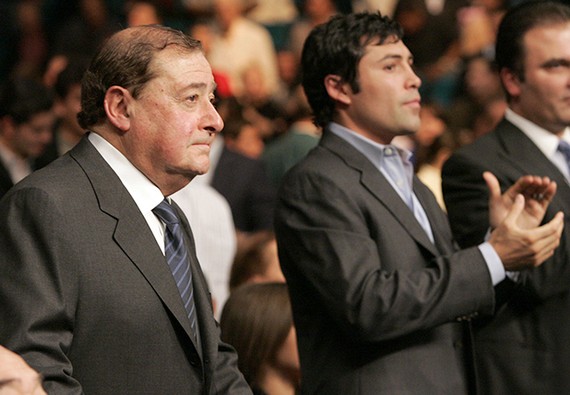 LAS VEGAS—On Saturday at the MGM Grand, Manny Pacquiao took down Timothy Bradley for the WBO welterweight title. Pacquiao—a congressman in his native Philippines—is one of the most popular fighters in the world, and Saturday's rematch against Bradley will go down as one of the biggest fights of the year.
But while more than 15,000 people attended, and the rematch between Pacquiao and Bradley was the prevailing chatter between the ding-ding-ding of the MGM's slot machines, the MGM seemed to barely acknowledge the event. Instead, it concentrated its marketing on an upcoming fight involving Pacquiao's rival Floyd Mayweather Jr.
On the side of the MGM Grand's green hotel façade was an enormous image of Mayweather, captioned "Home of the Champion." Walk into the lobby and there was an art-like exhibit of the shorts, gloves, and robes of Mayweather's biggest fights. Weave through the casino and there were signs promoting Mayweather's upcoming bout on May 3. It was like going to Yankee Stadium and seeing Boston Red Sox promotions, tributes, and memorabilia.
Bob Arum, Pacquiao's promoter at Top Rank Boxing, was incensed. He said he was a victim of "PosterGate." He called out Mayweather's promotional team—Oscar De La Hoya's Golden Boy Promotions—for having a "thug mentality" and went out of his way to criticize his host.
Given that Mayweather is the biggest name and draw in boxing, the MGM's promotional blitz might not seem out of the ordinary. But the MGM's effort added another strange chapter to an already strange rivalry that's been harmful to the sport of boxing.
The rift has several causes, including a dislike between Arum and De La Hoya. The two men have split up the boxing world. In the Top Rank corner: Tecate, HBO, Pacquiao and a solid stable of fighters. On the Golden Boy side: Corona, Showtime, Mayweather, and a solid stable of fighters. Unfortunately for boxing fans, the two promoters won't allow their fighters to battle each other. The rival networks and beer makers have been forced to align themselves with the promoters, and the fighters are mostly powerless. The current situation allows the promoters to control their own fiefdom, and as a result, competition is less fierce.
But the Golden Boy-Top Rank rivalry isn't only affecting how fights are made. Some fighters are actually running out of worthy opponents. For example, Golden Boy fighter Canelo Alvarez has already fought Mayweather. But he won't be able to fight Pacquiao or Bradley, similarly elite boxers, because they are Top Rank Fighters. As the promotional rivalry goes on and becomes more bitter, more fighters will find their options—and their marketability—limited.
And, of course, this feud has implications for the two best fighters in the world, who are both welterweights. The undefeated Mayweather has gone through all of the best welterweights in the world, and Pacquiao is the painfully obvious choice as an opponent. They have never fought each other.  They are both still near the top of their games. So it seems obvious that they should fight. The feud between their promotional firms ensures that they can't, however—and that other promising matchups can't happen, either. And this is actually hurting the sport.
Just look at the events that led to Pacquiao's latest encounter with Bradley. Two years ago, Pacquiao fought Bradley. Most pundits believed that Pacquiao won the fight easily. (I sat ringside and scored it 9 rounds for Pacquiao, 3 rounds for Bradley.) It was a blowout win, and no fight fan wanted to see the two men face each other again. But the judges gave the win to Bradley. There was outrage. Pacquiao, 35, then fought Juan Manuel Marquez for the fourth time (and lost in a devastating knockout) and then dominated Brandon Rios. But who could he fight next? There was no one in the Top Rank stable that made sense. So Top Rank concocted another fight with Bradley.
Saturday's fight was more competitive, but it had a similarly predictable feel to the first one. Yes, Pacquiao was momentarily stunned in the fourth round ("I saw a star," he said about being hit with an overhand right), but he dominated Bradley for most of the rounds. While Pacquiao's punching power has diminished in the last few years, he looked almost as fast as he had in the past. He threw 563 punches and connected 198 times. The judges got it right this time, and Pacquiao won in a unanimous decision. Another unsurprising outcome.
When the subject of discussion at the press conference turned to a fight with Floyd Mayweather, however, it was immediately re-routed. There was anger at the MGM over its snubbing of Pacquiao and glorification of Mayweather. An incensed Arum started talking about a fifth fight against Juan Manuel Marquez.
Pacquiao echoed his promoter. "I have no problem fighting Marquez for the fifth time," said Pacquiao, in an effort to promote his next bout. But the media spoke for boxing fans everywhere: Reporters and analysts didn't want anything of it. What about Pacquiao-Mayweather? It would be the most anticipated fight of the last decade.
"Our lines are open; sit down like a normal human being and make a deal," said Arum. (It's worth noting that Arum always feuded with Don King, but they still made fights happen, creating some of the best fights of the last 20 years.) But in reality, both sides don't want to fight because they are making so much money on their own, public and legacy be damned.
"Boxing can survive anything," said Arum. But can it? Boxing isn't dead. It never will be. But we are in a boxing era dominated by avoiding fights, not making them. In the fight game, that's never good for long-term success.