The Exciting Thing About Orange Is the New Black's Season Two Trailer
Very little Piper! Even less Larry!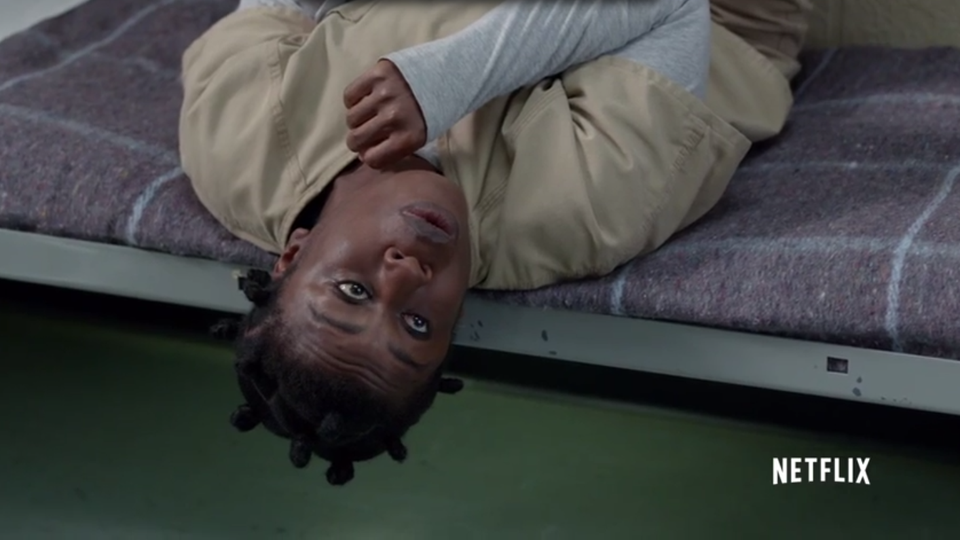 Piper Chapman is the protagonist of Netflix's Orange Is the New Black. But Taylor Schilling's Brooklyn-dwelling yuppie spending a year in prison isn't the star of the show, not really. That honor goes to the wide ensemble of her fellow inmates—characters like Suzanne "Crazy Eyes" Warren, Galina "Red" Reznikov, and Sophia Burset, all of whose stubborn pride in the face of mistreatment by the world provides the series' hilarious, heartbreaking appeal.
The show's creator, Jenji Kohan, seems to realize this fact, saying that the white, middle-class Piper was the "Trojan Horse" that allowed her to secure funding and viewership for a show with such a diverse cast. In the first season, Schilling did a fine job portraying a woman whose false cheer and sense of superiority slowly, necessarily erodes in her new environment. But now that Orange Is the New Black has built a devoted following that fills Tumblrs full of GIFed quips from secondary characters, the best thing it could do in its sophomore set of episodes would be to ease up on Piper's screen time so we can better know the other women at Litchfield.
Happily, the trailer released today hints that might be what happens when the show returns on June 6th:
The clip opens with Piper in solitary confinement—probably a consequence of retaliating against an inmate in the first season's finale. But then for most of the rest of its runtime, we get to hang out with Crazy Eyes, Red, Nicky, etc., plus a couple new figures. Piper says only a couple words. Even better: Jason Biggs's Larry, Chapman's bumbling and tedious husband, gets no lines.
At the very least, this all means that Netflix's marketing team realizes which characters fans really want to revisit. At best, it means Season Two could make an even stronger case that the Netflix model allows for high-quality TV that ditches old rules—like the one that says you need a white, pretty, privileged face to sell a story that's really about everyone else.