Revenge on the Nerds: Why It's So Cool to Laugh at the Tech World Now
Silicon Valley may usher in a new, overdue era of satire and cynicism about startup culture.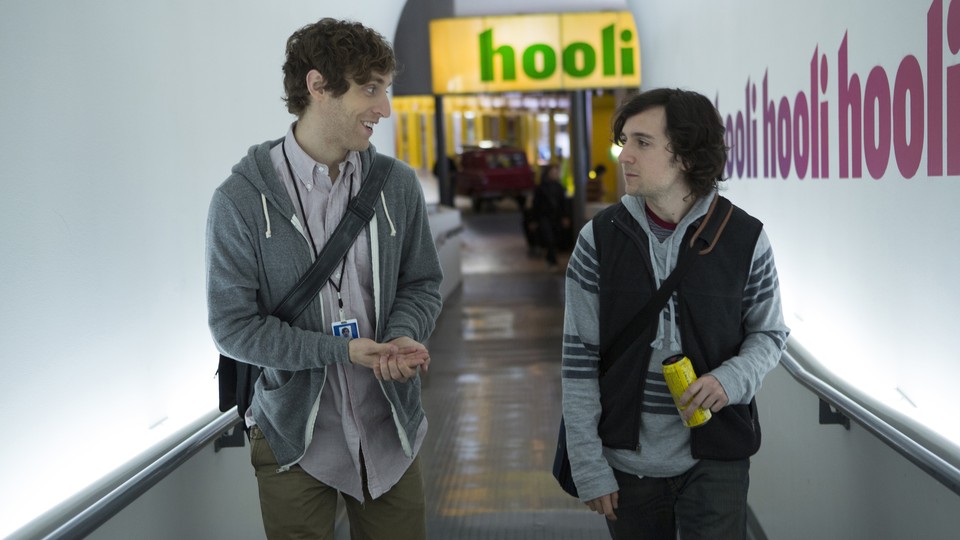 In a lavish Silicon Valley mansion, amid ridiculous liquid-shrimp appetizers and a performance from Kid Rock— "the poorest person here" in a room full of Eric Schmidts and Elon Musks—a handful of hoodie-clad twentysomethings start grumbling.
"These guys built a mediocre piece of software that might be worth something someday, and now they live here," the shaggy-haired one says to his gangly friend. "There's money flying all over Silicon Valley, but none of it ever seems to hit us."
A few moments later, the gangly one observes, "It's amazing how the men and women at these things always separate like this." A third jumps in: "Every party in Silicon Valley ends up looking like a Hasidic wedding."
With that, the first few minutes of HBO's sharp new comedy Silicon Valley from Office Space creator (and former software engineer) Mike Judge lay out most of the reasons why the titular tech hub is ripe for skewering: It's full of young people with too much money, revered personalities with cultish admirers, and brilliant professionals who are disasters in their personal life thanks to their industry's "women problem."
The show, which premieres Sunday and has already been met with enthusiastic reviews, adds to a small wave of television projects scrutinizing the culture of the Bay Area's most notorious industry. Betas, one of Amazon's early forays into original content, premiered last November; Bravo's 2012 reality series Start-Ups: Silicon Valley counted Randi Zuckerberg, the sister of Facebook founder Mark, as an executive producer. (In March, Amazon chose not to renew Betas; Bravo canceled Start-Ups after one season.) The projects arrive sandwiched between two Steve Jobs biopics—Jobs opened in theaters last August, while Aaron Sorkin's similar project is in the works—and just a few years after David Fincher's Oscar-winning The Social Network (also penned by Sorkin) made a million dollars uncool.
Silicon Valley has been the epicenter of information-technology innovation for decades, though. So why are all these shows about it happening now?
When The Social Network premiered in 2010, some wondered whether it was "too soon" to make a movie about a then-six-year-old company that, while clearly revolutionary, was still in the early stages. Now, the people behind Silicon Valley and Betas say they're surprised there haven't been more shows and movies about this world. The turning point, according to Betas co-creator Evan Endicott, wasn't so much the success of The Social Network as it was the rapid ascension of the iPhone. Since it debuted its first-generation device in 2007, Apple has familiarized the masses with apps, social networks, and the startups that hope too get rich off of them.
"A billion people are now walking around with this stuff dictating how they interact with the world," Endicott says. "It felt like you could have a show now because you wouldn't have to catch people up on the language. It would be too arcane of a world if it wasn't so prevalent. It just kind of took the iPhone coming along and normalizing it all for this to be really viable comic territory without having it be a specialty show."
Making it in the tech world, the goal shared by Silicon Valley's and Betas's programmer protagonists, also became something of a new American dream for young people. Both Endicott and Silicon Valley executive producer Alec Berg liken the growing career interest in the field to a "gold rush"; in a New York Times story about The Social Network and the rising number of college students pursuing computer-science degrees and heading west, one academic called it the industry's "Sputnik moment." The Social Network wasn't exactly the most flattering portrayal of Facebook's creator, but David Fincher's slick, cinematic cool helped make many twentysomethings eager to try and become the next Zuckerberg anyway. As Ed Lazowska, a professor at the University of Washington, told the Times, the industry had long hoped for "a show like the lawyer and doctor shows that make being a software person sexy."
Jargon litters the scripts of Silicon Valley and Betas: incubators, accelerators, angel investors, GitHub, TED talks, consumer-facing proprietary sites, "aspies" and the online dating sites that exist for them. Part of this is simply world-building; both production teams did extensive research and met with real-life tech employees while developing their series. But when audiences are already plugged into the culture enough to catch some or all of these references, showrunners can spend less time explaining terminology and more time telling good stories. Building an app is not as interesting to watch as a cop-show shootout; people huddled around computers are not as exciting as bloody patients flying through the doors of an emergency rooms. But betrayals, excessive parties, eccentric personalities, and young people with no experience convinced their idea can change that world? Now that's good TV.
"We kept hearing all these stories of four guys starting a company in their dorm room in college and, when it becomes worth real money, they fight over it," says Berg, a former writer for Seinfeld. "People who sit around sophomore year and dick around with code are suddenly arguing over very real numbers. Having to fire your best friend seemed like a very interesting and funny, weird story."
Adding to that drama is the recent and rapid change in public opinion toward the Bay Area. A March cover story in New York magazine wondered whether San Francisco was becoming the new NYC given its high cost of living, its housing crisis, and the number of wealthy tech stars transforming the city—a question Gawker's Valleywag writer Sam Biddle interpreted as, "Is San Francisco America's New Worst Place?"
"I think we timed it perfectly," Berg says. "When I first started working on the show, I was aware of the world, but almost the day I started working, it seemed every day there was a new Google bus [incident] or Tom Perkins running his mouth." Toward the end of last year, Google's shuttles that transport San Francisco residents to and from the company's offices in Mountain View became the target of tense protests that blamed them for worsening the city's housing and cost of living issues. And in a widely criticized letter in The Wall Street Journal this past January, Perkins, one of Silicon Valley's foremost venture capitalists, compared the war on the one-percent to Nazi Germany—another glaring reminder that some of the industry's most important personalities can be quite out of touch.
In The New Republic's December cover story about hate-watching Washington, T.A. Frank argued that the recent crop of cynical shows about the nation's capital—including House of Cards, Veep, Scandal, Alpha House (another of Amazon's original series)—reflected widespread, unfavorable attitudes toward the national government. Aaron Sorkin's earnest and optimistic The West Wing had been "fluke, born of a time when our elites looked competent and wise." Neither Betas nor Silicon Valley devote too much time to tearing plotlines from recent headlines—an early scene in Silicon Valley on board a Google bus-like shuttle does briefly address rising real-estate prices—but the tech world will increasingly get the Washington treatment, Endicott thinks.
"The reason there's all this negativity toward Washington right now is: Look at the government," he says. "People are very fed up, and that's coming out in the art. Similarly, there's some resentment of 20-year-olds becoming billionaires, so a lot of things that take on Silicon Valley have a skepticism of people with no wisdom dictating how we live our lives."
Despite the skepticism, portraying Silicon Valley accurately was a top priority for both shows. HBO initially reached out to Silicon Valley creator Mike Judge about doing a show about gamers, but Judge passed on the idea—he wasn't one himself and thought that if a program about hardcore video game fans misrepresented any part of that community, it'd be ripped apart. Previous unsuccessful shows about Silicon Valley before didn't fare well in part for that reason: Bravo's low-rated Start-Ups: Silicon Valley drew criticism because it seemed distractingly fake for a show that was supposed to be "reality." "It felt like they transplanted a bunch of actors who were 'app designers,'" Endicott says. "That's the cardinal sin. It's an idea economy up there, and even if your idea is bad, you have to be able to sell it. I don't think they did."
Still, in the course of their research, both Silicon Valley's and Betas' productions learned that many of their preconceived notions about Silicon Valley shenanigans weren't far off. Eccentric bosses really do buy up islands and jet off to lavish, adventurous vacations; some people truly do admire Steve Jobs because of, not in spite of, his "asshole" qualities. "Some of the best satire is when you depict stuff accurately," Berg says. "You put ridiculous things on camera and they look ridiculous. You're just holding up a mirror to a lot of stuff."
Silicon Valley does this with hilarious self-awareness: In one scene, the oddball head of a Google-like company looks out the window and tells his yes-man spiritual adviser, "It's weird, they always travel in groups of five, these programmers. There's always a tall skinny white guy, short skinny Asian guy, fat guy with a ponytail, some guy with crazy facial hair, and then an east-Indian guy. It's like they trade until they have all the right group." It's an especially funny observation when you look at the casts of both Betas and Silicon Valley, which almost fit this description, but the trope has roots in real observations.
"The dynamic between [Betas characters] Trey and Nash, we've learned there's a term for that, which is called the coder in the cage," Endicott says. "You have a face of the company, usually a more attractive and socially skilled white guy, and his coder. That kind of stuff we made up for character reasons, and we would talk to people who were like, 'The founders of my company were those guys.'" Betas tried to deviate from the expected script in other ways: Instead of being a nerdy Indian coder shy around women, Nash (Karan Soni) struggles with his sexuality, for example.
Before Amazon picked up their project, Endicott and Stoddard actually pitched an early incarnation of Betas to HBO, who responded favorably but declined because the network was already developing Silicon Valley with Judge. If half-hour comedies poking fun at tech culture seemed like crowded territory then, it only got more so: Of all the studio space to occupy in Los Angeles, Silicon Valley and Betas ended up becoming nextdoor neighbors and practically shared an office. "We could have pounded our feet on the floor, and Mike Judge would have heard us," says Betas co-creator Josh Stoddard.
But while Silicon Valley is now looking to be the definitive satirical take on tech culture, don't expect Hollywood to be done with the startup world entirely. In what The Hollywood Reporter called the "The Wolf of Wall Street Effect," a number of studios have greenlit TV projects about the financial world after the Oscar-nominated Martin Scorsese film earned $375 million worldwide. Among them are Showtime's Billions, from The New York Times' DealBook editor Andrew Ross Sorkin; an untitled hedge-fund thriller from CBS; and adaptations of bestselling books Young Money and The Buy Side from Fox and Sony Pictures Television, respectively. With Sorkin's Steve Jobs biopic on the way and a film version of Hatching Twitter, Nick Bilton's book about the creation of that other social network, also in the works, it's possible TV will see a similar boost.
In the long term, however, it's more likely that the themes and conflicts of the tech world will spill over into other genres and trends. Last fall, for example, Wired called CBS' The Good Wife "the most tech-savvy show on TV" for the way its storylines incorporated Bitcoin, Anonymous hackers, lawsuits against search-engine giants, and court cases where social-media postings become key evidence. "I'm just fascinated by how society is chaining through social networking and the influence of Silicon Valley on almost every facet of life," said Robert King, one half of the husband-and-wife show running team behind The Good Wife. On Lena Dunham's Girls, the character Charlie (Christopher Abbott) became an overnight tech sensation when his app that blocks drunk dials to exes took off.
"It was never explained in season one that he had any inclination toward this or knew anything about tech," Endicott says. "It's just one of those things where if you're making a show about twentysomethings, someone's got to work at a startup because that's what's going on in the culture. I would not be surprised to see a The O.C. show that's the drama version of Betas. We're going to see the culture depicted more and more because it's taking over."