Golf's Future After Tiger Woods: Bleak
The Masters offered a peek at what golf will look like once Woods fully fades out of contention—and with golf participation dropping and no "next Tiger" solidly in place, the outlook is grim.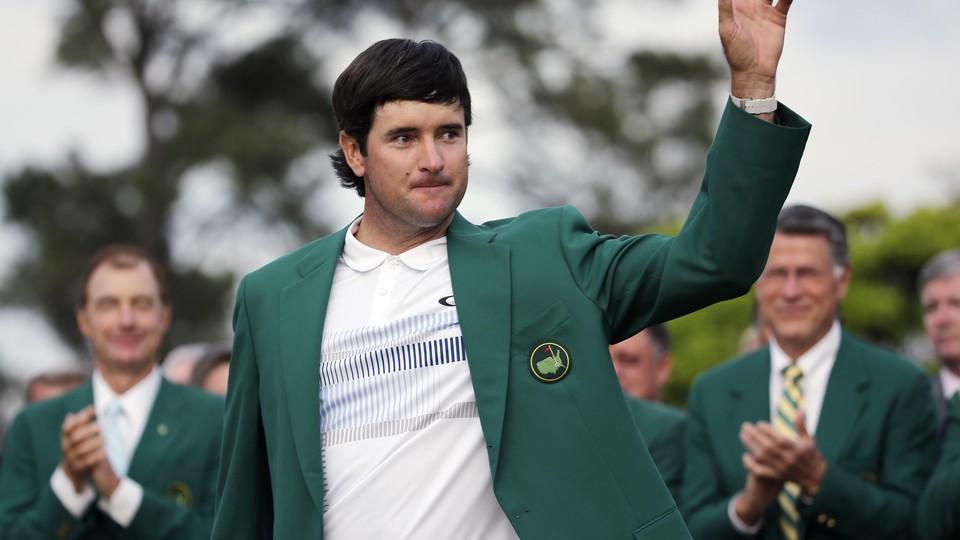 The golf world saw a glimpse of its not-too-distant future on Sunday: A final round was played at the Masters without Tiger Woods. Immobilized after back surgery two weeks ago, Woods missed the tournament for the first time in 20 years—he probably couldn't even watch it.
Many people predicted that the tournament's bottom line, from television ratings to corporate attendees, would suffer. Those people were right.
The final round featured a duel between two likable Americans: 20-year-old Jordan Spieth, a budding superstar who turned pro at 19 and played with no fear in his first Masters, and 2012 champion Bubba Watson, who pulled away on the back nine to win a second green jacket. And yet fewer people watched the final round than in any year since 2004, when Phil Mickelson's victory fell on an Easter Sunday. The 2014 Masters got a 7.8 rating for Sunday's final round, meaning that just 7.8 percent of television viewers were watching. Over the full weekend, the Masters saw its smallest TV audience since 1993.
An underwhelming TV rating at the Masters is not by itself a catastrophe. But the larger concern for golf and its economic backers is that there is no one who can even come close to replacing Woods's impact on golf's revenues, global popularity, or crossover cultural appeal. Woods's six-year major drought—and, more importantly, his long list of injuries—calls into question his long-term future as an elite golfer. The question is simple: When Tiger Woods is competitively irrelevant, what happens to golf?
For more than 15 years, Eldrick "Tiger" Woods has been the engine fueling the exponential growth of golf's revenues, purses, and endorsement deals, and he's a bigger draw for casual fans than the rest of the sport combined. For starters, he's brought in younger fans through his sheer cult of personality on the golf course. Woods, at the peak of his powers, was cool like Jordan or Ali—he can't be compared to any other golfer in terms of his effect on the sport's popularity among the masses. He's frequently referred to by his first name, a larger-than-life designation that he shares with such sports luminaries as Wilt and Rafa.
This is all a long way of saying that Woods is unique among all golfers, past and present. Golf pundits can debate whether Woods or Jack Nicklaus was the better golfer for the next 100 years, but there's no debating who was the most influential golfer of all time. When Woods turned pro in 1996, the total purse at the Masters was $2.5 million and the winner got $450,000. The purse for this year's Masters was $9 million, and Watson's winning prize was $1.62 million. The impetus for that growth, before the FedEx Cup and its $10 million prize or the rise in golfers with lucrative endorsement deals, was tournaments like Woods's 15-shot victory at the 2000 U.S. Open and commercials like his iconic spot for Nike.
Woods's impact on fan interest in golf can be seen in Masters ratings since he turned pro in 1996. The Wire's Eric Levinson found that weekend television viewership averaged 12.2 million when Woods was within five shots of the lead and only 11 million when he was more than five shots behind. That's a 10 percent drop in viewers just when Woods fell out of contention, and this year's anemic numbers showed the effect of his absence not just from the leaderboard, but the entire tournament.
Equally sobering for the business of golf is that there is no one waiting in the wings to maintain interest and attract young players to the game. The only pro golfer who comes close to matching Woods's commercial appeal is Mickelson, the charismatic lefty who has won three Masters and five major championships overall. But Mickelson, 43, is battling psoriatic arthritis, and last week he missed the cut at the Masters for the first time since Woods's historic rout in 1997. And even with Mickelson in a featured group for the first round, ESPN's Thursday ratings fell off 30 percent from last year.
Woods's demise is another blow to golf's popularity worldwide when it's taken some hard hits already. Roughly four out of every five Americans live in an urban area, a trend that threatens younger people's access to golf courses. In 1920 roughly 50 percent of the U.S. population was in urban areas—by 2000 it was 81 percent. Despite golf outreach programs like The First Tee, which has a presence in most major cities, access to golf courses or even driving ranges remains limited. The cohort of people playing golf, too, is aging, and none of Woods's potential successors as Undisputed Best Golfer in the World has ever matched—or even remotely approached—Woods's appeal to younger fans.No golfer besides Woods and Mickelson cracked the top 20 on Forbes' 2013 list of the 100 highest-paid athletes. Only three other golfers cracked the top 100: potential young superstar Rory McIlroy, 44-year-old Ernie Els, and Brandt Snedeker, who made the list thanks to the $10 million he earned for winning the 2012 FedEx Cup.
And other than Woods, no non-white U.S. golfer has become a global star—a definite impediment to spreading the historically lily-white game among minorities.
The obvious choice for next breakout star is McIlroy, 24, a bushy-haired Northern Irishman with two runaway major victories and a world of ballstriking talent. Nike made him Woods's heir apparent in early 2013, signing him to a lucrative deal and placing him in commercials with Woods as if to say: This guy's the next Tiger. But since switching to Nike clubs as part of his contract, McIlroy has won just won one tournament (the relatively unheralded Australian Open last fall) and he blew a four-shot final round lead at a PGA Tour event in March. It's far too early to write off McIlroy, on or off the course. But he will have to duplicate not just Woods's major wins, but his domination of elite non-majors year after year. And McIlroy can't walk off the course mid-round like he did last year, an immature moment that was hopefully an aberration.
The other budding superstar who could be a golfing great is Spieth, the runner-up from this year's Masters who can't even drink legally yet. The instantly likeable Texan won his first Tour event at 19, and he already has a long-term deal with budding Nike rival UnderArmour. Spieth said Monday that his second-place finish will motivate him to get even better, and he has the all-around game to win majors for the next 20 years.
Perhaps learning from Woods's overly candid interviews early in his career, Spieth and his team have already crafted a public persona designed to keep his private life very private. When he pouted after several tee shots at the Match Play Championship in February, Spieth apologized on Twitter after the round. Contrast that with the comments of the man who beat Spieth, Bubba Watson, a devout Christian who, controversially, called homosexuality a sin.
Spieth has not yet been the center of an UnderArmour ad blitz, but that could change if he wins a major later this year. McIlroy could see a similar bump if he can add a third major to his resume, especially if it's another runaway win. But unless one of them, or another marketable golfer, starts dominating in the overpowering, varsity-vs.-JV way that Woods did from 1999 to 2008 (13 wins in 39 majors), golf will struggle to hold onto the economic gains and crossover appeal that it has gained during the Woods era.
The sport is never going to match the global popularity of football, soccer, or basketball, and it's never going to resonate with the American masses like baseball or NASCAR. But millennials like me—and people who otherwise wouldn't know Augusta National from Augusta, Maine—have followed golf because of Woods. Sure, there was his adultery and his messy divorce and his reams of steamy texts with women other than his wife. But even after all that, Woods remained the one golfer who could generate moments so special that a five-year-old watching him on TV could fall instantly in love with the game. Grantland founder Bill Simmons saw that light in his son's eyes after the 2011 Masters, when Woods made a front-nine final round charge before finishing fourth.
I don't need Tiger to teach my child how to behave. I need him to teach my son that it's fun to watch golf. Yesterday was the first lesson. There was a putt, and a roar, and a fist pump, and then my son screaming "Again!" Only Tiger Woods could have made it happen. It's a gift. 
Simmons is right. Only Tiger Woods can make those moments happen. And if Spieth or McIlroy or some other budding star can't duplicate his success on the course and his persona off it, those singular golf moments will disappear with him.