FX Brings Fargo (Back) to Life
The new series based on the Coens' film is shockingly good. But can it keep it up?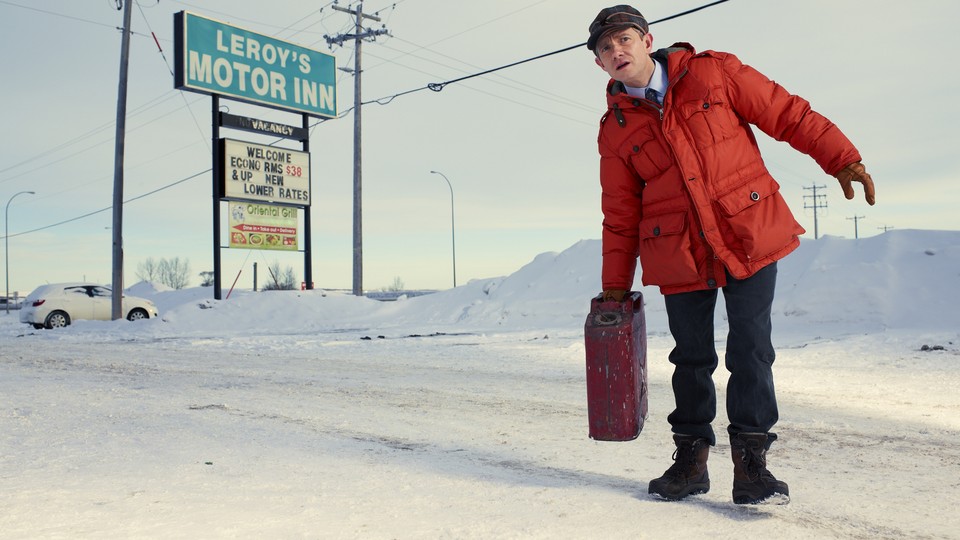 "This is a true story," announces the onscreen text. We see a snow-swept road and the headlights of a distant car. As it approaches, once-mournful strings rise to a crashing crescendo, punctuated by… sleigh bells.
I refer, of course, to Fargo. But not to Fargo, the 1996 Coen brothers film. No, I refer to Fargo, the new FX series making its debut tonight. The familiar elements are all there: the sad-sack salesman and female cop and murderous drifter; the car crash and ill-fated traffic stop and grisly murders; the semi-arctic setting and "Minnesota nice" accents offering up yahs and you betchas and fer Pete's sakeses. But they're scrambled into unexpected sequences and patterns. This is not a remake. It's a remix.
The idea of making Fargo into a TV show has been around almost since the movie itself hit theaters, and it's always seemed to me a terrible one given the idiosyncratic nature of the source material. In 1997 a pilot was even shot, though never picked up, featuring a pre-Sopranos Edie Falco in the role of Marge Gunderson, the iconic police chief played by Frances McDormand in the film. But the FX show takes a different approach from such would-be sequels, bringing back not the original characters but instead merely their types. And the result is, to my considerable surprise, very, very good.
Billy Bob Thornton stars as Lorne Malvo, a wandering pocket of malevolent mischief that blows into the wintry town of Bemidji. (The action has been relocated northward, from the Brainerd and Minneapolis of the film to the Bemidji and Duluth of the show.) There, following the aforementioned car crash, Malvo has a random encounter with insurance salesman Lester Nygaard (Martin Freeman), a man so comprehensively beaten down by life that he registers almost as a living bruise. The meeting leads to a spasm of violence that gradually radiates outward, like cracks on a frozen lake. One murder begets another, and then a third. The case is taken up by a dogged deputy named Molly Solverson (Allison Tolman) and, eventually, a less capable but well-meaning young cop from the Duluth force (Colin Hanks). And that's all I'll say of the plot, as one of the principle pleasures of the series is seeing how creator Noah Hawley (Bones, The Unusuals) has taken the odd tropes of the Coens' film and reassembled them in surprising ways and satisfying ways.
Like True Detective and its own FX sibling American Horror Story, Fargo is a limited series—10 episodes from start to finish—with the possibility, depending on its success, of becoming an "anthology" show in which future seasons would feature new casts and storylines. The benefits of this kind of miniseries-with-benefits are growing increasingly evident: the ability to attract bigger stars or directors (Steven Soderbergh's The Knick will be coming to Cinemax later this year); the avoidance of sticking-around-a-season-too-long syndrome; the requirement that a show knows where it's headed before it begins. (Yeah, Lost, I'm looking at you.)
Thornton is quite good as Malvo, a kind of second-tier Rust Cohle who's playing for the other team. Thornton has had a rough career decade, and it's nice to see him back in a role that makes proper use of his peculiar charisma. Freeman is also strong as Lester Nygaard, the resident loser and heir to William H. Macy's Jerry Lundegaard. (But let's face it: Nobody—nobody—is going to out-hangdog Macy, especially not in the role that catapulted him from unknown to indispensible.) And newcomer Allison Tolman makes a powerful first impression as the obstinate Deputy Molly Solverson. Hanks is solid as Deputy Gus Grimly, and the supporting cast is littered with well-known faces: Oliver Platt as a regional supermarket magnate, Adam Goldberg as a hitman with a deaf/mute partner, and Bob Odenkirk as a less-than-competent cop. (The role may come a bit soon for Odenkirk, who still carries a strong whiff of Saul Goodman.)
In addition to its broader themes and character types, Fargo scatters small, Easter Eggy callbacks to the Coens' picture—another hand injury in need of "unguent," an off-screen character who may or may not suffer from leukemia, an awkward restaurant meeting with an old high-school friend. And the show seems to borrow from the larger Coens-verse as well: Malvo brings with him strong echoes of No Country for Old Men's Anton Chigurh; Platt's grocery king is a capitalist cousin to Raising Arizona's Nathan Arizona; a spacey fitness trainer bears a striking resemblance to Brad Pitt's Chad in Burn After Reading; and a dim, constantly interrupting son recalls Miller's Crossing.
The show may (inevitably) lack the somber beauty of the Coens' meticulous compositions, but it nonetheless makes for good-looking, borderline-cinematic television. Similarly, even though Jeff Russo's score lacks the inventive brilliance of Carter Burwell's harp-and-hardanger-fiddle compositions, it capably invokes their spirit. (And, as noted, we still get sleigh bells.)
But most important, in its early episodes—I've only seen the first four—Hawley's Fargo has managed the tricky tonal balancing act set out by the original film: the black humor (occasionally quite funny), the bursts of sudden savagery, the moments of human frailty and genuine sadness. The question is whether the show can keep this up over the course of 10 episodes—and here the evidence is somewhat mixed.
Tonight's premiere, which runs to 90 minutes (including commercials), is easily the strongest of the early episodes, by turns shocking, hilarious, and tender. And while the subsequent three episodes are still very good, there are some signs of narrative loosening. Coincidences and misunderstandings begin to add up, and a Twin Peaks-like absurdism seems to be on the rise. There's even a hint of magical realism in a scene that reveals the fate of a briefcase full of money that was long ago buried in the snow by the side of the road, with only an ice scraper to mark the spot…
So, is Fargo great television? Having made strong assertions on the basis of partial seasons in the recent past, I'm hesitant to over-promise. So let me say instead that Fargo has the potential for greatness, and will reward viewers for at least the next few weeks—and, with any luck, well beyond.