The Sexist Reality That the Tony Nominations Just Highlighted
Today's most acclaimed playwrights are women. Almost none write for Broadway. Why?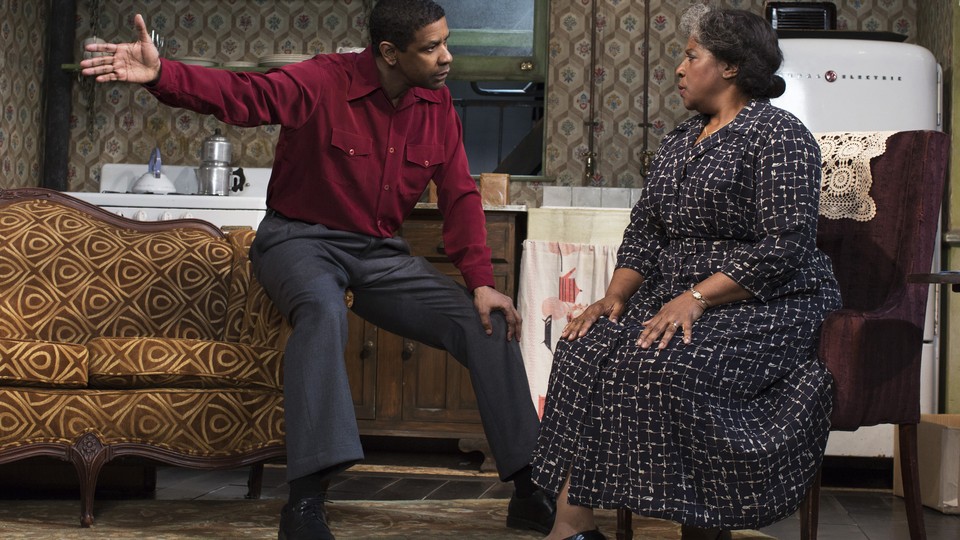 The 2014 Pulitzer Prize for theater went this month to Annie Baker for her play The Flick. The runners-up were Lisa Kron and Jeanine Tesori for Fun Home, and Madeleine George for The Curious Case of the Watson Intelligence.
All those works have two things in common: They were written by women, and they didn't play on Broadway.
Meanwhile, all five dramas nominated today for the Tonys' top prize were penned by men.
What accounts for the gender disparity between the two big live-theater awards? In large part, blame the glass curtain that separates talented female playwrights and Broadway stages.
"Most women writers are extremely perturbed by it," playwright Theresa Rebeck says of the theater world's gender gap. "The discrimination has persisted longer than in other fields, and it's skewing and hurting the health of the culture." That sentiment is echoed by Marsha Norman, who says, "At the very least, it's a bad habit. And it needs to be broken." For all their anger, Norman and Rebeck are actually the lucky ones, having actually had shows done on Broadway.
Let's take a look at the 2013-14 season. Only two dramas on Broadway were penned by women: Machinal, written by Sophie Treadwell, and A Raisin In the Sun, by Lorraine Hansberry. The first was written in 1928, the second in 1959. Of the unusually long list of original and revived musicals, only Marsha Norman's adaptation of The Bridges of Madison County had a woman's touch. Yes, Wicked was written by Winnie Holtzman, but that is 10 years old by now. Women were proportionally better represented in Broadway in 1909 than they are today.
"It's distressing," says Nell Benjamin, whose comedy, The Explorers Club, was as funny as any show on Broadway last season and yet played at off-Broadway's Manhattan Theatre Club. "Especially because most of the ticket buyers are women." (She's right—it's roughly 70 percent.)
Of course, there are gender-related gaps at the top echelons of nearly every field of art—indeed, almost every field of life. But there are lots of reasons to think theater might be different. First, this season proved audiences love seeing women on stage. Audra Mcdonald, Kelli O'Hara, Sutton Foster, Idina Menzel, Michelle Williams, Estelle Parsons, Tyne Daly, and Rebecca Hall were most responsible for luring ticket buyers to their productions. As a result, the Tonys are already being talked about as the Battle of the Divas.
Secondly, every list of the most exciting American playwrights is top-heavy with women, including Annie Baker, Sarah Ruhl, Suzan-Lori Parks, Amy Herzog, Lisa Kron, Lisa D'Amour, and Lynn Nottage. Yet their work remains almost exclusively off-Broadway while at least one male member on the list, Will Eno, is enjoying his first Broadway run with The Realistic Joneses.
Thirdly, women are being warmly welcomed as directors of Broadway shows: Both Tony-winning directors last year were women, and among the 2014 tony nominees is Leigh Silverman for Violet. Many shows are also being "powered underneath" by women, as they fill slightly more than half of the stage manager positions.
Finally, many of the producers behind the Broadway shows are female. Theatrical producers play all sorts of roles: Some are in the actual development of a piece, and many others come in later to raise funds. That's where Lorraine Ackerman Boyle finds herself, as one of the names attached to Mothers and Sons and Beautiful, The Carole King Musical. (The latter written by a man whose sketchy words, reviewers noted, contrast sharply with King's moody and meaningful lyrics.)
When asked if it concerns her that those shows have strong female characters but were authored by men, Boyle says, "I truly never thought about that. Maybe I should. But basically, I'm looking for something that won't lose my investors' money." Harriet Leve, who has been behind numerous shows, says, "I ask myself, first, do I respond viscerally, with enough passion to go out and raise money. And second, can it perform commercially?" Leve does have a strong feminist bent and points out that she has been involved with Ann (the Ann Richards play) and The Mountaintop, both penned by women.
Most of those putting up money feel comfortable with names they know, and, at this point, most of those names are male. (Even Bridges of Madison County was first offered to James Lapine.) Very possibly, entrenched—even if unconscious—bias can be broken down with more women in top positions. This last season, for example, the Roundabout Theater Company, whose executive director is Julia Levy, made a commitment to do shows that are at least about women. As Nell Benjamin says, "putting on shows takes a village, and a village full of women helps."
If put in Hollywood terms, off-Broadway and regional theaters across the country can be thought of as the indie world. The major film studios are not exactly brimming over with character-driven films that speak to women. (Think of Enough Said as akin to the kinds of plays many well-regarded female playwrights are creating.) But moviegoers are more evenly divided between the sexes, and the big action films do better worldwide, where testosterone need not be translated. (Though it's worth remembering that Frozen, by, with, and for females, is now one of the top-grossing films of all time.)
Is the problem that female playwrights are not "leaning in" because they assume their words will only end up in smaller venues? "There's no reason why women should just accept the fact they are probably going to land off Broadway," Rebeck says. "I believe they are leaning in, but meeting resistance." Marsha Norman teaches at Julliard and says many of the female students see the statistics and the odds and are heading out to Hollywood to write for television. "That's why TV is so good now," she says.
Nell Benjamin theorizes that women aren't aiming too low, but are mostly concerned with getting their words off the page and onto any stage. "I don't think any playwright doesn't consider Broadway when writing," she says, "but I think the struggle to get anything produced is so considerable that it's not so much acceptance as gratitude." Lynn Nottage, who won the Pulitzer for drama in 2009 for Ruined, says she wants her "audience to be as big as possible," and the Great White Way is as big as it gets. "After the Pulitzer, there was talk about moving [Ruined] to Broadway," she says. "But we were told that even though ticket sales were strong, producers were still afraid to put up works with a black female protagonist. I kept saying, 'how do you know until you get it there?'"
Actresses working on Broadway acutely feel the lack of female voices. In the New York Times this week, the women of the current revival of A Raisin in The Sun piped in. "It really does speak to the fact that a woman has to write it," said just-nominated LaTanya Richardson Jackson. Her co-nominee, Anika Noni Rose added, "men don't pay enough attention to be able to write clearly, fully formed women. But they are the only ones getting produced."
Which is why the Women's Project Theatre in New York City is still in existence some 36 years after it was founded. The idea was to compensate for Broadway's lack of female voices by presenting works either written or directed by them. Artistic Director Julie Crosby half-jokes that it would be nice to go out of business but, "unfortunately, we are still vital. But I remain hopeful that the next generation will be more open."