Why Lady Gaga Belongs at South by Southwest
Her vomit-soaked performance's message: Pop stars work hard, too.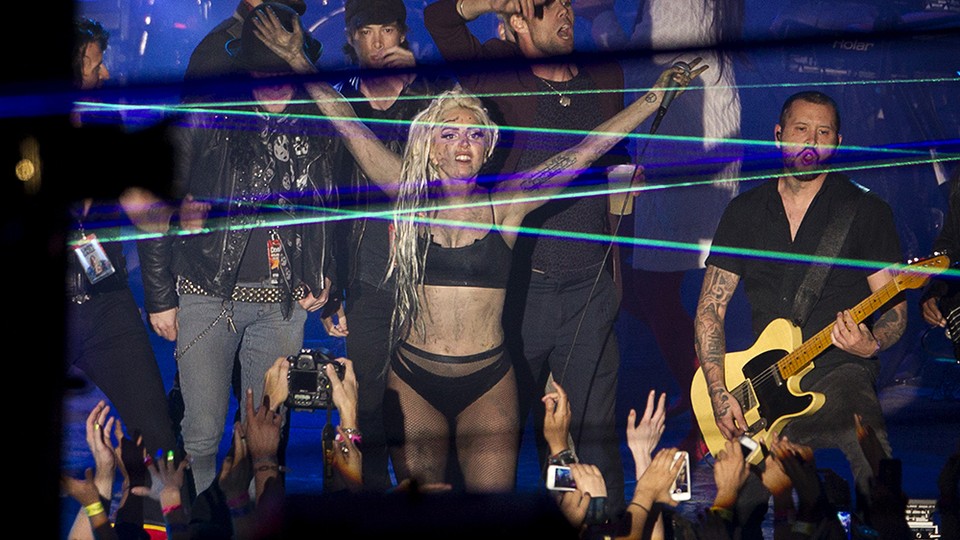 Even before it could inspire barf-related headlines, Lady Gaga's Thursday-night performance at South by Southwest had been grossing people out.
For the past few years, superstars and corporate brands have invaded Austin's annual showcase of supposedly under-the-radar musical talent, but the particulars of Gaga's set seemed like they'd been designed to strike a final blow to the festival's indie cred: This was the self-proclaimed Fame Monster, avatar of the mainstream, taking over Austin's legendary Stubbs BBQ for a concert sponsored by Doritos. More than one friend gave me a look of disgust when I told them I'd be attending.
But the next morning, at her keynote talk with Fuse's John Norris, Stefani Germanotta had some words for anyone objecting to her presence in Austin: "You don't know fuck about the state of the music industry." Which isn't necessarily wrong. In this era where record sales have been replaced by teensy residual payments for streaming, corporately branded events with mega-famous headliners help keep this whole thing going. "Without sponsorships," said Gaga, wearing a wedding dress made of trash bags, "we won't have any more artists in Austin. We won't have any more festivals, because record labels don't have any fucking money."
That's the financial rationale for letting Gaga perform. But there's a more qualitative reason to be OK with—even charmed by—South by Southwest in its current, crass, brands-and-celebs-infested form. The festival has become an annual state of the union for the entire popular music industry, a buffet with more options for fans than ever: You can catch a no-name act busking on Sixth Street, and then (if you have the credentials or are willing to stand in a really long line) can see the biggest names in the world in an intimate venue. With on-demand streaming and downloads, music listeners have more choices than ever; for five days, South by Southwest dramatizes that fact in real life.
Besides, the line between aboveground and underground has never been blurrier. For example, this year in Austin one of the most exciting indie trends on display has been the rise of bedroom producers—the likes of Sophie, Obey City, Lunice, and Keys N Krates—building followings on Soundcloud by putting innovative spins on super-popular music. One highlight came when Cashmere Cat pitch-shifted Kanye West's infamous "hurry up with my damn croissants" into a joyful squeak punctuating the bass groans emanating from his rig at Empire Garage. Another came at the Parish Underground Thursday night, when the newbie artist Saint Pepsi slowed down Justin Bieber's "Boyfriend" into a lush slow jam as he flashed a goofy grin at the cheering room of hipsters.
The one musician I haven't heard in any of these producers' sets, though, is Lady Gaga, and that speaks to the real tension underlying her SXSW performance: It comes at a time when her relevance is in question. Last year's Artpop received mixed reviews and undersold compared to expectations. Austin would be her first live show for the public since the album's release, presumably previewing the world tour she's embarking upon in May. So in front of a crowd of music execs, journalists, and diehard, contest-winning fans, her task wasn't necessarily that far removed from that of the least-known bands in Austin this week. Like them, she had something to prove.
And what, exactly, would that be? Well, for one, that she can get dirty. The set opened with a woman silently chowing down on ribs and sausage and literally guzzling barbecue sauce for minutes on end. When the music kicked up ("Aura") Gaga arrived strapped to horizontal, rotating pole, like a hunk of meat roasting. Later, she rode a mechanical swine—like a mechanical bull, but, y'know, piggish—while intertwined with the artist Millie Brown, who puked black gunk as Gaga mashed a keyboard with her toes. (The vomit gimmick quickly went viral: "Lady Gaga Just Put the 'Gag' in Gaga"!)
This, naturally, was all pretty entertaining. And refreshingly, there wasn't much of a deeper meaning to it than, "Hey, let's pig out in Austin." The album name Artpop still gets eye rolls for making it seem as though she's reached new heights of pretension, but seeing this set helped crystalize something right there in the album's music: Gaga's all about doing what she wants and making people feel good right now. The sledgehammering electro beats and sex-obsessed lyrics of her newest songs are meant to give a rush you don't have to think about; she's written better tracks than these, but few that are as straightforward.
That doesn't mean she's no longer calculating or campy. Her Stubbs show was perfectly tuned for its environment. She talked about being drunk and unwashed all week; she swigged Lone Stars; she countrified "Bad Romance." In a moving monologue, she dedicated the final song, "Gypsy," to the victims of the horrible drunk-driving incident that had happened a night earlier and a block away.
The point was that she's no interloper; she's in the same musical and human struggle as anyone else at South by Southwest. "Nobody fucking knows how many clubs I played, how much piss I stepped in, how many bathrooms I changed in," she said at her keynote talk. "What matters is that I know." Towards the end of her concert, she brought up the bands she'd opened for when she was trying to make it as an unsigned musician in New York City, years ago. Sweating, panting, and covered in goop, she took a bow as her friends held up the letters spelling out "ARTPOP." In that moment it was impossible to forget she's a millions-selling pop diva, of course, but it was also easy to see what she had in common with the rest of the acts in town: For them and for her, music is work.