The Play That Beat Duke
If all you do is look at the numbers, you might miss how one player's tiny play away from the ball helped create the key moment in the tournament's biggest upset.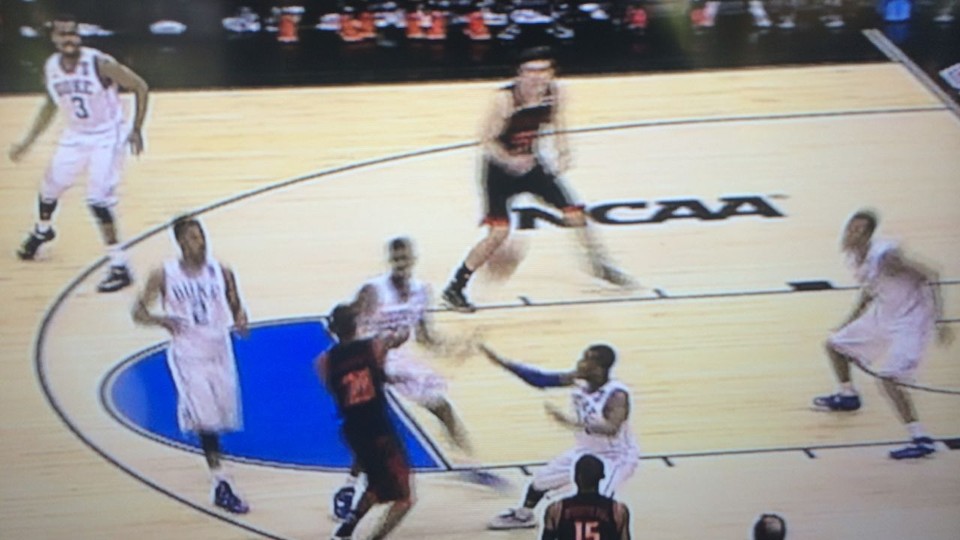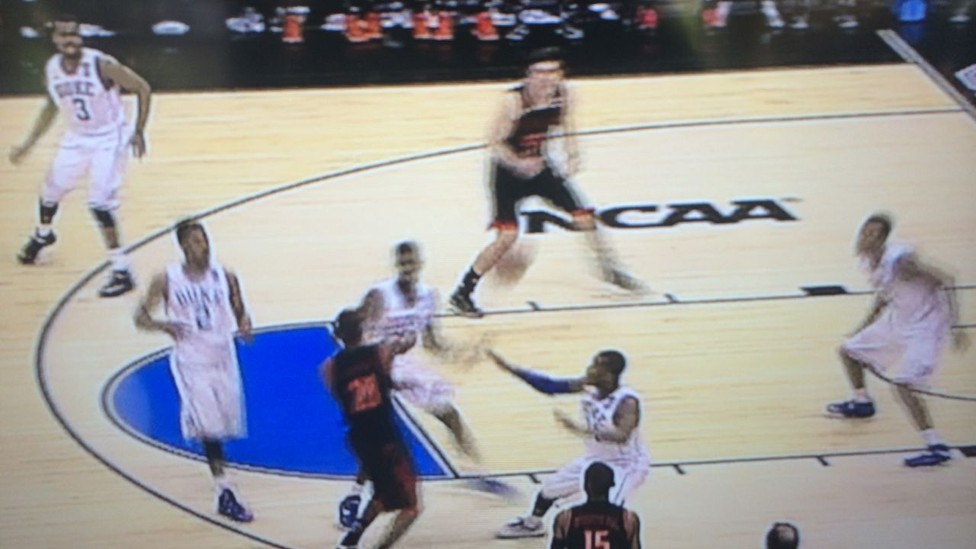 The biggest upset of the tournament so far wasn't any old 14-seed beating any old 3-seed.
No: Duke, the most loved/hated team in college basketball, is out.
In the first round.
At the hands of Mercer, a team that hadn't been to the tournament since Ronald Reagan's second term.
It was a tight game throughout. Both teams hit big shots time and again. There was nothing flukey about the outcome. But there was one play that changed the balance of the game that I'd like to explore here.
The individual plays in a game like this can't be explained by statistics or the data-driven techniques that guide people in picking their brackets. For them, this stuff — the moment by moment performances — are just noise in the system. For me, it's the whole game.
Here's the setup.
After falling behind, Duke had accelerated past Mercer to go up five with about five minutes left. Mercer scrapped back, tying the game with a long three-pointer at 63 with 2.5 minutes remaining, then going up 65-63. After a stop, Mercer guard Langston Hall brought the ball up the floor with a minute and a half remaining. Both teams were struggling to find good shots. The defensive intensity was high.
You know how this normally goes for the underdog: They scramble around, finally going one-on-one before someone jacks up a shot. Sometimes, it goes in. Usually it does not. But that's not what happened in this game. Instead, Mercer ran a perfectly executed play, and made it a two-possession game.
Initially, Hall set up high on the left. Mercer forward Jakob Gollon set something of a pick for Coursey, whose man, Amile Jefferson, went underneath the screen and reattached.
Coursey then set a very quick screen for Hall on Duke defender Quinn Cook.
Jefferson jumped out to double team Hall, forming a low wall, his legs bent into a deep split, to keep Hall from the center of the floor. With Duke's Quinn Cook pinching down on him, too, Hall can't get the ball to Coursey, who was rolling wide open towards the basket. Instead, he threw the ball to Mercer's Bud Thomas, but Thomas didn't even consider throwing the ball to Coursey, as he saw Jefferson sprinting back to cover, and another Duke forward, Rodney Hood, creeping across the lane.
Instead, he passed the ball back to Hall, who reset the offense.
And then they ran the exact same play.
Except this time, as Gollon screened down on Jefferson, he really got a shoulder into him, knocking the Duke defender off balance, so that when Coursey set the screen for Hall, Jefferson was not quite in perfect position.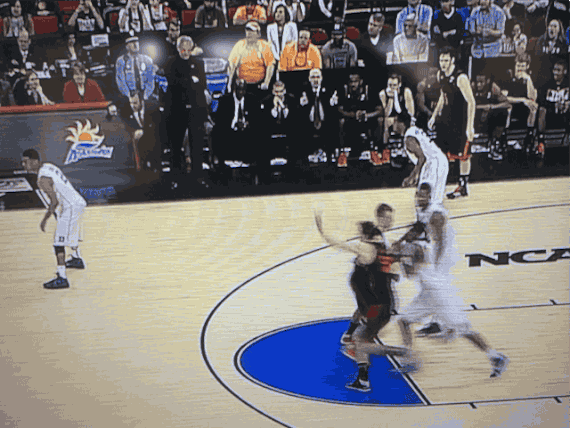 Hall, who was already driving to his right, saw this and burst past Coursey's screen. Jefferson tried to jump out, creating that wall to drive Hall back, but it was too late. Hall blew by Jefferson, drawing Cook as well.
Meanwhile Coursey had rolled towards the basket. The Duke defenders knew what was happening—they'd just seen this play, after all—so the weakside defenders were sagging towards Coursey, while trying not to leave their men.
That created a perfect opportunity for Hall to throw the ball to Coursey, but not using a traditional two-handed chest pass or a bounce pass. The shape of the passing lane required that Hall throw a one-handed, right-handed pass off the dribble into Coursey's chest.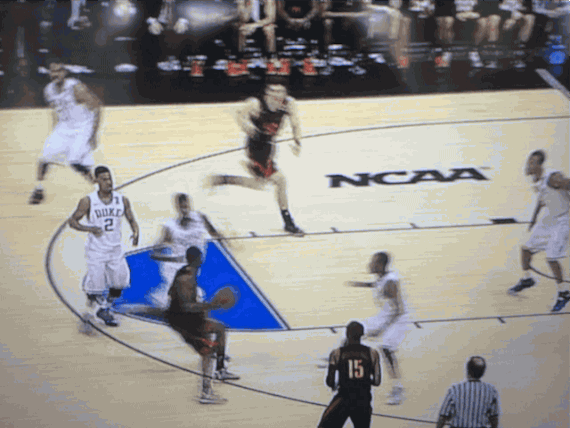 He did so, Coursey caught the ball, and went straight up, scoring over and being fouled by Hood. He hit the free throw, Mercer went up 5, and Duke never got closer.
It was a beautiful play: about as nice a screen and roll as you're likely to see in college basketball. And all the glory goes to Hall and Coursey. Hood will end up on the ESPN highlights getting scored on.
But it was all set up by that shoulder that Gollon threw into Jefferson, which kept him from being in the right spot when Hall began his drive.
The little things add up.