The 2014 Oscars: Predictable, and That's OK
The ceremony's structure may not show what will win, but it shows what the producers think will win.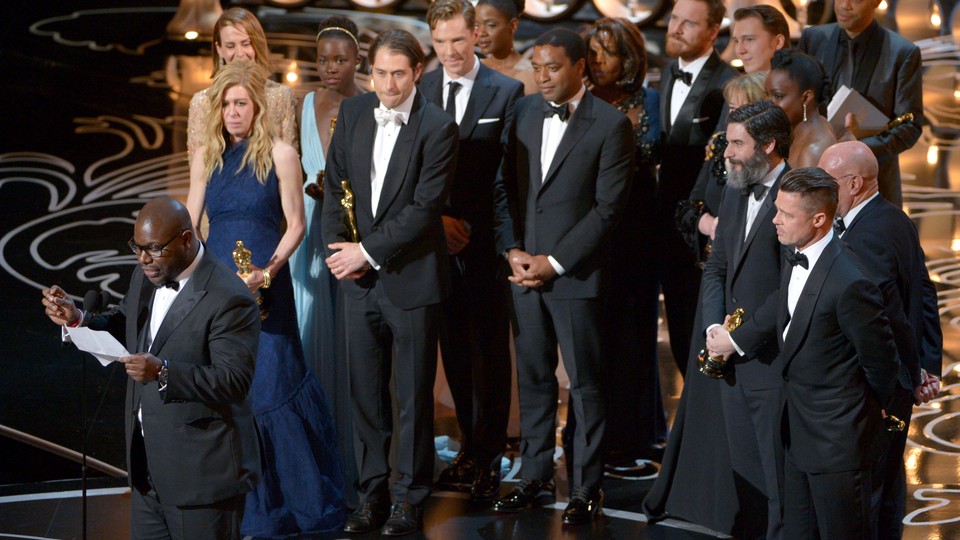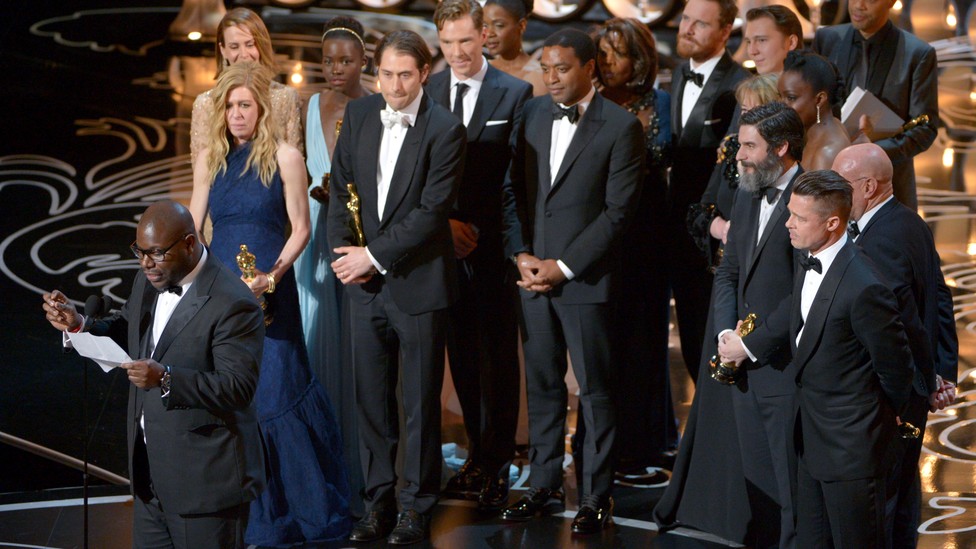 As the Oscars broadcast made its lazy (though perfectly pleasant) way through the motions Sunday night, one thing became more and more clear: The winners I picked on Friday might turn out to be the wrong ones, but they were the exact same ones picked by the awards ceremony's producers, Neil Meron and Craig Zadan.
Start with the theme of the show, "heroes." It clearly suited Best Actor frontrunner Matthew McConaughey and his performance as early AIDS activist Ron Woodroof—or for that matter, early co-favorite Chiwetel Ejiofor from 12 Years a Slave. But by most tally sheets, Leonardo DiCaprio had, in recent weeks, emerged as the strongest dark horse to challenge McConaughey. If Leo had pulled off the upset—well, let's just say that "heroes" would have been an ill-fitting frame in which to give his performance as real-life rogue trader Jordan Belfort the evening's penultimate prize.
Likewise, it might have been a tad awkward if the Best Picture that Will Smith was enlisted to announce at the show's conclusion had wound up being Gravity—in which the sole non-white character (from an admittedly tiny cast) develops a fatal case of space-debris-though-the-skull five minutes into the movie—rather than 12 Years a Slave. The latter was favored to win, but by a narrow margin, with a lot of sharp observers thinking Gravity would pull off the upset.
Similar "tells" were on display throughout the evening. McConaughey was a ubiquitous presence, especially given that customary camera-magnets George Clooney and Robert Downey Jr. were not on the premises. (Clooney's absence was particularly disconcerting: The Oscars ceremony is essentially his living room, and I can't be the only one who felt slightly uncomfortable hanging out there while he was elsewhere.) Slight favorite for Best Supporting Actress Lupita Nyong'o was likewise constantly onscreen, which is saying a lot, given the Academy's established fondness for her strongest competitor, Jennifer Lawrence.
Then there was the timing of the awards introductions. Best Picture was split into three groups of three and—lo and behold—12 Years a Slave just happened to be no. 9 overall. Likewise, the fourth Best Song performance (out of four) was Idina Menzel belting out heavy favorite "Let It Go" from Frozen. (And she did so well after my children's bedtime, I might add. So much for your ratings in the crucial 12-and-under demo, ABC.)
Nor is it just the showrunners: Judi Dench may be in India filming The Best Exotic Marigold Hotel 2 (scripted, incidentally, like its predecessor, by Ol Parker, brother of The Atlantic's own resident literary wizard James Parker). But it's hard to imagine that Dench would've skipped the trip to the Dolby Theater if she hadn't known that her old Notes on a Scandal cast-mate Cate Blanchett had Best Actress pretty much in the bag. (Poor Tom Hanks—another no show—also chose the wrong year for a big onscreen comeback: a plausible candidate for both Best Actor in Captain Phillips and Best Supporting in Saving Mr. Banks, he wound up with nominations in neither. Ditto early presumed Best Actor frontrunner Robert Redford for All Is Lost.)
None of which is to suggest some grand conspiracy. The folks at PricewaterhouseCoopers are, to the best of my knowledge, as silent as the grave. But as I noted in my pre-Oscar handicapping, this was a year with an unusual number of prohibitive favorites (Actress, Supporting Actor, Animated Feature, Cinematography), quite a few solid favorites (Film, Director, Actor, Adapted Screenplay), one tossup veering toward a solid favorite (Supporting Actress), and, among the top awards, just one genuine tossup: Original Screenplay, which was too close to call between Her and American Hustle, with the former perhaps a very marginal favorite.
I picked American Hustle, in perhaps my lifetime-first successful effort at jinx-avoidance/reverse-psychology/voodoo, and I couldn't be more pleased. Her was my favorite film of the year, and going 9-for-10 on major awards is a tiny price to pay for the win I was most rooting for. (I feel bad, however, for American Hustle, which went into the night with 10 nominations and left it with no wins. I didn't love the movie as much as some did, but it deserved better than a shut-out. Who are the maniacs who failed to nominate it for Best Makeup/Hairstyling? This is all your fault.)
So, a predictable Oscars? Yes. But a bad one, no. I have my complaints—I was underwhelmed by Blanchett and Leto, and think director should have gone to Steve McQueen—but most of these were foregone conclusions long ago, in part because of nomination misses: Daniel Bruehl in Rush for Supporting Actor (a remarkable omission), Emma Thompson in Saving Mr. Banks for Best Actress (likewise), and also Brie Larson in Short Term 12. The last was a tiny movie, and Larson was always a long shot, but she's one who deserved at the very least a nomination, and I very, very highly recommend giving the movie a shot. (No one I know who's done so has regretted it.)
Which brings me to perhaps the evening's greatest irony: Watching 3+ hours of the Oscars, you didn't get a glimpse of Short Term 12. But there were multiple brief clips from it in the course of a minute-long (if that) ad for Google Play that ran during the ceremonies. Add in a cheesy-but-clever Pepsi mini commercial that was stocked more full of movie references than any of the evening's official retrospectives, and the question can't help but arise: How long before the Oscar-themed ads are more worth watching than the Oscars themselves?