Should Pete Rose Be in the Hall of Fame? Let the Voters Decide
One of baseball's longest-standing controversies could likely be resolved if the players' union got involved.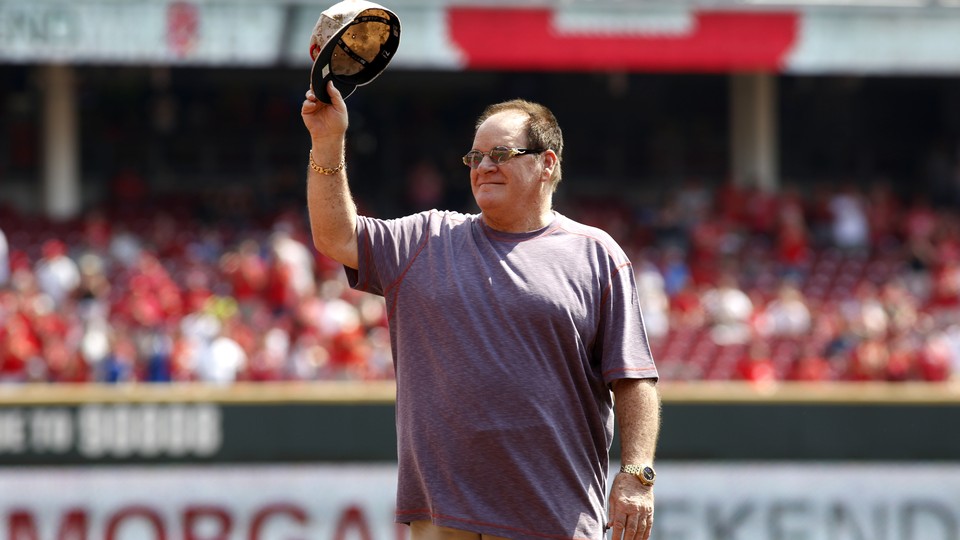 Denny McLain had two fantastic seasons as a Major League Baseball pitcher. In 1968, with the Detroit Tigers, he won 31 games (the last pitcher in MLB to win at least 30) and lost six; the next season, also with Detroit, he went 24-9. In 1968 he was voted Most Valuable Player for the American League, and in both years he won the Cy Young Award as the best pitcher in the league. McLain's other eight seasons with various clubs could be described, precisely, as mediocre: He was 76-76.
Off the field, though, McLain's performance was somewhat less than mediocre: His criminal record includes convictions for racketeering, embezzling people out of their retirement funds, money laundering, and selling cocaine. He did two stints in prison; a judge at a bond hearing called him "a professional criminal." The least of his transgressions was gambling—he took part in setting up a bookmaking operation to take bets on horse racing, football, and basketball. Then-Commissioner of Baseball Bowie Kuhn suspended him for the first three months of the 1970 season.
Denny McLain is eligible for Baseball's Hall of Fame.
The last batter McLain pitched to, however, was Pete Rose. Rose played for 24 years, appearing in more games and accumulating more hits than any player in baseball history. In 1990, four years after he retired as a player, Rose served a five-month sentence in a medium-security prison for having failed to report income from autograph and memorabilia shows.
But MLB cares nothing about Rose's problems with the IRS. Nor do they care particularly about Rose's admission to have betted on horse racing, football, and basketball. What baseball cares about is that Pete Rose bet on baseball games, and as a result, Rose is banned for life from the Hall of Fame. In Kostya Kennedy's new book, Pete Rose: An American Dilemma, McLain is quoted as saying, "The big difference between me and Pete when it comes to gambling is that he bet on baseball and I did not."
The Pete Rose story is baseball's open wound, the controversy that won't go away. Kennedy's book will almost certainly put the Rose dilemma back into the spotlight, wherethe old debates will be hauled out and rehashed. As Kennedy points out, several superstars known for steroid use have been eligible for the Hall of Fame, and he called for Rose's inclusion on the Hall of Fame ballot in a January column for The New York Times.
But perhaps it's time some high-profile personnel within the MLB also took a stand in support of Rose. Two years ago, the late Major League Baseball Players Association head Michael Weiner came out in favor of lifting Rose's ban, telling the National Press Club that "Cooperstown is for the best baseball players that have ever played regardless of their status as PED cheats or gambling cheats for that matter."
The MLBPA has made no strong statements since then. It's time for the union and its members to make a unified stand in support of Rose. It would be especially appropriate for the new union head—Tony Clarke, a former player—to lead that charge. After all, Marvin Miller, the founder of the MLBPA, maintained that the players' association could (and perhaps should) wield a powerful influence in the Pete Rose case.
It's now been nearly 25 years since Commissioner Bart Giamatti, after an in-house investigation, determined what Rose had always denied—he had not only bet on baseball but bet on his own team, the Cincinnati Reds, while he was their manager—and banned him from baseball. The next two commissioners, Fay Vincent and Bud Selig, upheld that ban. The ban means Rose can't appear at any official Major League Baseball function (an exception was made to allow Rose to participate in the pre-game induction of baseball's All-Century Team before Game Two of the 1999 World Series in Atlanta), and he can't take part in any pre- or post-game festivities involving the Reds in Cincinnati, where he played and managed for 25 seasons, or in Philadelphia, where he played for five seasons.
Rose's sentence is similar to that of Shoeless Joe Jackson and the other seven members of the 1919 Chicago White Sox who received lifetime banishments for fixing the World Series against the Cincinnati Reds—except that Rose had never been accused of fixing baseball games, just betting on them.
Beyond the obvious fact that allowing gamblers into the ranks of Major League Baseball could lead to disaster again, as it did in 1919, baseball's commissioners have never bothered to explain why Rose's punishment is so severe. Has Major League Baseball overreacted when it comes to Pete Rose? Consider that in 1963 the Green Bay Packers' Paul Horning and the Detroit Lions' Alex Karras were both suspended by NFL Commissioner Pete Rozelle for the same offense—betting on league games, including those of their own team. Except that Rozelle suspended them without pay for one season.
In 1991, while working with Marvin Miller on his memoir, A Whole Different Ball Game, I interviewed him for Inside Sports on the subject of Pete Rose.
Why, I asked him, did the Major League Baseball Players Association do nothing to mitigate the severity of Rose's sentence? Because, Miller said, "The union has no authority in the matter. Rose's punishment was handed down when he was managing, after his playing days were over. He was an employee of Major League Baseball, and as such not represented by the union. His only recourse would have been to sue baseball and protest their decision.
"But," he continued, "historically, in matters of professional sports leagues, courts have always held that they are legal monopolies, so I don't think Rose would have found any support there."
Does that mean, I asked, that there was nothing the Players Association could do if they wanted to help Rose?
"There certainly is something they can do," Miller replied. "The Hall of Fame may be controlled by Major League Baseball, but there is no Hall of Fame without the players—without their bats and balls and uniforms and their participation. If the players showed a united front for Rose, it could mean a great deal."
What, I wanted to know, could the union ask MLB to do?
"To put a limit on Rose's punishment. Say, banishment for five years or 10 years or whatever. Let him serve his sentence and then allow him back into the game."
Miller also posed a rhetorical question that hasn't gotten much discussion, even now. "Rose was a part-time player for two years while he was managing. The Hall of Fame says you must be retired for five years before you can be voted in," he said."Suppose Rose had simply retired as a player in 1984 and had been voted into the Hall of Fame and then the gambling scandal broke. What would baseball have done then? Would they have kicked him out of the Hall of Fame? No one's ever been kicked out of the Hall of Fame for any offense."
A good question. What would Major League Baseball have done? But not so intriguing a question as, What are they going to do now?
A sensible solution would be for the players union to issue a formal request that MLB state that 25 years is a fair punishment and leave it to the HOF voters to decide on whether or Rose gets his plaque.
In other words, baseball should simply get out of the way and allow HOF voters to do what they do with every other player. After all, if they can vote for the largely mediocre Denny McLain for the HOF, they ought to be able to vote for the legendary Pete Rose.