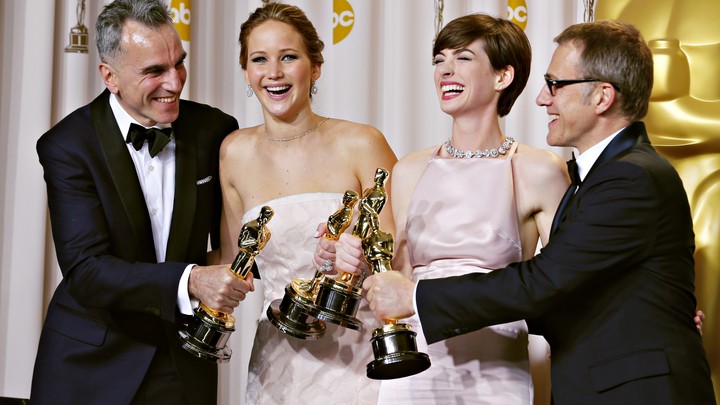 This evening, I saw a pretty stunning tweet about the demographics of Oscar voters.
Who are #Oscars Voters? -94% White -77% Men -2% Black -2% Latino ->.5% Asian, Native combined @bad_dominicana @LatinoPolitics

— Khaled Bey (@KhaledBeydoun) March 2, 2014
It comes from a recent Los Angeles Times survey of the 6,028 Academy Award voters, which also found that the population is 76 percent men with an average age of 63. Broadway might be the Great White Way, but it has nothing on the great male whiteness of Hollywood's Academy.
When I read about demographics, I'm programmed to think about states. So I wondered: How would Oscar voters compare to the oldest, whitest states in America? The answer is: much older (naturally: no babies in the Academy, unless you broaden the definition), far more male-heavy, and whiter than all but seven states. Essentially, the Academy has the demographics of a New England all-men's bridge club. 
Demography doesn't have to be destiny. "12 Years a Slave," a prohibitive and deserving favorite to win Best Picture, would be the first such win for a film by a black director. No black director has ever won an Oscar.
We want to hear what you think about this article. Submit a letter to the editor or write to letters@theatlantic.com.
Derek Thompson
is a staff writer at
The Atlantic,
where he writes about economics, technology, and the media. He is the author of
Hit Makers
and the host of the podcast
Crazy/Genius
.